Urban Champion – NES
Platform: Nintendo Entertainment System
Developer: Nintendo R&D1
Publisher: Nintendo
Release Date (NA): August 1986
Genre: Fighting
Nerd Rating: 4 out of 10
Well…here we are. Urban Champion. Am I really doing this?
Urban Champion is part of the Nintendo Entertainment System's Black Box series. These were the earliest titles released for the NES in the U.S., and they included some memorable classics like Super Mario Bros., Duck Hunt, Balloon Fight, and Excite Bike, just to name a few. The Black Box NES games were, for the most part, basic arcade-like games. It was a simpler time – a time when the U.S. was recovering from the greatest crisis this country had faced: The Video Game Crash of 1983. Back then, the Atari 2600 and 5200, ColecoVision, and Intellivision were the biggest names in the video game market, setting a standard for the many wonders home consoles would bring to families all over.
Okay okay, joking aside, there are many classics from that era. But this doesn't change the fact that these games were relatively primitive. Some cherish them for this very reason and the demand they had on the imagination. I come from a later generation, so the sentiment is lost on me. And you know-
"Jesus Christ, are you going to review Urban Champion, or write a dissertation?"
Alright, you got me. I'm padding. Here's my review:
You push the D-Pad right. You hit a button to punch.
There really isn't much to say about this game, so if you want something to read, you're going to have to roll with it.
Okay, long story short, Nintendo needed a bunch of games to help their new console win over the United States market. And they needed variety. Enter Urban Champion, which is, according to Wikipedia, the first fighting game for the system.
The fighting genre hadn't been established yet as no champion had come forward to set a standard for these games. With that in mind, this was a title with good intentions.
Hey, didn't somebody once say the road to hell was paved with good intentions, or something like that?
I mean, I'm not saying Urban Champion is hell. But then again, I stopped after 35 consecutive rounds. Just think if I had kept going…
Truth be told, I picked this "gem" because I wanted to play a bad one for April's Foolish Games. And since I try to curate a mostly enjoyable collection, it's hard for me to find a game I dislike. Urban Champion is not exactly a highly regarded title. Perhaps I cheated. But as I fired it up, I was surprised. I kind of enjoyed it.
At first.
You see, this game sort of reminds me of a cheap, shallow version of Punch-Out. You press up and down to shift your blocks and punches, and back to avoid hits. There's a heavier punch and a lighter punch, but…really, the light punch is worthless.
Anyway…
It's the combination of attacks and positioning that brings to mind Nintendo's boxing classic.
I began to believe there was more to it than I thought, only to realize it was exactly what I was expecting. You can pretend to infuse strategy all you want. Hell, I can pretend I didn't write this awful review, but at the end of the day, we all know the truth. You might as well just shift your fist into optimal crotch range and go to town on that A or B button. That's pretty much it.
Did I mention it's slow? No? That's another of many reasons Punch-Out is way better. Why the hell am I not playing Punch-Out? Oh yeah, it's April.
Ugh, okay. Is this as much a chore to read as it is to write? I hope not.
If you're into repetition, this game's for you. If not, I don't know what to tell you.
There's a two-player mode, but this requires friends. If you have none (like the brilliant author of this review) then you're S.O.L. Either way, I can't imagine a second person making it much better. Or maybe it would and that's just a cop-out on my part. Most likely the latter.
Speaking of cops, once in a while the fuzz drives by, prompting both brawlers to move to opposite ends of the building and act like nothing is happening. This can play to your advantage if you're close to losing the round. You may also want to take note in case anyone catches you playing this stupid game.
Sometimes a potted plant is dropped out from a window, stunning whoever happens to receive the falling object. This does little, if anything, to enrich the gameplay.
There's a stamina bar. It may factor into how you're supposed to approach a fight, but it made absolutely no difference in my experience. Maybe it comes into play later on, but 35 rounds is plenty for me, thank you.
Oh for Christ's sake. I didn't even tell you what the fuck Urban Champion is about. This review is a bloody mess.
You're a guy. Punching the shit out of another guy. In front of generic buildings. Punch the other guy off screen to the next. Keep doing this until you see manhole. Punch guy into manhole.
That's it.
Alright.
Moving on.
So, what else can I say really? Talk about the plot? Get the fuck outta here.
The graphics are about what you'd expect for an early NES game. The city backdrop is pretty nice if you can get over the monotony of seeing the same set of buildings over and over again.
The music is silly. Somehow in its 8-bit way it manages to impart a feeling of classic urban life, like an old-timey New York setting. Fights themselves have a subtle Black Box-style track, which sounds a little like the tune found in the balloon trip mode of Balloon Fight. There's a more intense rhythm that picks up as you enter a screen with a manhole, but who cares. Every time I hear that fluttering chime in the victory tune, I just look at myself in the mirror and ask, "why?"
Uhhh, is that it? Are we good? Have I sufficiently padded out this skimpy review?
It's really not a terrible game. You could even try to plan out your attacks and have some fun with it, but ultimately it's an amazingly repetitive game. Nothing you can do will change that. There is no way to spice it up. And to make matters worse, the difficulty curve is nearly unnoticeable. Sure, at a certain point the other guy starts getting more aggressive, but there's only so much you can do with two dopes fisting each other.
That didn't come out right.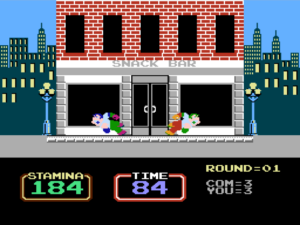 The fundamental problem is both guys have the same set of moves and abilities, so there's really no strategy involved. It's just mash a button as fast as you can, hope you outdo the other guy. This game is a good idea on paper but ultimately fails in execution.
It's really just…a waste of time. Reviewing it is a waste of time. There's really no point in owning Urban Champion unless you hope to have a complete Black Box collection…like me.
I don't know what's worse – this game, or my review of it. Or the fact that I chose to review it. Maybe next year I will have a better shitty game to review. Until then, we'll have to settle for a mediocre review of a mediocre game.
Really? You're still reading this? Go outside and play. Or buy a Switch or something.