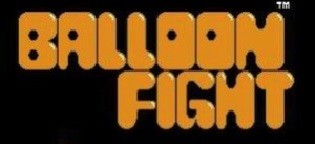 Balloon Fight – NES
Platform: Nintendo Entertainment System
Developer: Nintendo

Publisher: Nintendo

Release Date: August 1986

Genre: Platforming
Nerd Rating: 7 out of 10

Reviewed by: bbpower
When gamers think about NES titles, many overlook the simple, yet collectible "black box" games. NES games known as "black box" games refer to the launch titles for the Nintendo Entertainment System. Balloon Fight is one of the thirty entertaining titles that encouraged buyers to fork over the $200 bucks for the NES in 1985 (which equals $475 with current inflation). Some of the black box games are good, some are fairly boring. This title in particular I find very straightforward, yet very challenging. I would say it's even cute… until you try to beat it.
The game starts off giving players the option of a one or two player game, or a side-game called Balloon Trip. The two player mode is indeed cooperative play, so grab a buddy and get jammin'! I have never played in two-player mode, but I would love the chance. Two-player mode seems fun, but the one-player mode has been plenty enjoyable for me.
The game's protagonist has two balloons attached to his head that allow him to fly around the screen. The object of the game is to pop the enemy birds' balloons to advance to the next level. Each bird has one balloon. After you take out your enemy, they will parachute down to either the ground, or the water in the middle of the screen. If they land on a ledge, they sit there for about two seconds before pumping up a new balloon. The birds will come back and be faster each time until they are hit on the ground while trying to revive themselves. If they land in the water, they will either disappear or a big fish will get them. Be careful while flying around the water, because the big fish will swallow you up too!
Balloon Fight has a different landscape on every level, which adds barriers to fly around on top of avoiding the birds who are trying to take out your balloons. There are clouds that strike lightning and send an electric spark bouncing off the landscapes. This little charge will kill you instantly, so watch out. Also another fun factor to this game; the screen wraps around, so you can evade or attack from side to side without traveling across the screen back and forth.
Balloon Fight operates on a point award system. Every time a bird is knocked out, players get a certain amount of points added to their overall score. The color of balloons signify the number of points and the colors change by how many times the balloon is popped. It is good to let the birds come back to rack up more points to gain free lives which will be needed later on. This game gets very hard as the levels progress! Especially since the amount of enemies varies on each level.
Every few levels players will enter a bonus areas with tubes at the bottom of the screen. These tubes release balloons that players need to pop. Get them all for a perfect bonus. The first stage is easy, but each one after is a challenge to get them all in. These courses are easy to rack up points. And there is no threat of dying in this stage, so don't worry and fly like crazy!
As stated above, there is a mini game called Balloon Trip. This mini-game gives players one life to try and rack up as many balloons as possible while avoiding lightning. This is a fun little game, but I grew bored of it quickly and returned to the main game. However, it is very hard to get all the balloons.
While Balloon Fight may be a classic, it is not without its flaws. The landscapes can be tricky to navigate. Players have to make sure they are nowhere near touching the obstacles or you will bounce back and run into an attacking bird, which results in losing balloons very quickly. Sometimes you will collide with birds and it will cause you to lose a balloon even if you swore you were dead on. This was incredibly frustrating to me when I was on a roll and a collision favoring the enemy would occur. The game does make it seem like players are genuinely floating and maneuvering with balloons. There is no precise movements and it takes some momentum to get going fast. There is no fast get-away in this game and precision flying is necessary to succeed.
I have logged many hours playing this great game, so I have seen just about everything that can happen. This is a challenging title that has kept me coming back for more for decades. Balloon Fight deserves a Nerd Rating of 7 out of 10 in my book. I rated it as such because it was a well-made game for 1985/6. The objective is very simple yet still entertaining. The graphics are crisp for the time period and there are very little (if any) glitches. The black box factor adds a nice collective touch. What is there not to love?
Balloon Fight is a great NES "black box" classic. I love playing it and it will take gamers back to the roots of the NES. This is one of my favorite launch titles and is a great collector piece, usually demanding $20+ for a decent-shape copy. So, if you see it out in the wild for less, get it! This is a rare title that is not seen very often in game shops and it's a highly-popular game among the NES enthusiasts. The box is even harder to score in good shape. Game on!