Sonic & Knuckles – Sega Genesis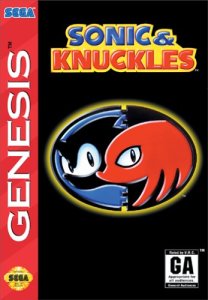 Platform: Sega Genesis
Developer: Sonic Team / Sega Technical Institute
Publisher: Sega
Release Date (NA): October 18, 1994
Genre: Platformer
Nerd Rating: 9 out of 10
Reviewed by Nerdberry
Welcome to a game that requires no introduction. But due to Nerd Bacon rules and guidelines (rules I created myself), I am required to introduce Sonic & Knuckles, so introduce it I shall. Sonic & Knuckles is a masterpiece of a game, one with an ending set to rival any 16-bit ending. Sonic & Knuckles is power and finesse rolled up into one sleek package. The game's box-art is drastically different from the previous 3 titles, leaving ample space for imagination. Will you spin your way to victory as Sonic? Or will you blaze a trail in the air as Knuckles? After a long 3 years of waiting… the choice is now yours.
Released only 8 months after Sonic the Hedgehog 3, Sonic & Knuckles would take the world by storm with its unique narrative structure and an extra port on top of the cartridge, which Sega coined "Lock-On Technology." Originally, Sonic the Hedgehog 3 and Sonic & Knuckles were
to be one huge 34-megabit cartridge simply titled Sonic the Hedgehog 3, but the cost to produce such a cartridge, and the time to develop it, was becoming more challenging than was worth it. So Sonic Team chose to split the game in 2 and spend the next 8 months fine-tuning Sonic & Knuckles. Sure, Game Genie had already done something similar to "Lock-On Technology," but Sega found a way to put more value into their previous 3 Sonic games at a time when everyone was looking towards the future. By connecting Sonic 1, Sonic 2, or Sonic 3 to the Sonic & Knuckles cartridge, players could now unlock new content and features. A truly genius move in the history of marketing, as well as a great way to make the older games fun again! And if you want to play the game the way it was originally intended, lock-on Sonic 3 to Sonic & Knuckles and play what is known as Sonic 3 & Knuckles which seamlessly blends the 2 games into one big story! Talk about epic!
But it's not the Lock-On Technology that makes us spin-dash our way back onto the Floating Island again and again. It's the culmination of all
the major and minor details, and the perfection of those details, that keeps us coming back for more. Sonic & Knuckles is the direct sequel to Sonic 3, and it keeps the story moving forward in magnificent fashion by allowing players to choose between playing through with Sonic or playing through with Knuckles. That's right. For the first time players can finally play with Knuckles! Sonic's path to the end of each level might differ from Knuckles' path considering Knuckles can climb walls and glide. The ability to play through each level differently adds tremendous replay value and provides the series with its first real taste of an emphasis on exploration.
The story in Sonic & Knuckles is more of the same except now each character has their own variation. In Sonic's story, he has to face off against Knuckles and Dr. Robotnik as they try to recover the Chaos Emeralds. In Knuckles' story, he is actually in a battle with Mecha Sonic who has stolen the Master Emerald. Having two completely different stories and cutscenes based on the character you are playing with was a very underutilized concept for its time, but certainly not under appreciated. While the stories might not be the most original in the line of Sonic games, they do at least stay true to the previous titles as well as forwardly progressing the story from the previous title.
Technically speaking, Sonic & Knuckles has 7 zones in total, 8 if you are playing with Sonic (as Super Sonic), although the last 4 zones each have only 1 Act. Compared to Sonic 2 and 3,  this might seem like a relatively low number of stages, but each stage is filled to the brim with top-notch level design fully utilizing Sonic's or Knuckles' platforming and speed capabilities. The requisite green-landscape zone to start the game is Mushroom Hill Zone, and they really couldn't have chosen a cooler level to get your blood pumping. There are giant mushrooms scattered throughout the acts allowing Sonic and Knuckles to bounce on them to reach higher areas. Very memorable music from this zone as well, along with the sound effect of jumping on a mushroom!
Sega Team is well renowned for their graphics, animations, and music within the Sonic series, but Sonic & Knuckles ran with it making Sonic 1 look like child's play. While not too dissimilar from Sonic 3, Sonic & Knuckles appears to be slightly more polished graphically as evidenced
in Mushroom Hill Zone and Death Egg Zone. The sheer brilliance in Death Egg Zone's design, animation, background, and music will leave you breathless. Death Egg Zone might be the most beautiful and awe-inspiring zone in the entire 2D series. The colors are stunning and pop off the screen whether you're still playing on a CRT TV from 1994 or a curved 4K OLED TV from 2014. The 3D Sphere Special Stages from Sonic 3 return and now features different layouts.
As is tradition within the Sonic series, the music is beyond perfect and each zone features a unique tune appropriately composed for the zone's theme. For example, the music in the Sandopolis Zone has a distinct sound akin to music in the Arabian desert. The Death Egg Zone music is highly electronic, dark, and… well… truly brilliant. What good is a Sonic game without its music? Sonic & Knuckles features a soundtrack that could rival all of the other Sonic games, even to this day.
Life isn't all golden rings and roses on the Floating Island however. Some of the levels are insanely large and I died numerous times from "timing out" because I like to explore sometimes. If you're unfamiliar with this, you essentially have 9 minutes and 59 seconds to beat an act or you will "time out" and die.  Sandopolis Zone Act 2 is one in particular that is frustratingly difficult to the point of not being fun anymore. The level is loaded with timed switches, spikes, moving blocks and rising sand that will crush you, and ghosts that only go away if you can find a pulley to turn the lights back on. The difficulty is one thing, but the sheer size of the stage will have you battling your wits and patience just as much as the clock and the enemies. I'm not dropping any points off of the Nerd Rating just because of the difficulty, but I did find some stages to be a bit too large and without enough checkpoints.
Overall, Sonic & Knuckles is a superb game and an almost divine experience. Sonic Team utilized the Genesis' graphics processor to its fullest extent while blending in excellent gameplay and music. While Sonic & Knuckles might be all too familiar for some as it plays and feels just like Sonic the Hedgehog 3, the ramped up difficulty and polished graphics, along with the ability to play as Knuckles, will be just enough of a difference to make it worth your while. Plus with this game you can now play with Knuckles in Sonic 2 and Sonic 3! A personal high moment for me is making it to the Death Egg Zone. Getting there is no easy feat, but when you beat it and see the ending (that I don't want to spoil), your jaw will drop in amazement.
Nerd Rating: 9 out of 10
Reviewed by Nerdberry