Sonic Spinball – Sega Genesis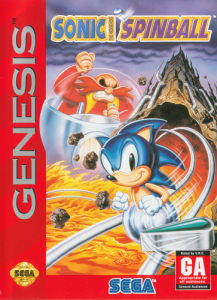 Platform: Sega Genesis
Developer: Sega Technical Institute
Publisher: Sega
Release Date (NA): November 23, 1993
Genre: Pinball
Nerd Rating: 4 out of 10
Reviewed by Nerdberry
After the wild success of Sonic's debut and the exceptional sequel, the world was clamoring for anything and everything Sonic! The year was 1993 and word on the street was that Sonic the Hedgehog 3 was on the verge of being released, but Sega Technical Institute had a different plan for its fans. Exactly 1 year after the release of the brilliant Sonic 2 (Sonic 2 was released on November 24, 1992), Sega unleashed a pinball video game to the unsuspecting public. Sonic Spinball isn't exactly what you think it is. Sure, it's Sonic. Sure, it's pinball. But what else is it?
Sonic Spinball takes the idea of a pinball game and plasters Sonic themes throughout the entire game. The game actually begins with Sonic running through a toxic sewer and jumping into a pinball spring (it's actually some sort of plant that sucks him in and spits him out) to launch into the actual pinball arena. Just like any other Sonic game (at the time, there were only 2 others), Dr. Robotnik is up to no good once again. As per the game's instruction manual:
The evil scientist Dr. Robotnik has unleashed his most diabolical plot yet to turn the animals of Planet Mobius into robots. His monstrous contraption, the Veg-O-Fortress, built on Mt. Mobius, is already transforming happy creatures into mindless slaves! Robotnik's fiendish machine draws its power from the mountain's volcano. Fiery lava fuels the lethal Pinball Defense System that protects the Fortress. Sonic and his pal Tails mount an air assault on the Fortress, only to be blasted in mid-flight by Robotnik's cannons. Sonic is knocked into deep waters near the volcano. But he has friends in wet places – and is saved at the last moment! Sonic sneaks into the Toxic Caves below the Fortress. From there, he infiltrates Robotnik's vast and deadly defenses. In no time at all, Sonic starts swiping Emeralds, freeing the animals of Mobius and dishing out hedgehog justice! Yo, Robotnik! You're in for a mountain of trouble now. Sonic is spinning into action!
Pretty standard Sonic story, except this time we HAVE to get the Chaos Emeralds. In other games, you can still win without them, but you ultimately don't achieve the "true" ending. The Chaos Emeralds stabilize the Mt. Mobius volcano on which the Veg-O-Fortress stands. Without the Emeralds, a massive eruption would blow the Fortress to pieces! This is why Dr. Robotnik needs them, and that is why you must stop him. Again, like most simple games of the era (and Sonic was typically considered a simple game, no matter how difficult), the story means less than the actual gameplay.
Sonic Spinball features only 4 levels, which might not sound like a lot, but believe me… It is plenty. Each level is pretty vast in size as they feature numerous pinball arenas. In any typical level, you will have to complete an area by hitting switches, defeating enemies, and timing your flipper controls with pinpoint precision to get Sonic into certain pipes, openings, holes, etc. In each level, Sonic must collect all of the Chaos Emeralds to open the boss room where he will fight Dr. Robotnik.
So what's it like to play Sonic Spinball? Excruciatingly dreadful. That's what it's like. Each level is loaded with a series of terrible tasks such as launching Sonic to the upper RIGHT stage that requires you to do the same thing 3 times (or more) just to open a door. Then you have to find your way into that door. That takes you to an area that is loaded with certain hazards that take you ALL THE WAY BACK TO THE BEGINNING unless you luckily guess which way is correct, and then you'll get one of the 2 Emeralds… WHICH WILL THEN TAKE YOU ALL THE WAY BACK TO THE BEGINNING and force you to repeat the same steps… except this time you want to get to the upper LEFT pinball stage. And if you accidentally go up the wrong pipe and end up in the RIGHT pinball stage, then you have to find your way back to the beginning and try again.
The layout of each arena is a confusing clusterfudge of a mess, and there are traps, power-ups, enemies, robots, pipes, flippers, etc that are haphazardly strewn throughout the entire level. I might suck at pinball games because it took me over 30 minutes just to get through the Toxic Caves (1st level). But I attribute my suckiness to my waning patience. To make matters worse, whenever you feel like you have the flippers figured out just right and you get the perfect pinpoint hit that's going to take Sonic EXACTLY where you need him to go, a badnik (those are Dr. Robotnik's robot enemies) comes flying in at the last second and gets in your way sending you falling back down to the flippers. Ugh. Talk about frustrating!
I'm not sure that there's a stitch of anything good within Sonic Spinball. Well, okay, that's not entirely accurate. The graphics are a little on the subpar side compared to the first 2 Sonic games, but they aren't as dreadful as the game itself. Why they chose to start Sonic Spinball in a sewer is a mystery to me. It kicks the game off with this dark and ominous feeling of being trapped, which is the complete opposite of the previous games. But maybe that was their goal. Who am I to judge? Oh wait, that's my job. So the graphics don't really meet the expectations and neither do the soundtrack and sound effects.
The music isn't terrible, and it's definitely Sonic music. But it really doesn't have the same kind of catchiness as the first 2 games. The sound effects are decent, at best, but worse than that is the fact that they're flat out DIFFERENT from the previous games. When Sonic does a spin dash, the noise sounds more like it should be on the Sega Master System instead of the superior Genesis.
Overall, Sonic Spinball is a lackluster game that underperformed in nearly every category. The gameplay is entirely too repetitious and flat out frustratingly difficult! Furthermore, once you get past a frustrating part (which is nearly every area) you are instantly cast into another frustrating area. What's worse is that even if you do advance pretty far into the stage, you can easily get bumped all the way back to the very beginning, which gives absolutely zero reward for hard work. With some choppy frame rates, boring gameplay, subpar graphics, sound effects that don't match with the other Genesis Sonic games, and oddball music, there is very little reason to ever pick up Sonic Spinball for your Genesis. I remember playing this game in 1994 and thinking it sucked! As a child! We all hated it! It was actually a running joke of ours and we constantly picked on one of our friends who only owned one Sonic game… and that game was Sonic Spinball. Poor, poor child.
Nerd Rating: 4 out of 10
Reviewed by Nerdberry