Sonic Riders – GameCube
Platform: Nintendo GameCube
Developer: Sonic Team
Publisher: Sega
Release Date (NA): February 21, 2006
Genre: Racing
Nerd Rating: 7.5 out of 10
Reviewed by Nerdberry
When I first picked up my copy of Sonic Riders, in the back of my head I was hoping for something like F-Zero GX or Wipeout 64. Further in the back of my head I was hoping Sonic Riders wasn't just Sega taking another crack at racing the likes of Sonic R. What I really want is speed, maneuverability, great graphics, and furthermore… a little bit of mayhem! Isn't that what we all want in a racer? After all, we didn't pick up Sonic Riders hoping for an experience like Gran Turismo or Forza, did we? Can Sonic Riders deliver all of the enjoyment of a 4-player racing game while remaining faithful to the wonderful Sonic series?
At midnight one evening in Metal City, Sonic and friends uncovered a valuable Chaos Emerald. As they stood admiring it, a mysterious trio on floating Extreme Gear airboards appeared out of nowhere and snatched the precious gem. As they raced away, one of the three dropped their airboard and Sonic jumped aboard to pursue the thieves. But unaccustomed to riding, he lost his footing and they got away.
Later as Sonic and friends gathered in Metal City Plaza, they were interrupted by Dr. Eggman speaking from a giant building monitor. "I've put together a little extra something to spice things up! I call it the 'EX World Grand Prix!' A tournament to see who's the best of the best with Extreme Gear!" Sonic groaned with disdain. "Eggman again! Just what is he up to this time?"
At that moment, the three mysterious Chaos Emerald thieves appeared as top ranking entrants on the monitor and Sonic's attitude changed. "The EX World Grand Prix, huh? Let's do this!" Sonic's mind was made up. But just what is Eggman really planning? And who are the three mysterious characters?
The story is actually quite enjoyable and really puts that classic Sonic spin on what might otherwise be a standard racing game. Right off the bat we know that we're in for a treat. I, like many classic Sonic fans, was going through a bit of "Sonic-Overload" in the mid 2000s. I was disappointed with the direction Sonic was going because I was too hung up on the past, and I was too angry with Sega for pulling the plug on the Dreamcast only 2 years after I bought one! Sonic R really was not a great game, so when Sonic Riders came out, I willingly shifted my eyes towards other games. But maybe I was too harsh on Sega and their 3D Sonic franchise? I mean, can anyone be expected to live in the past and not look towards the future for forever? Sega made the right call with Sonic Adventure and I just needed to adapt. Sonic Riders is a great example of Sega putting Sonic out there for a variety of gamers who want a variety of experiences with their favorite mascot and his friends!
The Nitty Gritty
Sonic Riders produced over 15 playable characters, most of which are easily recognizable in the Sonic Universe, while others are making their debut on the airboards. Of course, Sega included the mainstay characters of Sonic, Tails, and Knuckles, but we are also introduced to Wave the Swallow, Storm the Albatross, and Jet the Hawk, the latter of which has made numerous other appearances in games like Mario & Sonic at the Olympic Games and Sonic and the Black Knight, to name a few. Jet the Hawk also draws a striking resemblance to Bean the Dynamite from Sonic the Fighters…. Hmmm….
Featured within Sonic Riders are four different racing modes: Normal Race, Story Mode, Tag Mode, and Survival Mode. Normal race is your standard exhibition one-off race where you select a track and compete in a race. Story mode is the main game where you race the Babylon Rogues (the trio of bad guys who stole your Chaos Emerald) and others in an effort to get your Chaos Emerald back. Tag Mode is one of the two multiplayer modes for 1 to 4 players. And Survival Mode is the other multiplayer mode with a series of set rules that you have to follow. Story Mode is obviously the crème de la crème, but the Battle Stages within Survival Mode are reminiscent of games like Mario Kart 64, Vigilante 8, Twisted Metal, and Rush 2049! They are very fun and really take Sonic Riders to an entirely new level of enjoyment!
Sonic Riders: Unexpected Depth Below the Surface
Sonic Riders might seem like a straightforward racing game on the surface, but it is much more complex and involved than any previous Sonic racing game. Sonic Team included a pretty intuitive system for how your airboard operates, even if it isn't entirely original. Each board is powered by air stored in the air tank. At regular speed, air is consumed fairly slow, but using your booster and performing air tricks will use air at a more rapid rate. You can replenish your air tank by picking special items, performing neat tricks, or riding through an air pit terminal. When I say that this concept isn't entirely original, that's because it sounds very similar to any F-Zero game (all the way back to the original, too) among others. So the idea has been around. But Sonic Team put their own spin on it.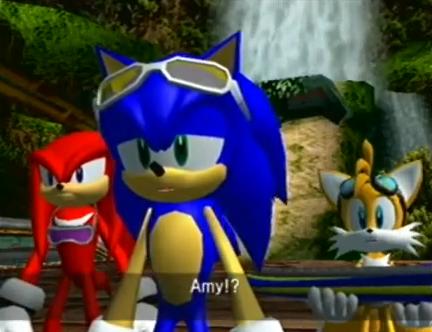 The complexity behind Sonic Riders lies in the structure of the gameplay and really has nothing to do with the story, graphics, techno music, or anything else. Steering is quite simple and controls very well via the wonderful GameCube controller. While you do not need to press anything to accelerate, you can use an air boost to move faster by pressing B or X. You can also slide through corners using L or R while steering. But my favorite is surfing turbulence. Your opponents will kick up an air stream wake which you can surf through. While not necessary, riding these does provide considerable help in navigating tough corners.
Aside from simple controls, each track contains numerous gimmicks for pulling off tricks, riding with style, increasing your competitiveness, or simply just for fun! Each track is loaded with accelerators, trick zones, barricades, grind rails, and shortcuts. Accelerators act as a power-booster to accelerate you for a short period of time while barricades actually obstruct access to certain paths. These obstacles can be smashed to gain access, but only by Power Type racers (like Knuckles, for example). For tricks and stunts, look no further than the grind rails and trick zones! While not necessary, taking the time to hit these trick zones and grind rails is an easy way to be awarded with a higher rank and to replenish a greater amount of air. And trust me… You're going to find yourself bustin' out some serious moves JUST for air!
So, you're starting to see some of the depth behind Sonic Riders now, aren't you? But Sonic Team couldn't just stop there. They took the game even deeper with the inclusion of rings. You know, those golden hoops you've been collecting since Sonic the Hedgehog on the Genesis? When your ring count reaches certain levels, you will level-up, increasing your parameters and abilities. You can lose your rings (and level) by falling off the course or getting attacked. All rings held at the end of each race are accumulated and can later be exchanged for gear at the shop. This is where you can increase the quality of your racing gear with upgrades and neat accessories. Pretty awesome, huh? Definitely better than Sonic Drift 1 and 2.
Sonic Riders Looks and Sounds Brilliant
The graphics and music in Sonic Riders are phenomenal and worthy of considerable praise. Each track is slam packed with a great amount of detail without being too complex for the eyes to follow. The tracks are easy to see and simple enough to comprehend, but they are designed intricately as well. Sounds confusing, I know. But there is a perfect balance between inclusion of details, intricacy of track design, and simplicity of use. Almost flawless.
For fans of the original Sonic trilogy, you might feel a little awkward playing as Sonic in a 3D world with this new revitalized image and sound of Sonic. The music is composed with perfection, even if it is new and different. The sounds of Sonic Riders sound more like something you would hear in Wipeout 64 than something you'd hear in a Sonic game. Synthesized techno beats surround the tracks, but somehow it fits in perfectly!
The Verdict
Sonic Riders is a really enjoyable racing game and should be even more enjoyable for fans of the Sonic franchise. While obviously not on par with the original Sonic trilogy, this one is an ace in the hole as far as Sonic racing games go! The way the story grows and progresses is possibly the most enjoyable part of the game. It's refreshing to have a good racer with excellent gameplay and a great story. Obviously I'm a bit biased, being a Sonic fan and all, but I've shot down Sonic games HARD in the past. So you can't say that I treat them all as if they were my children.
Could Sonic Riders be better? Sure. Personally, I think the title screen and menu screen are bland and boring. Sure, that's just an aesthetical thing, but it's how the game STARTS, for Pete's sake! Also, really understanding the game can be a bit overwhelming at first. A practice arena would have been a nice addition. Furthermore, all the stats and logistical stuff on your screen seem a little crowded. There's too much going on in ALL FOUR CORNERS of your screen! It's too difficult to shift your eyes to all of these corners to see what you want to see. Finding out which corner has the stuff you want can result in you falling back a few places in a race, too. Perhaps the worst thing about Sonic Riders is constantly having to manage your air. Sometimes it can feel like you're moving SO SLOW, and you just get this burning desire to use your air boost even when you know you shouldn't. But these are things that get worked out in time. So with a little patience and effort, Sonic Riders can be almost flawless.
What does it for me in Sonic Riders is the combination of so much variety and detail in gameplay. I can tell that Sonic Team wholeheartedly put some serious effort into this game. Sonic Drift 1 and Sonic Drift 2 don't even have story-lines! Seems to me like Sega was just trying to cash-in on Sonic's success. With the recent demise of the Dreamcast, Sega really had to pull out all the stops. And Sonic Riders was a ballsy move. Fans were clamoring for new installations in the 3D Sonic platforming and adventure genres, not a racing game. But Sonic Team knew they had a good thing and they stuck to their guns.
Sonic Riders offers up a unique perspective on the Sonic universe, giving players a chance to race with a variety of characters in a variety of settings. Sega wanted to distance themselves from the karts and running of their previous racing games by switching it over to hover boards. Upgrading your gear and surfing in the air-wake of your opponents' airboards might be tiny pieces in a big puzzle, but they sure are fun as hell. Instead of just flying through a bunch of tracks one after another, they decided to include a mysterious story that unfolds slowly as the game progresses! Overall, Sonic Riders is an extremely fun game worth serious consideration for anyone who enjoys futuristic style racing games (not games that aim for realism) and/or Sonic games! You won't be disappointed…
Nerd Rating: 7.5 out of 10
Reviewed by Nerdberry