WarioWare, Inc.: Mega Microgames! – Game Boy Advance
Platform: Game Boy Advance
Developer: Nintendo R&D1
Publisher: Nintendo
Release Date (NA): May 26th, 2003
Genre: Arcade/Party Games
Nerd Rating: 8 out of 10
Mama mia! It's been a long, strange journey.
Wario's had a lot of crazy adventures, hasn't he? And so have we. We began with Super Mario Land 2, where Wario was just a jealous creep who wanted to take over Mario's castle. Then Wario Land gave him a starring role as a treasure hunter looking to secure enough wealth to build his very own palace. Wario Land II redefined the series as he went on a mission to reclaim what he rightfully pillaged, and Wario Land 3 sees our antihero become a hero…and even wealthier. Wario Land 4 was…uhhh…I actually forgot what happens in Wario Land 4, so read the review and then remind me in the comments. And Virtual Boy Wario Land…the forgotten sequel. Wario made a disappointing 3D debut in Wario World, where he embarked once again to bust some teeth and rake in cash. After all that, what is our man up to? (Okay, technically Wario World came out after this game, but roll with me here)
Why, sitting on the sofa, watching TV, picking his nose.
After so many adventures, can you blame him?
Wario may have more money than God him/her/itself, but he's still gotta find an easier way to make some extra moola, right? And how does one accomplish such a goal whilst sitting on one's ass?
Enter WarioWare, Inc.!
After seeing a news segment regarding a smash hit game titled "Pyoro" for Game Boy Advance,
Wario decides to start a company and make video games of his own (talk about meta!). So with the help of his "friends" (believe it or not, Wario does indeed have an odd assortment of friends) he creates WarioWare, Inc. to bring us some bizarre, wacky, fast-paced hilarity in what may be one of the most clever concepts for a party game. So, without further ado, ladies and gentlemen, may I present to you, the cast of WarioWare, Inc.
Wario: You know him. You love him…or maybe you don't. But you definitely know him. Wario brings you an early sampling of simple microgames. What's a microgame? I'll cover that in a bit. The first genre is known as the intro games.
Jimmy: The funkadelic, hip, dancing disco freak! He's got an assortment of afro wigs and a sweet leisure suit. Jimmy rocks a flip phone and offers a genre of sports games. He reappears twice with two special remixes featuring a blend of three to four characters' genres.

Dribble & Spitz: These two cabbies bring us some fine sci-fi games. If you're a fan of space, time, or anything else sciency, you'll enjoy what they have to offer.
Mona: Her genre is strange. No, literally. And boy, is it strange. I mean, all the microgames in WarioWare, Inc. are weird, but hers take the cake!
9-Volt: Every Nintendo fanboy will find themselves right at home in 9-Volt's Nintendo genre. It goes without saying this is one of my favorites – not to mention many of his microgames introduced me to some NES classics I missed out on as a kid, such as Balloon Fight.
Orbulon: Games in the IQ genre will not only test your reflexes, they'll test your smarts as well! Because these microgames require some extra thought, you're given a few additional seconds before the clock begins its countdown.
Dr. Crygor: Dr. Crygor is a mad scientist who desperately…needs to use the restroom. No, I'm not kidding. Watch his opening scene. He brings us the reality genre. No, not like reality TV, reality as in…photorealism. His games use realistic sprites to make you feel as if you're there…sort of.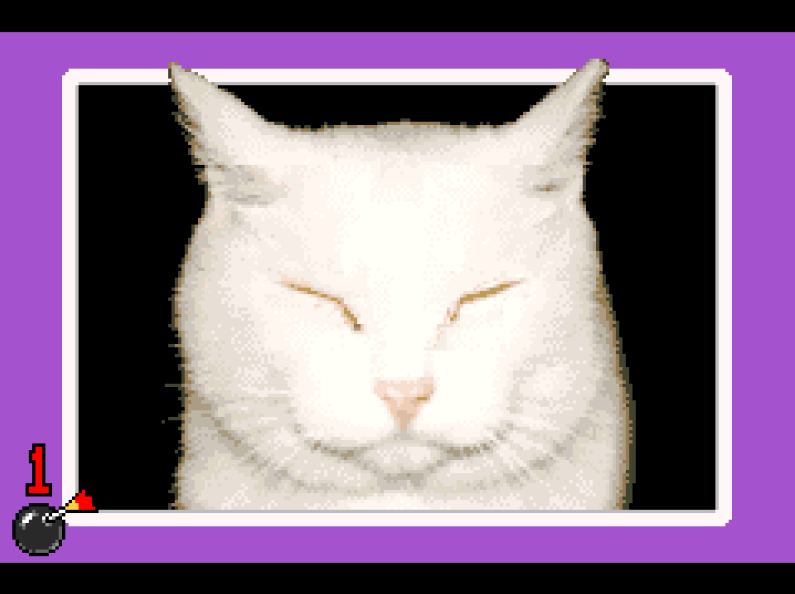 Kat & Ana: These self-proclaimed "mean ninja cuties" represent the nature genre. Their games are fun, and they'll make you feel warm and fuzzy on the inside.
Wario…again: How could such a game be complete without a reprise from our favorite glutton? In the "anything goes" genre, Wario serves up a slew of fresh Wario-based games, in addition to those found in his first genre. Do you have what it takes to beat Wario the second time around?
Your task is to play all of these microgames. Now how does all of this work? What is a microgame?
WarioWare, Inc. is composed of 200+ microgames, which are ultra-quick, frantic mini-games lasting only a few seconds. What's brilliant about WarioWare, Inc. is the way in which it makes such a quick experience fun. Every time you play, you are faced with a randomized series of microgames within whatever genre you've chosen. For each microgame you have only those few fleeting seconds and a sparingly-worded hint on screen to figure out what to do. And for each and every one you are armed with only the D-pad and the A-button for controls.
You have four lives. If you fail a microgame within the narrow time allotment you lose a life. After a certain number of rounds you face a boss. The boss rounds are much longer in comparison, and will typically have you complete a short series of tasks or challenges. Beating a boss allows you to move onto the next genre. Once a character has been cleared, anytime you revisit their genre the microgames will continue after beating the boss, which will earn you an extra life if conquered successfully. But watch out! The speed revs up as you progress, so even if you've figured out and mastered all of the microgames, eventually you will have to rely on twitch reflexes to survive.
As I mentioned before, in order to advance to the next set of characters, you must beat a certain number of microgames. But what happens when you've unlocked all
genres/characters? Why, there's plenty of goodies to be found in WarioWare, Inc.! But we'll cover those in a second.
Reviewing WarioWare, Inc. is a little tough because it's the sort of game that inevitably loses value the more you play it. When it's fresh, you discover the microgames for the first time, making it an entirely different experience. This is inherent in the very design, and thus nothing can really be done about it. I first received WarioWare, Inc. in 2003 or 2004, so the freshness has long since passed. It has been a while since I last played, however, so after dusting off the ol' GBA, I will admit I was tripped up by some of the microgames.
Regardless, I can state with tremendous confidence that WarioWare, Inc. is great. Some aspects of this analysis may be slightly skewed by my 10+ years of owning the game, but otherwise this title has so much going for it.
In WarioWare, Inc., we see a full evolution of the strangeness that was budding in Wario Land 4. The same eerie, otherworldly voiceovers from the
latter game can be found here, even furthering the tonal similarity between the two Game Boy Advance titles. The cutscenes are odd and worth watching – tons of fun, loaded with more personality than a baked potato. Very little makes sense in this new Wario realm, but that's the brilliance of WarioWare, Inc. It's more Japanese weirdness, much like what we saw in Wario Land 4.
So how well does it play? WarioWare, Inc. is definitely fun. Does it have replay value? I'd say yes. It diminishes a bit but settles as you explore the plethora of extra content and personal records. After a while you may feel like you've gotten everything you need out of the game, then set it down and wait another ten years to pick it back up, but when you do, it'll feel fresh again. I can say from experience that I played the hell out of this game as a kid, so even though you might think you'll grow tired of WarioWare, Inc., you will get more out of it than you might expect.
Not only are there a ton of microgames at your disposal – many of which are a blast, some difficult to master – but you are given a number of bonus games and modes to unlock. I won't go into too much detail, but some include the fly-swatter game from Mario Paint, a Dr. Mario clone with Wario in Mario's place, an innovative jump rope game, and more! Nintendo was even generous enough to give us some simple, yet effective, two-player games that don't require an extra cart or link cable! One player mans the L button, the other mans the R button.
I struggle to rank this game's difficulty, as it's mostly based on your familiarity with the library of microgames. Obviously, the challenge is reduced when you know how to play, but trying your hand at beating your personal bests and seeing how far you can go in Thrilling mode will definitely put your thumbs to the test. You even have the opportunity to play each and every microgame individually ad infinitum…or until you slip up and lose all four lives. Ultimately, once you've mastered WarioWare, Inc. it becomes something of an arcade experience where you're playing for the sake of high score.
This may not be the most in-depth analysis, but that's because at its core, the concept is very simple. It's the novelty of having to play a series of random games, not knowing what do to, and only having a few seconds to figure it out, that makes WarioWare, Inc. the game it is: fast-paced insanity. Sure, I could comment on things such as handling, graphics, etc., but all those aspects would be irrelevant. What matters is the idea driving the game. And it's fantastic.
If nothing else, WarioWare, Inc. is worth it for its charm and personality. (You'll notice I've used this word many times throughout my Wario reviews. I mean, can you blame me? The series really is packing with personality.)
One thing I did fail to address is the music. It's many different things at many different times. Sometimes it's industrial, sometimes it's techno, sometimes there's a Japanese flair, and sometimes it's moody. The one thing that's consistent is it's all good, strange, silly, and fun. You could almost compare a majority of the tracks to catchy elevator music.
Well, that's WarioWare, Inc. for you. Once again, the Wario brand has succeeded in bringing us something totally original, daring, and off-the-wall. Wario reinvented himself yet again, and it was a huge success!
Wario
Main Series

•
•
•
•
•
•
•
Wario: Master of Disguise
•
Wario: Shake It!

WarioWare

Mega Microgame$!
•
•
Touched!
•
Smooth Moves
•
Snapped!
•
D.I.Y.
•

Other

•
Wario Blast: Featuring Bomberman!