Dr. Mario – NES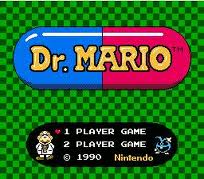 Platform:  NES
Release Date (NA):  October 1990
Developer:  Nintendo
Genre:  Puzzle
Rating:  8.5 out of 10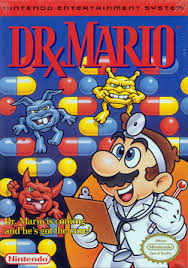 Most people tend to point to Tetris as the epitome of puzzle gaming during the late 8-bit era, but Dr. Mario gets my vote without hesitation.  Perhaps this is due to a period of my life where my parents' house become a revolving door for a loosely connected set of friends and their friends, most under various levels of intoxication from pot and/or booze, and this game was one of the main forms of recreation.  Indeed fierce competitions revolving around little falling capsules and vicious virus sprites would go deep into the night.  In fact I believe that the cart I have is/was Nerd Berry's, from around 8 or 9 years ago.  Actually, now that I think about it, it's very much like Tetris 2 which included stationary flashing blocks of differing colors but standard Tetris-shaped pieces fell and to the best of my memory were wholly one color.
The premise of this game is a lot like Tetris but takes it a step farther.  At the beginning of each stage, a number of different colored virii are scattered about the playing area.  These little critters come in one of three colors:  blue, yellow, and purple.  Like the falling blocks of the aforementioned game, capsules rain down from above, one of the same three colors on each half.  The capsule can be rotated in 90 degree increments.  Four of the same colored halves stacked horizontally or vertically will cause an elimination.  Any bits suspended in the air will also fall, sometimes resulting in a chain reaction.  Unlike some similar puzzle games where the objective is to clear the entire screen, Dr. Mario only requires to player to elimination the virii.  Three same colored capsule-halves on a virus of the same color (the virus counts as the 4th color needed) and that's one step closer to the "cure."  Once all of one colored virus is gone, those same colors elsewhere on the screen disappear, making for some spectacular combinations resulting from displaced pieces.  In the event that the capsules become stacked so high that no more can fall in, the game is over.
Even in 1-player mode Dr. Mario proves addictive.  After each completed level, more virii appear in the next, gradually moving higher and higher in the playing area while capsules fall faster and faster.  I'm not sure how far the levels the go.  The highest setting from the options menu is 20, but the game continues at least to 26, which is the highest I ever remember getting and I'm pretty sure the number of virii stops increasing after 20.  What keeps this title so fresh considering it's a relatively repetitive puzzle game is how different virus patterns can eventually affect the outcome of a stage, most especially in the higher levels from about 15 onward.
The over-the-top fun I had with Dr. Mario years ago was centered largely around the 2-player mode.  As expected, both players are trying to medicate the virii in the method mentioned above, but there are 2 twists that make this much more competitive than one might normally expect from an almost 25 year old puzzle game.  The first is the ability to drop capsule-halves on the opponent, almost always falling in a way to disturb the other player's immediate attempt at elimination.  This is done by making 2 or more lines with one capsule on one's own screen.  It can either be from how the capsule lines up both of its colors or how other pieces fall after an initial elimination.  Two lines drops 2 halves, 3 drops 3, and so on.  We affectionately or angrily (depending on which side of the screen we were on) referred to them as doubles, triples, and the near deadly quadruples.  I have no idea what these are really called if anything at all, but I can hear the slurred shouting of "DOUBLES!" even today.
The other cool feature is to set each player at a different difficulty in the same capacity as modern handicaps.  The confidence given by this disparity often backfired against weaker players as the stronger ones were able to fully show off how good we really were at Dr. Mario.  There isn't a huge amount of strategy involved, but it generally pays off to take a little extra time to set up "doubles" (or worse) as this cripples the opponent in regards to gameplay and pure morale.  Another important trait is speed, used in both rapidly deciding where a piece should go and how it should be turned, and remembering to hold the DOWN button to drive capsules into place quicker.
Graphics have little to do with gameplay aside from the colors.  As long as one can distinguish between the 3 colors and tell the difference between a virus and a capsule, they have the potential to become a Dr. Mario master.  Background music in puzzlers can become insanely irritating at times, but who can forget the amazing track CHILL, markedly better than FEVER and a decent MIDI in it's own right.
Modern gamers may not see the appeal here, but those of us who grew up on 8- and 16-bit games are bound to remember it fondly.  Worth any puzzle fan's time, and certainly one of the most addictive puzzle games ever that doesn't easily go stale.
Reviewed by The Cubist