A Virtual Life in Plastic: An Overview of the Barbie Games
We all know Barbie. She's been around for over 50 years and she's still the hottest doll on the block. We've seen her line of toys, crappy straight-to-DVD movies, her show at Epcot, and of course, her hot pink convertible. Barbie is the queen of fashion, but is she an iconic video game character? Definitely not.
I'll clarify now that I have nothing against Barbie or the Barbie games. I actually adore the Barbie franchise and am kind of a Barbie nerd.
I had several Barbie dolls growing up, and had hours of fun playing "Barbie: Salem Witch Trials", or "Let's See How Many Times We Can Take Ken's Arms Out Of Their Sockets Until He Tells Us Where He Hid The Drugs."  You know, a typical little girl's play patterns. I also have fond memories of these games, but that doesn't mean that I can't poke fun at them as an adult.
I've compiled a small list of mini-reviews of the more popular Barbie games for your reading pleasure.
Without further ado, let's take a gander at the magical world of Barbie:
Barbie Magic Hair Styler
Platform: PC
Developer: EAI Interactive
Publisher: Mattel Media
Release Date: October 1, 1997
Genre: Point-and-Click 
Nerd Rating: 5 out of 10
What a cute little game with room for creativity. This is the game you bought for your daughter when you didn't want to get them one of those creepy Barbie styling heads…
Barbie Magic Hair Styler has you start out picking a doll to work on, whether it be Barbie, Christie, Theresa, Kira, or Ken. Just kidding. Ken will never be as fabulous as Barbie.
After selecting your doll, you are prompted to pick a theme for your hair-do: Costume Party, Dream Date, Wedding, and Career. And as you can see, this game is loaded to the max with purple and glittery sparkles, which is great, because who doesn't love being blinded by a sparkly grape soda?
This game  actually has a lot of variety when it comes to styling tools. You can make Barbie's hair as long or as short as you wish. You can cut it angular, straight, make it wavy, and add color. There's tons of make-up and accessories… dozens of combinations can be created here. My only two complaints about this game are as follows: Barbie's voice-over is annoying as hell and she's constantly nagging you. For example, when you first start up the game, Barbie is instantly on your ass to hurry up and choose a doll to give a makeover to. She doesn't even give you a decent chunk of time, she's nagging every 20 seconds or so "CHOOSE ONE OF US." I felt like I was in one of those time puzzle traps in the movie Saw.
Then she's always talking: "That looks cool!" "Wow!" "You're so good at this!". My other complaint is the music, or lack therof, I should say. There's one song in the main menu and that's it. The rest is just annoying sound effect topped with Barbie's grating voice. I made the mistake of wearing headphones while playing this game, and now I have to keep buckets by ears to catch the random spurts of blood that come out.
Despite the annoyances, however, I can definitely see how a kid could be hooked onto this for hours and hours just seeing what they could come up with. That's why I've come to the conclusion that Barbie and her magic hair styling equipment receive an "average" rating of 5 out of 10.
---
Barbie Jewelry Designer
Platform: PC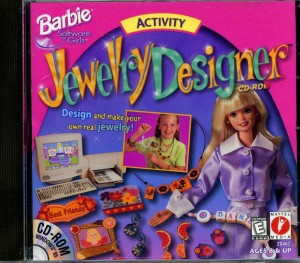 Developer: EAI Interactive
Publisher: Mattel Media
Release Date: September 1, 1998
Genre: Point-and-Click
Nerd Rating: 3.5 out of 10
First of all, there's no reason for this game to exist. I can't begin to tell you how boring it was. There's no real introduction and Barbie just stares at you like you just walked into her store two minutes to closing time but she still has to be friendly.
I'm aware that I was previously complaining about Barbie's grating voice, but SOME guidance would be useful here! Or at least include a tutorial video! This game leaves you to poke around until you figure out what the hell you're doing. Once you do get the hang of it though, there are some cute patterns and colors.
There's also an option to print your jewelry designs and implement them into real necklaces and bracelets to wear, but that's also something you could do simply going to the craft section at Wal-Mart. Again, there's no real reason for this game to exist other than to sell a Barbie product. I say give it a pass.
---
Barbie Nail Designer
Platform: PC
Developer: EAI Interactive
Publisher: Mattel Media
Release Date: September 1998
Genre: Point-and-Click
Nerd Rating: 3.5 out of 10
A relatively harmless game, Barbie Nail Designer, is a cutesy throwback to 90s that made me want to listen to Ace of Base for some reason.
Unfortunately, for all the fun and colorful atmosphere, there's really not much room for creativity. You, as the nail technician, are limited to day time and night time colors. Want to put a dark violet ring finger next to a lime green pinkie nail? Barbie says no! However, to make up for the lack of options, you can mix your own designs using a special mixer machine.
The soundtrack is tolerable, especially since you can select a song to play on a loop, and decide which one irritates you the least. And of course, they're IQ-lowering bubble gum pop garbage, but they do a pretty decent job of smoothing over the annoying high-pitched sound effects. Sadly, this game suffers the same handicap as Barbie Jewelry Designer, there's no point in it other than its a Barbie game to sell. The nostalgia trip was nice, though.
---
Secret Agent Barbie
Platform: PC
Developer: Unknown
Publisher: Mattel Media
Release Date: September 30, 2002
Genre: Action/Adventure
Nerd Rating: 6.5 out of 10
Everyone that has dabbled in the realm of Barbie games has either heard of Secret Agent Barbie or have played it themselves. Barbie works as a secret agent for an organization that we don't know the name of, along with her friends: Becky, Christie, and Ken. Becky's jobs include: giving Barbie advice, be her guide through Barbie's training, create new gadgets, and all around be the brains of the operation. Christie's job is to stand around and stare at computer screens, while Ken's job specifically requires him to pace around and wonder why the hell he's there. Barbie's fashion designer friend, Theresa, calls Barbie to tell her that all of her designs were stolen right before a fashion show and asks Barbie to investigate.
This is one of the better Barbie games that has a full plot, new characters, and action. And I mean "better" in the sense that this game is tolerable over the other irritating Barbie games. You can tell right away that this game is trying to cash in on the "girl power" thing, and even though the intentions are noble, its kind of insulting. They try to make Barbie an action hero, but she's still a bimbo. The player can tell who the villain is right away, but Barbie can't figure it out until near the end of the game (and the way she finds out is hilariously bad, by the way). Every level is interrupted as least five times by an outfit change, which can be very annoying when you just want to move on with the game.
The voice acting in this game is very robotic-sounding and laughably fake. It's hard not to make fun of the dialogue when its delivered in such a silly way. In addition, the NPCs that Barbie interacts with are some of the scariest I have ever seen. Talk about nightmare fuel!
The other thing that is a turn-off about this game is the awful, horrible, and irritating platforming. It. Is. Horrid. Barbie's jumps are not very fluid. She's very stiff and the player has little control over where she jumps, which leads to well-deserved rage quits. It just adds to the already irritating setup.
Thankfully, this game is short. It's not very sweet, but its short.
Are you still with me? Good. Only one more to go!
---
Barbie Fashion Designer
Platform: PC
Developer: Digital Domain
Publisher: Mattel Media
Release Date: April 20, 1996
Genre: Point-and-Click
Nerd Rating: 7 out of 10
I view this game as the Queen of all Barbie games and the founding father (or mother) of dress-up games. It was a monster hit when it came out in 1996, and its easy to see why. Barbie Fashion Designer is a neat little game and I enjoyed playing around on it. This game has a catchy soundtrack and Barbie's voice is actually pretty subtle. She's not too grating and is enthusiastic without being annoying.
Akin to the other Barbie makeover games, you pick a theme to start: Dream Date, Totally Trendy, Party Surprise, Cool Careers, Vacation Fun, and Wedding Fantasy. After selecting a theme, you can create multiple combinations of different clothing to create your own outfit, accessorize it with shoes, bags, scarfs, etc., and then add colors and patterns wherever you want. So naturally, I did a couple of cosplays:
The only downer is that there aren't a lot of colors or patterns to choose from, but that has been rectified in later fashion designer games, so I won't complain too much about it here.
After finishing your design, Barbie can model the outfit on the runway in a kind of terrifying 3D-rendered scene. What's weird about it is that Barbie is 3D but the her clothes are still kind of 2D-ish. Thankfully the runway is scene is only about 10 seconds long.
And just like Barbie Jewelry Designer and Barbie Nail Designer, the clothing designs are printable. The original game came with printable fabric sheets and directions, so you could make real outfits for your dolls (this feature is what most likely made the game such a massive hit), and if you ran out of fabric paper, refill kits were available. You can also print coloring pages of your outfits and magazine covers.
So yes, I actually had fun with Barbie Fashion Designer.
So there you have it, a little taste of Barbie's virtual life in plastic. There's good things and bad things (mostly bad) about these games, but I like to think of them as little time capsules of a glittery and pink era. It's Barbie's magical world and we're just living in it.
Have anything to add about these games? Any honorable mentions that you think deserved a review? Think that I was too harsh on these games? Shout it out in the comments below!
You can also read NerdyFriend's review of Barbie Pet Rescue here!