Tomb Raider – PC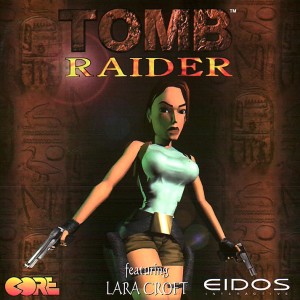 Platform: PC
Developer: Core Design
Publisher: Eidos Interactive
Release Date: November 14, 1996
Genre: Action/Adventure, Puzzle Games, Platforming Games
Nerd Rating: 9 out of 10
There is no doubt that Lara Croft is one of the most iconic video games characters of all time, from her dual pistols, long braid, short shorts, and… sizable chest… there's no doubt that Ms. Croft won't be going away anytime soon.  You can't read about or watch a documentary on video game history without some mention of Tomb Raider and the influence it has had on the gaming community. And with the recent reboot of the franchise, she's on fire now more than ever.
But it all goes back to the original installment of Tomb Raider. A firm classic in the gaming world, and a template for platforming games that came after. I grew up admiring Lara Croft and she continues to be my favorite video heroine. I already know this is an excellent game and deserves all of the praise it gets, but for the sake of Retroary (cue "It's The Most Wonderful Time of the Year"), I decided to once again plop myself in front of the screen and dabble in this polygonic nostalgia. And boy am I glad that I did.
The graphics hold up despite them being most triangles, the story is interesting, the villian is cool, the gameplay and controls integrate wonderfully, the levels are intricate and well thought out, and the puzzles are challenging. This game makes you think. It's not your typical "shoot stuff and jump on stuff" type game. When a game causes masses of people of purchase a console (this case being a Playstation) just to play said game, something was obviously done right.
The story follows archaeologist Lara Croft, and her journey to obtain the Scion, an ancient artifact from Atlantis. Lara is hired by a highly successful businesswoman by the name of Jacqueline Natla to find the Scion and return it to her. Little does Lara know that Ms. Natla has ulterior motives for the artifact and for Lara's fate as well. Shortly after recovering the first piece of the Scion, Lara quickly discovers from one of Natla's henchmen that there is more power and influence that comes with the Scion than she thought. What was first a fun expedition to retrieve an artifact becomes a race around the world to find all three pieces of the Scion, and save the human race from Natla's powerful mutant army.
One of the first things people notice about this game, and is one of my favorite things about it, is the amount of movement Lara is capable of. She can front-flip, back-flip, side-flip, hang off ledges, do handstands, swim, tumble, side-step, etc. The side-flips especially help while in battle, since you can shoot Lara's pistols while side-flipping to avoid damage from the enemy. She's got great moves, and it makes exploring these levels an absolute joy. Which brings me to the level design of this game:
THESE LEVELS ARE GORGEOUS AND AMAZING! The colors, designs, and the puzzles are so well-done. It's easy to see how much blood, sweat, and tears went into these levels. They vary from wide open spaces to tight, claustrophobic caves and tunnels. When it comes to Tomb Raider, you can't disregard the art of this world for our favorite archaeologist to explore.
Although the levels are visually aesthetic, they are challenging too. Platforming can be very difficult and frustrating at times. If Lara's running jumps or ledge grabs aren't exact enough, you risk killing her. Even though hearing Lara scream and her bones snap and crumble when she hits the ground is comedy gold. The puzzles aren't always obvious either. I have found myself several times on the brink of insanity because I can't figure out what the hell to do with a key I picked up or a stone or something, gritting my teeth running around the room trying to find some exit or secret door, and feeling completely stupid when I finally do figure something out. The "why didn't I think of that before?!" feeling. Tomb Raider is a good way to remind yourself that if you wanted to be an actual tomb raider, you probably wouldn't survive for very long. Speaking of survival…
Lara has a nice little arsenal of weapons including her classic dual pistols, a shotgun, Uzis, and Magnums. The game isn't entirely focused on enemies since it's more exploration and puzzle-solving, but the enemies that Lara faces can be quite scary and intense: wolves, bears, lions, gorillas, velociraptors, mutant zombie mummies…
One of the things I've loved most about this series of games is how they blend standard exploration with absolute absurdity, from exploring chilly caves to gunning down angry centaurs that launch fireballs at Lara. This game never stops being interesting and it's always challenging.
There are, however, some bugs. Not completely devastating ones, but slightly annoying. For example, one of the traps in Natla's mines can randomly set Lara on fire, and I've had the game crash on me a few times in the middle of combat. Luckily, the PC version of Tomb Raider allows you to save at any time.
Playing Tomb Raider again was like coming home after a long, tough journey. It was comforting, and it reminded me of simpler times, back when my greatest concern was having enough change for the ice cream truck. It's a beautiful game and personally I'm glad that it's getting revamped so that gamers can go back to this little adventure game and appreciate the innovation and hard work that was put into Tomb Raider. Lara herself is a very lovable character, a treasure hunter that's brave, smart, strong, and quick. She doesn't need anyone but herself and she deserves her rank of an iconic video game characters.
What else can I say about this classic game? It's the catalyst to an extremely successful franchise that continues to be adored nearly 20 years later and holds a special place in the heart of one Mrs. Vakarian. If you haven't played Lara Croft's first adventure, I highly recommend that you put in Tomb Raider and enjoy the beginnings of a great series of games.