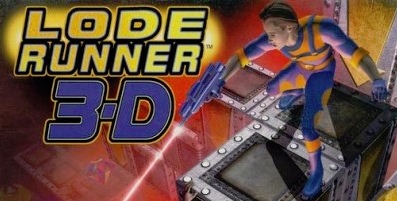 Lode Runner 3-D – Nintendo 64
Platform: Nintendo 64
Developer: Big Bang
Publisher: Infogrames
Release Date (NA): March, 1999
Genre: Puzzle, Platformer
Nerd Rating: 5 out of 10
Reviewed by Nerdberry 
The classic Lode Runner has returned, but this time it's powered by 64-bits of raw Nintendo badassness! Oh, and did I mention that it's in 3-D?? While one might think that Lode Runner 3-D is the first three dimensional rendition of Lode Runner, in fact it sort of is and it isn't. Lode Runner 2 actually featured an isometric 3-D perspective, but did not have the added feature of fully rendered 3-D objects and stages. With that said, Lode Runner 3-D IS the first fully three dimensional installment into the Lode Runner series. And boy is it a… um… interesting game.
The Lode Runner series debuted in the home computer scene on machines such as, but not limited to, Apple, Atari, Commodore 64, Macintosh, VIC-20, and Sega home computers in the very early 80s. Only 1 year later, Lode Runner would make its way onto the home television via the Nintendo Entertainment System. This original Lode Runner game is a sort of platforming puzzler in which our eponymous hero can run and jump around a stage collecting gold while avoiding guards. Once all of the gold is collected, he can make his way to the exit door. This Lode Runner has the ability to dig holes in an effort to trap the guards, as well as the ability to climb ladders and such. Lode Runner reminds me of some other similar-styled games out there, such as Heiankyo Alien and Flicky. When we view the title of Lode Runner 3-D, it's safe to assume that it's a 3-D version of the original game, probably with enhanced game play mechanics, sound, graphics, and more. Right? Well, sort of.
In Lode Runner 3-D, the premise is nearly identical to the original, but this time there is a new story. There is an evil emperor who has stolen all of your gold, and it is up to you to find the gold and stop the emperor. There seems to be a heavy space theme, focusing on collecting gold from levels within stages within worlds. Confusing? Okay, a little. There are five worlds overall, each world has five stages, and each stage has four levels, making up a total of 100 levels! In order to advance from one world to the next, you are required to collect five cards from the previous world. This element becomes quite a nuisance after a while, but it's part of the gameplay, so we wash down our bitter pill and we move on.
Essentially, Lode Runner 3-D plays and functions like a two-dimensional game, but it looks three dimensional, much like Bug! on the Sega Saturn. The walking paths are entirely linear and 2-D, leaving you with the ability to change directions only when another path is available, such as at an intersection. You can go left and right whenever you please, but you also don't have the ability to jump. Replacing the "shovel" from the original Lode Runner is now a laser gun. You can use this gun to blow up certain blocks located underfoot and trap guards, but only to the left or right (just like in the original). You also blow up part of the ground to open up new paths for yourself, but be careful not to get trapped in the hole yourself! So, you go around this oddball set of stages, blow up ground blocks, use teleporting pads to get to new platforms, collect gold, dodge the guards, and then transfer to the next world. Boom. Lode Runner 3-D.
Lode Runner 3-D is not at all what you want it to be. Each level contains a sort of puzzle that you must solve all while collecting gold, cards, diamonds, avoiding guards, and staying alive. These puzzles are generally all about sequencing, and often incorporate proper sequencing WITH perfect speed. Sounds fun right? But unfortunately it's not.
I'm giving it all she's got, Captain!
The controls work just fine, but they do take a few levels to sort of get used to and figure out exactly what you're doing. One of the biggest challenges of controlling your Lode Runner is trying to use the camera angles properly. The semi-isometric viewpoint really masks some potential hazards, and you don't realize it until you die! Fortunately, the C buttons on the Nintendo 64 controller allow for some camera control, but it just feels awkward and annoying. Maybe you want a new viewpoint, permanently. You press C-Left to rotate the camera left to move the camera, but as soon as you let go of the button, it snaps back to the original camera angle you hated in the first place! Talk about stupid!
Not only are the controls (and camera) a weak point in Lode Runner 3-D, but the music and sound effects are downright abysmal. The music is this sort of slow futuristic trance music (actually, it is quite appropriate for the setting), but it's downright depressing and doesn't add any urgency or emotion to the game whatsoever. What's worse is the song is never ending. The same damn music rolls over from stage to stage, plays while the song is on pause, plays after you die, plays until your children bury you in the family plot 50 years from now, and then it just keeps playing. The sound effects are equally horrid and often sound over-modulated and scratchy. There were times when I wasn't looking at the screen, and I heard sound effects that made me think I had ghosts in my damn house! It didn't match up to anything that was happening on the screen! And then I turned off the system and started making clay pots with Patrick Swayze.
The Nintendo 64's graphical capabilities were much better than popular opinion would have you believe. Lode Runner 3-D falls into the "slightly-above-average" category. The environmental backgrounds are decent but some of them are lacking as well. I mean, this is no Superman 64 (that's what we call it 'round The Bacon), but the overall color scheme in Lode Runner 3-D is pretty harsh on the eyes at times with dimly lit, dark, and bland notes oozing down my TV screen. It's just… plain ugly. The most predominant colors are gray, black, and brown. When you see something that isn't gray, your mind goes "Whoa, am I high? Or is that actually blue?" Other than colors, the overall environmental and sprite textures are far below average. Everything is blocky, bland, and boring.
The graphics in Lode Runner 3-D really aren't the worst, and I'm bashing them because there was so much more potential from a decently powerful machine. Other than the negatives, does Lode Runner 3-D having any redeeming qualities? I will say that it's a very challenging game. You might not realize it at first, because the first world is fairly simple, and is comprised of mostly short stages. But the puzzles from worlds two through five are beyond challenging. Actually, the most challenging part of the game is listening to the music, not getting bored to death, and not strangling yourself with the controller cord.
For what Lode Runner 3-D lacks, it makes up for with effort. This game isn't bad for lack of effort, that's for sure. But it's just an odd game at times, and that is led by some of the music, the out of place sound effects, and some of the details. I mean, the "guards" look more like cult members who drank the punch but didn't die, and instead got retarded. Even with all of these similar color schemes, the world varieties (fueled by different colored backgrounds) adds a tad bit of salt to this bland recipe. Pst. They forgot to add bacon!
For real though, Lode Runner 3-D is a very boring game. I love puzzle games of all kinds including Tetris, Dr. Mario, Portal 1 and 2, and more. The trap-em-up genre is very underappreciated with gems like the original Lode Runner, Heiankyo Alien, and Space Panic. If you are a fan of any of these, you might find yourself fairly disappointed when you play Lode Runner 3-D. Challenging? Yes. Fun? No. There's a difference. The music, the sound effects, the graphics, the control scheme, the camera angles, and the overall blandness all add up to make one far-below-average puzzler/platformer. However, the game is fully functional and mostly glitch-free, so I can't destroy its nerd rating entirely. Give it a shot, if you must. But don't say Nerd Bacon didn't warn you first. Lode Runner 3-D leaves much to be desired.