Green Stylus (for Wii U Gamepad) – Wii U
This is a beautiful chunk of hardware I've had laying around for awhile.  Two of them came with the purchase of the Mario themed cover I recently purchased for the Wii U's gamepad.  Tons of styluses (stylii?) have flooded the market with the pervasive use of smart phones and similar gaming systems, and sure, they work, but shouldn't a stylus do more than just work?  Well, the Green Stylus is the answer.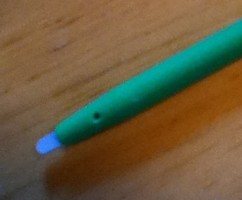 This isn't some drab, subtle, pukey looking green.  No, this stylus is imbued with that rare sort of GREEN green.  Like if someone were to ask you, "is it light green?" you'd quickly respond in the negative, and your conversational partner would follow with the perfunctory "is it dark green?" and depending on the intelligence level or color perspicacity of your comrade in dialog this may continue for zero or perhaps a thousand further exchanges, at which point, you'd simply reply, "no, it's not viridian green, or beryl green, yellow-green, or malachite green, or medium jungle green, or avocado green, or jade, or north Texas green, or emerald, or tea green, or phthalo green, or rifle green, or kelly green, or android green, or Sacramento State green, or pastel green, or midnight green, or neon green, or India green, or army green, or UFO green, or bice green, or even British racing green, it's GREEN green, like plain green, just regular green, you know, medium-green, GREEN GREEN."  

The incredible feeling upon grasping the stylus is indescribable.  A virgin on prom night?  Yeah…that's it.  Only without the phallic connotations.  Anyway, you'll be able to tell right away that this isn't the same plastic they make gumball toys with.  It's like airplane plastic.  Or what would be called airplane plastic if airplanes were made of plastic.  You could probably sit on it without even breaking it.  Not that you'll have the chance to sit on it, because it will stay in your hand.  You'll be playing the Wii U just to have an excuse to hold this thing.
Suddenly drawing all those crazy (_(_) lines in that weird robot Game and Wario game is pure ecstasy instead of the usual hell that culminates in screaming "I'M NOT A FUCKING ARCHITECT."  The Green Stylus slips and slides across the screen like slugs in heat and won't even come close to damaging 40% of the Wii U's purcha$e pri$e.  I'll admit, the white one is alright too, but face it, all the cool kids got a black Wii U anyway.FACT  Black is stylish to be sure, but it's nothing like the explosive chemistry between the black gamepad and the Green Stylus.  Kinda like the website eh?
The best feature included in the Green Stylus for Wii U Gamepad that Came with the Bluish-Green Gamepad Cover with Mario Characters on It is its astounding ability to actually make you a better player.  I don't quite understand the mechanics involved, but suffice to say, you'll be beating New Super Mario Bros. U just by drawing platforms.  You won't even need Mario, only those colorful, vanishing platforms with the French ♠♥card suits♦♣ on them.  No fucking lie.  
The Green Stylus is worth every penny.  Even if you have a different gamepad cover, with cardinals or bowls or whatever on it, go ahead and get the Mario one that includes the Green Stylus.  It's worth it.  Hell, it would be worth the price of another Wii U.  A kidney even.  At least one of your middle toes.DID YOU KNOW THAT: You would be unable to stand up without your smallest toe on each foot?
Highly recommended.  
Last time I checked you were just some girl I was fucking.
Reviewed by The Cubist