Forza Motorsport 5 – Xbox One
Platform:  Xbox One
Release Date (NA):  November 22nd, 2013
Developer:  Turn 10 Studios
Publisher:  Microsoft Studios
Genre:  Racing
Nerd Rating:  8 out of 10
Once in a while, a genre title comes along so strong that it's appealing even to those who normally wouldn't dabble in said genre.  Forza Motorsport 5, for me, is one of those rare games.  Generally, I care little for racing games, and when I do race, I gravitate towards more fantasy and/or combat oriented racing games such as the Mario Kart franchise or even the Wipeout series.  I've never held more than a passing interested in a racing simulator, until now.
At first, I was content to pass over this title, but soon the signage was unavoidable as I saw it listed next to Dead Island 3 and Ryse: Son of Rome, the two Xbox One games I bought at launch.  Not looking to get involved in one of the previous two's epic one day, I popped Forza 5 in to see if was as cool as the hype would lead us to believe.  It didn't take long to figure out how to get in a car and race but it wasn't until I started digging around in the multitude of menus available that I discovered what an in-depth racing game it is.  I've read some unfavorable comparisons to Forza 4, but since I've never played it, this review will focus on 5 as a stand-alone game.
There are ample amounts of courses and cars in Forza Motorsport 5, though with a slight catch: cars must be bought using in-game currency.  Naturally the game lets the player choose a free car at the very beginning and also throws some tokens your way as well.  Currency comes in two forms: credits and tokens.  Tokens can be bought with real money similar to in-app purchases on touchscreen devices.  Credits are earned through the completion of races and through leveling up.  At first, I rolled my eyes thinking about all the mindless racing I'd have to do while browsing through around 200 different cars, but after a few races my tensions were eased.  Races award credits based on place finished as well as a variety of other factors including "drivatar difficulty" (more on drivatar soon), brand affinity (achieved by successive races with a certain maker's vehicle), and settings like assisted braking and manual vs. automatic transmission.  Based on what options are selected for a particular race, different percentages are subtracted or added to the base total of credits.  "Exp" is also awarded, ultimately the number that bumps up affinity and driver levels.  All totaled, the "cash" rolls in pretty quickly and many of the cars are "reasonably priced."  However, you will find that the awesome ones are a bit on the pricey side.
Besides these options are several other means to customize one's race: number of racers, number of laps, "realistic" collision damage and car wear (requiring pit stops), and an endless array of ways to paint one's cars and upgrade everything under the hood (and everywhere else) from tires to brakes to all the things that car lovers love.  I'm not much of a car guy myself.  In fact, I'm in no way, shape, or form anything close to a car guy, and that's one of the things that makes Forza 5 an enjoyable game for novices and lifelong gearheads.  Each and every player's experience can be tailored to not only their level of racing skill but also their interest in the sport and how realistic he or she wants the race to be.  All of this seems like a lot to take in a first, but it slowly falls into place with those who want to spend several minutes with the configuration easily finding their way around and at the same sparing players who want to get going right away the hassle of endless prompts and menus.  Perhaps the most amazing aspect of Forza 5 doesn't have anything to do at all with racing.  The structure and interface are such that it can be appealing, comfortable, and more than serviceable to players of any skill level or amount of racing expertise.
The "drivatar" is another fantastic facet of this slick racing giant.  Instead of using the flimsy computer AI that we're all used to in racing games (or at least familiar enough with to hate, either because it's too hard or too easy…), Forza 5 uses the Xbox One to gather data from everyone else who plays the game.  It then applies this data to the contenders in races.  In a way, it's like racing against real people but not at the same time.  It is such a brilliant idea in its simplicity and elegance that I'm surprised it hasn't been used before now (has it?).  Why is this so great?  It's great because the computer isn't behaving in predictable patterns constantly or pulling off precision moves with alarming consistency.  You're racing against the real mistakes and idiosyncrasies of actual humans performing at whatever skill level is chosen at the beginning of a race.
The more you race, the better drivatar profile Forza 5 builds up for you.  Yep, that's right, you're gamertag is out there racing around on other people's systems.  The best part is that your drivatar actually earns credits for you.  Each time you boot up the game, you'll have a message waiting for you with information on how many races your drivatar has participated in since your last session and how many credits it's earned on your behalf.  The more you play, the more your drivatar plays, and the more "free" credits you get!
Alright, let's talk about how the game plays.  First of all, the graphics are spectacular.  They're as wonderful looking as any 8th generation graphics I've seen so far.  Realistic touches like a low afternoon sun in the player's eyes and small reflections in the mirrors may go unnoticed by many but go a long way adding to the game's authenticity.  I could continue harping on about collision damage, the real-time skid marks, and the beautiful, vivid, almost sublime 360 shots of shiny extraordinary cars, but this really needs to be seen for itself.  The sound is equally impressive, as it should be.  Nothing screams "racing" like the revving of engines, the screeching of tires, and the occasional clap of metal-on-metal and the shattering of glass.
Gameplay is (probably) exquisite if you've ever raced a $750,000 European sports car, but if Mario Kart is more your speed (like me), you'll be in for a surprise, and maybe a bit of a reality check!  Clearly this title is meant to embody the complete realism of an actual car in motion at high speeds.  It doesn't take much to send a car spiraling out of control.  With all the available settings, the computer will automatically brake appropriately when going into turns and take care of all the gear shifting, so it's a chance for us novices to slowly adjust to physics in the real world.  A genius concept known as "Rewind" is available, allowing the player to literally rewind through the last few seconds of gameplay.  This will slowly chip away at the percentage of credits received, but it's well worth it when you're in first place, slam into a guardrail, flip, roll, and get hit by all 15 passing cars on the way down when you're half of a lap away from the end.
Almost each and every car featured is a fine looking machine, and adding to it, Forza 5 offers up limitless opportunities to completely customize one's vehicle(s).  Several fabulous presets are available.  For the more industrious, there's the ability to paint various parts of the car various colors, add custom details, and nearly anything else one could possibly want.  One could easily spend hours on one car without running across the same design twice.  The best part?  It's all "free!"  I was at first sure it would demand a load of my credits, but nope, cars can be designed and redesigned over and over without having to spend a "dime."
The mechanical components of the car are also customizable.  I know absolutely nothing about what's under the hood, but I image those who do will have a great time sifting through the wealth of parts and accessories.  Many times, upon entering a race for the first time with a new car, a prompt will appear encouraging the player to perform necessary upgrades in order to run comparable to its class.  Thankfully one can click the equivalent of "do whatever needs to be done" and for a few more credits the car is "brought up to speed" in a few seconds.
Forza Motorsport 5 is heavily colored by Top Gear and influenced more by the European racing scene in general.  For those of you who aren't "car guys," this serves as a nice change of pace from the machismo often encountered around "car guys."  If you've ever felt like a chump because you didn't give a shit about your friend's 23-year-old car that was going to be "the greatest shit ever" despite the fact that it never ran right and they spent all their time scrounging around piles of metal, well, Forza 5 sets the record straight and makes it clear that speed costs money, not 8 days a week next to the curb fiddling with $10 junkyard parts.  The whole affair puts a more elegant spin on racing and brings it out of the brutish territory that America has relegated fast cars to.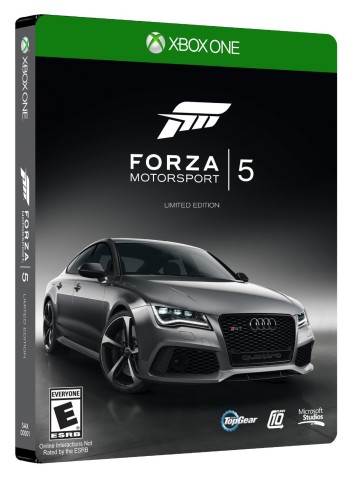 Is there stuff I'm missing?  Probably, but there's plenty here to either sell you on it or not.  The very nature of racing around in circles can get monotonous and I daresay boring.  This is innate to even the best and worst racing games, though Forza 5 is one of the most fun, accessible, and customizable that I've ever played.  I'm no expert on racing simulation but this is easily a must-have for the all new Xbox One.
Also available is a Limited Edition, which for $20 extra gives you access to several cars, including the only Bugatti in the game, and a handful of other items.  You can get the slick, black case, or purchase it in-game for $19.95.
Reviewed by The Cubist