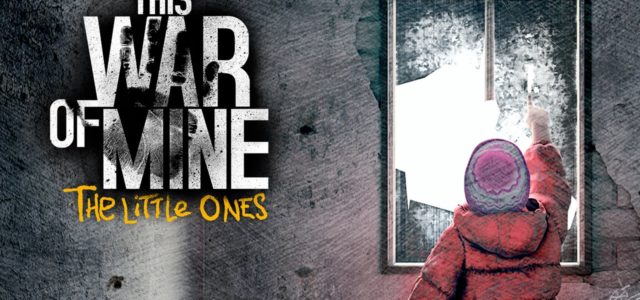 This War of Mine: The Little Ones – PS4
Platform:  Playstation 4
Developer: 11 bit studios
Publisher: 11 bit studios
Release Date (NA): January 29th, 2016
Nerd Rating: 6 out of 10
Since the dawn of video gaming, we've seen war from nearly every perspective. We've been some of the most well trained and sophisticated warriors. We've been Navy SEALs, members of the S.A.S., and Spartans. We've flown through the skies in aircraft of old, new, and even of the future. We've even seen war through the eyes of rebellious citizens attacked by Germans from the sky. But I don't believe we've seen a game that tells about the horrors of war from the eyes of untrained civilians…until now.
In This War of Mine: The Little Ones, the player assumes the roles of several different characters. Players can switch between characters with the L1 and R1 buttons. One can have one character cook, while another upgrades something, while scavenging the house with the third. It's quite convenient! I started off with three men of distinct backgrounds. Bruno, a once famous TV chef and my crew's cook, Pavle, an ex-football star and a fast runner, and Marko, friend of Pavle and my group's scavenging specialist. There are several other characters, both men and women, each with a unique skill-set, inventory space, and different requirements when caring for them. Character attributes are important to consider when crafting, scavenging, or fighting. For example, Bruno's attribute is "Good Cook" meaning that when I had him cook food for the group, half as much water was used for each meal. Marko's attribute is that he is "Good Scavenger," giving him more inventory space than most other characters. Each character is a survivor of the war taking place in the besieged fictional town of Pogoren. An introductory paragraph informs the player of the ways of the world and his or her situation, which can be randomly generated. That's right! My play through of This War of Mine: The Little Ones will be varied from yours (even if the difference is minor), although the end goal remains the same each time: survive until there is a ceasefire. Players must use survival skills, time management, teamwork, and strategy in order to survive until this point. Therefore, it's important for players to take care of their characters if they wish to see and end to the war and get back to their normal lives.
Oh yeah, did I mention the snipers?
Players are stuck inside their house during the day as snipers rain down on anyone caught out and about, leaving only the night for anything to be done without too much complication.
Technically, This War of Mine: The Little Ones is considered a DLC expansion for This War of Mine, but with this version featuring children as part of the mix. Although a major part of the overall challenge, the children you encounter don't do too much besides a few chores (after you teach them how, of course). When they aren't doing chores, the player must constantly interact and care for the children in order to prevent them from getting depressed or getting into trouble. One of the biggest mechanics in-game is time. Time in The Little Ones  is annotated by a small clock in the corner of the screen which differentiates the day and night cycles. The day and night aspect of this game plays an integral part in the overall gameplay. During daytime hours, which run from 6:00 A.M. to 8 P.M., players are able to work on their home base. This time is best spend scavenging the house, upgrading equipment, and crafting various tools.
Crafting in The Little Ones is also a key element in surviving the siege of Pogoren. When at the starting crafting table, after one has finished searching for materials and parts in the house, there are limited options for craft-able items. Players must create things such as beds, furnaces, stoves, metal shops, fuel, and many other basic necessities. Some crafting items simply improve the characters' moods, while others provide food, warmth, or tools for survival. Players can also use the day time to upgrade their equipment, crafting tables, and defenses. Upgrading crafting tables is a good idea earlier on. The benefits of upgrading the various crafting areas include things like less fuel burning for a longer duration in a furnace, being granted the ability to craft guns, or using less materials when crafting items. All of these things must be done before 8 P.M each day; before the sun goes down. When the night falls, the player is prompted with the option to go scavenging outside of the house.
The scavenging screen is fairly simple. On the left, you have your characters. Players are to decide who will guard or sleep during the night, and who must go out into the darkness to scavenge. Of course, you can choose to have two survivors stay on guard while the other sleeps or vise-versa, however, I don't recommend it. This is also a good point to allow any sick or wounded characters to get some rest without wasting daytime hours. The gameplay surrounds the characters' survival. Therefore they rely heavily on scavenged materials, parts, food, and weapons in order to survive. If you don't scavenge, you won't have materials to craft or trade with other survivors. The other side of the scavenging screen shows the player where he or she can go out to scavenge. The locations range from decrepit squat houses to military bases, and from safe to dangerous. And the dangers of this war-torn city have a greater impact than I initially realized!
During my first play through, I regularly played as Marko when scavenging. He's the best in my opinion because, as I mentioned before, he's got more inventory space than either Bruno or Pavle. The first night out scavenging was a success. I was able to get Marko back to base safely with a full inventory of sweet crafting loot, and I was even able to craft a bed, a stove, and a furnace to keep my characters warm (yes, heat is also a big factor in characters' survival). Unfortunately, my second venture out was not so lucky. I sent Marko to a church with a view valuables in order to trade with the other survivors. Once Marko arrived, I had him grab a few materials from the refuse outside and sent him in to trade. The pastor of the church didn't have much to offer, but I traded some medicine for odds and ends to bring back to base. After Marko and the clergyman parted ways, I noticed there was a structure in the back of the church. I thought, "This isn't sketchy at all..I'll have Marko investigate. What's the worst that could happen?" So, as Marko crept into the old, dilapidated house I realized someone else was in there with him. In-game, this is annotated by several red circles indicating noise from an unknown source; it could be just a rat, another survivor looking for food, or a thug looking to kill and rob the next person to walk in the room. I had Marko grab some supplies and push further into the rooms ahead. That's when I saw him, a scavenger just like me; however, this guy had a gun! I assumed that he was hostile so I prepared Marko for combat. Combat in This War of Mine: The Little Ones is somewhat clunky and to tell you the truth, I still haven't quite gotten a hang of it. It requires players to switch to combat mode by pressing down on the D-pad, cycling their target with L2, and attacking with R2. Marko squares up with this gun-toting thug and begins his assault. My buddy Marko landed a few good blows before the thug pushed Marko away from him. This was bad news, for as soon as I let my guard down he shot Marko in the back, killing him.
When any character dies in The Little Ones, that's it for them. They're gone until you either start over from the beginning (which is easily activated from the main menu) or create your own story. Sometimes, if one or more characters die in a single playthrough, the last survivor will be described as "Broken." If this is the case, game over. That character won't move when the player attempts to control them, they won't eat, sleep, or do anything for that matter. If you end the day at this point the character will off themselves.
The "Create Your Own Story" mode is pretty cool. It gives players the options to choose 3 of 5 characters to start with, or one can simply make their own character. This includes setting the characters' name, appearance (from a selection of preset images), build type and specialty. Once the player picks their rag-tag squad of civvies, he or she may set the number of days until there's a ceasefire, the harshness of the winter, as well as several other settings that will change the difficulty of their game significantly.
I rated this game at a 6 for several reasons. I love the plot and perspective. Never have a played a game that made me think and look at war like this one. The art style is unique, dark, and complex (which I enjoy, believe it or not). It's like the entire game is one gigantic charcoal drawing! Also, the character development is incredible. Each person is so unique and animated in such a way that allows the player to get attached and understand them pretty quickly. The few drawbacks I noticed were enough for me to drop the score considerably. While the game is meant to be based on downtrodden survivors of war, there is not much–how can I put this–optimism anywhere in the game. Even when you bring back a huge haul of loot, there is always a downside. The music is also not my favorite when it comes to the atmosphere. Sure your player can create a radio to listen to music and news, but the upbeat tunes that pump out don't continue when you leave the radio screen. As soon as you back out, it's back to the same old ominous piano keys. My last gripe is that even though I do enjoy the art style, the day cycles and night cycles always look the same except for the occasional change in weather.
As one can probably tell. This game is DARK. Personally, I enjoy games like this. They get me thinking about what could happen in a similar situation. Games like This War of Mine: The Little Ones bring emotions out of me that I wouldn't feel in any other war game. I felt a connection with the characters. I felt guilty when I did another survivor wrong. At one point during my hours playing this game I remember turning to my girlfriend and saying "I stole from old people! How could I?! What's wrong with me?" Anyways, if you enjoy games that make you think, make crucial decisions, and care for the well being of your characters to keep them alive this game is for you. However, if you suffer from depression or high empathy levels, you may want to step back. The Little Ones is depressing. It's free on PSN with a PlayStation Plus subscription right now, so give it a shot…if you think you can survive.