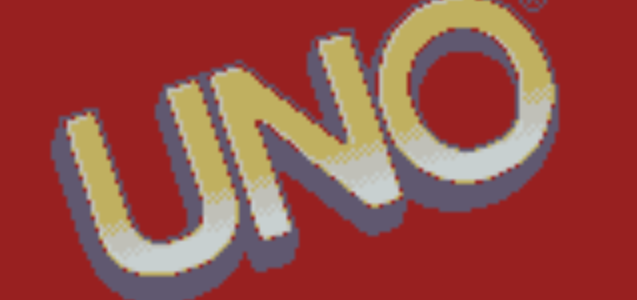 Uno – Game Boy Color
Platform: Game Boy Color
Release Date (NA): December 16, 1999

Developer: HotGen
Publisher: Mattel
Nerd Rating: 5 out of 10
Before I played Uno for the Game Boy Color I had this unfounded assumption that, regardless of the platform you put it on, an Uno video game would always be fun. I mean, Uno is such a fun, classic card game that both adults and children can easily pick up and enjoy, so putting it onto a handheld would be a great idea, right? I bought this game on a whim at the local used games store to add to my Game Boy Color collection, and with the hope that it would actually be a decent game to kill some time. And, from my experience with handheld games, the ability to play an already addictive game on the go usually trumps graphics and such, but Uno was a title better left on the consoles.
Now, Uno for the Game Boy Color is by no means, an ugly game. The graphics, at least the non-standard themes, look fantastic. The game's animations are pretty average, but not too bad. The default music and sound effects on the other hand are ear-piercingly awful and pretty generic. It took me a while to figure out how to change the game's themes, which in turn changed the default music, but it was well worth it. Honestly, the game's themes do a great job of showing off how well the developers took advantage of the Game Boy Color's graphics and are actually my favorite part of this version of Uno.
Uno also has three game modes, there's regular "Uno," "Link Game" which allows you to play with friends using the Link Cable, and there's "Challenge Uno," which is as confusing as it is dumb. Each of the game modes use a point system to keep track of who's in the lead between matches, but the whole system makes little sense. Even now, I still don't really understand how the amount of points that are awarded to the winner is determined, nor do I understand why the developer couldn't just use a simple tally to keep track of wins.
The Challenge Uno, which I'm still trying to understand, is even worse, by combining the points with this strange tournament style system that knocks out players should they reach a certain amount of points. Every game, losing players have points added to their score and occasionally the winner's points are allotted to the losers. Once again, the amount of points handed out during these rounds is never actually explained. The only thing that did make sense is that the winner of the mode is the player who simply out-lasts the rest of the players.
My biggest issue with this game is that one of the most important parts of Uno, calling out Uno when you have a single card and catching others who forget it, is made absurdly difficult. The window of time between playing your second to last card and going into the select screen to use "Call Uno" is incredibly short. The AI, even at lower difficulties, seems to have this ability to call you out on Uno in the first frame between calling up the select screen and setting down the card.
On the other hand, calling out opponents who didn't call Uno is as equally painful to do. As with calling Uno in the first place, you have wait until a command to do so is available in the select screen. Of course, it rarely ever is, or it's in regards to a different player. I've lost rounds because I couldn't call out opponents who didn't say Uno enough times that it made me lose interest in playing anymore. A dedicated Uno-button could have really helped with this issue, like having a dedicated skip button does for the lengthy animations, but I suppose the developers assumed going through menus was a better way to handle it…
Although I've spent most of this review belittling Uno, I don't think it's that bad of a Game Boy Color game. In fact, it's really just average. You have to hand it to the developers for trying at least, because I can only imagine how tough it must be to try to faithfully bring a popular game that revolves around its social aspects, to a handheld system that provides limited multiplayer connections. Where other popular games, like Shanghai and the Solitaire FunPak, have an easier time adjusting to a video game format due to their single player-nature, Uno is much more fun when you're playing with real people. So, when it comes down to it, if I had a choice between playing Uno using regular cards with others or playing Uno for the Game Boy Color, I'd choose the cards.