Overcooked – PlayStation 4
Platform: PlayStation 4
Developer: Ghost Town Games
Publisher: Team17
Release Date: August 2nd, 2016
Genre: Arcade, Party
Nerd Rating: 6.5
"Order up!" I shout across the room, dashing my way between crowded counters as I rush to slice a tomato for the pot of soup. I pass by dirtied dishes and half-finished culinary creations, knowing full well that my partners are prepared to handle things. A fire erupts in the corner of the kitchen, and chefs scramble to find the extinguisher, pots and pans full of food still cooking in their hands. I dive my own hands into the sink to wash one of the dirty dishes, just in time to pour the soup. Placing the hot meal on the counter, I have barely enough time to watch as a passing chef whisks my creation away towards the serving area, complete. What game am I playing? Overcooked, of course!
Released by the two-man development team known as Ghost Town Games, Overcooked is a debut project that offers loads of couch gaming fun. Gathering in teams of two-to-four, players must work together to cook up and serve a myriad of complex dishes, all before the timer runs out. The end goal: Stopping the encroaching wrath of the Ever Peckish, a giant spaghetti monster that threatens to devour the world.
---
Overcooked is one of the easiest games to pick up that I have ever seen. Only three functions of the controller are required: The left stick is used for movement while the square and X buttons are used to perform context-sensitive actions. These controls will take care of basically all of your needs as a new chef, since the real gameplay of Overcooked is hidden in the know-how.
Soups, salads, burgers, pizzas, fried food, and burritos all comprise the menu of Overcooked. Once you get the basic recipes and skills down, the game proper begins. Communicate with your teammates and work in unison to gather the ingredients, chop em up, and put them all together to complete dish after dish, avoiding disaster along the way. The odds are stacked against you with orders that just seem to pile up and levels that are designed to subvert your expectations, interrupting flow in fun and creative ways that force you to improvise on the fly.
As you learn to improvise in increasingly complex ways, the levels ramp up in complexity and difficulty. Constantly shifting kitchens that feature conveyor belts, fiery infernos, earthquakes, as well as conjoined tour buses make up the insane variety of cooking spaces featured in Overcooked. This leads into some interesting gameplay scenarios that keep you on your toes, preventing you and your partners from getting into too much of a routine.
While the level design can be really fun and engaging, Overcooked's frenetic pace might ramp up a little too much and a little too fast, because it's really easy to feel like you're getting left behind. For example, the conveyor belt mechanic I previously mentioned only shows up in two or three levels, and the split tour bus mechanic only appears in two. Mind you, these were really interesting gimmicks, but due to how infrequently they appear, they're reduced to just that: Gimmicks. Every single time it seems like the developers are working with a good idea, it's on to the next thing, whether or not the small handful of representative levels really do justice to the new game mechanics that are constantly being introduced. Because of this, I often felt like I wasn't even given enough time to become familiar with each new feature, the sensation of being left behind simply inescapable.
This issue might be due to the fact that only two guys developed it, but it's also not the worst thing, since it condenses gameplay and eliminates wasted parts. However, I would say it's more likely that those parts were under–used; there were several missed opportunities to explore gameplay ramifications of each individual gimmick, as if the developers were only able to scratch the surface level, making Overcooked feel like a much more constrained game than it should.
But, this points to a deeper issue with Overcooked: It's kind of a short game. If you were to just blast your way through the campaign mode and do nothing else, there might be about three hours there for you. That said, there are plenty of other things to do with your time, which includes the multitude of versus mode levels available, not to mention going back through all the previous levels to get those coveted three stars for each one. I would have been happier with a bit more content in the base game, but as it stands Overcooked performs roughly at par.
The main reason why I might be saying that the game was too short is because it didn't challenge me enough. Much like a game from the Super Mario series, each subsequent level is unlocked based on how well you did on previous levels (how many stars you accrue). But from my experience, a level was never locked away from me, meaning that if I didn't feel like it, I wasn't really encouraged to replay any of the levels. I'm a huge fan of replayability, and setting a strict difficulty level is a great way to challenge players to get better. Unfortunately, I often got the '3 star' rating even when I felt like I could have done better. This is a good indication that the developers set the bar a little too low.
While the levels aren't necessarily that hard, there is no denying that they are stressful, which is a large part of the battle. Whether you're playing with one or three players, the developers did a good job of leveling things out so that the three star rating for each level is achievable, but by god you're gonna work your ass off to get there, subtracting a few years off your life expectancy in the process.
In today's age of single-player online games, picking up a controller with a bunch of friends has honestly never been easier; there's even a feature where two people can split a single controller, meaning that if you really want to get that four-player action, all  you really need is two controllers. That's a mind-blowing level of player accommodation that even Nintendo would have trouble rivaling, and I like it! More games should do this!
Unfortunately, this ease of access doesn't necessarily translate into ease of play; while the controls are simple, they aren't always super-intuitive. I can't even begin to describe how many times I messed up a dish or flubbed my timing due to the game not doing what I thought it would do. Precision in a time-based game is key, and the controls of Overcooked just don't seem like they have the level of polish that they should. On top of that, bringing a first-time player to any of the later levels will unequivocally lead to difficulty and confusion, meaning that if you're playing with a group of new players, you basically have to start over from level one so that everyone can get up to speed.
That said, it's extremely rare these days to see a game that promotes true couch gaming, and Overcooked really carries the torch for the genre. This game is great for bringing over to a friend's house or to parties, promoting fun and social interaction in a shared space like few other modern games.
---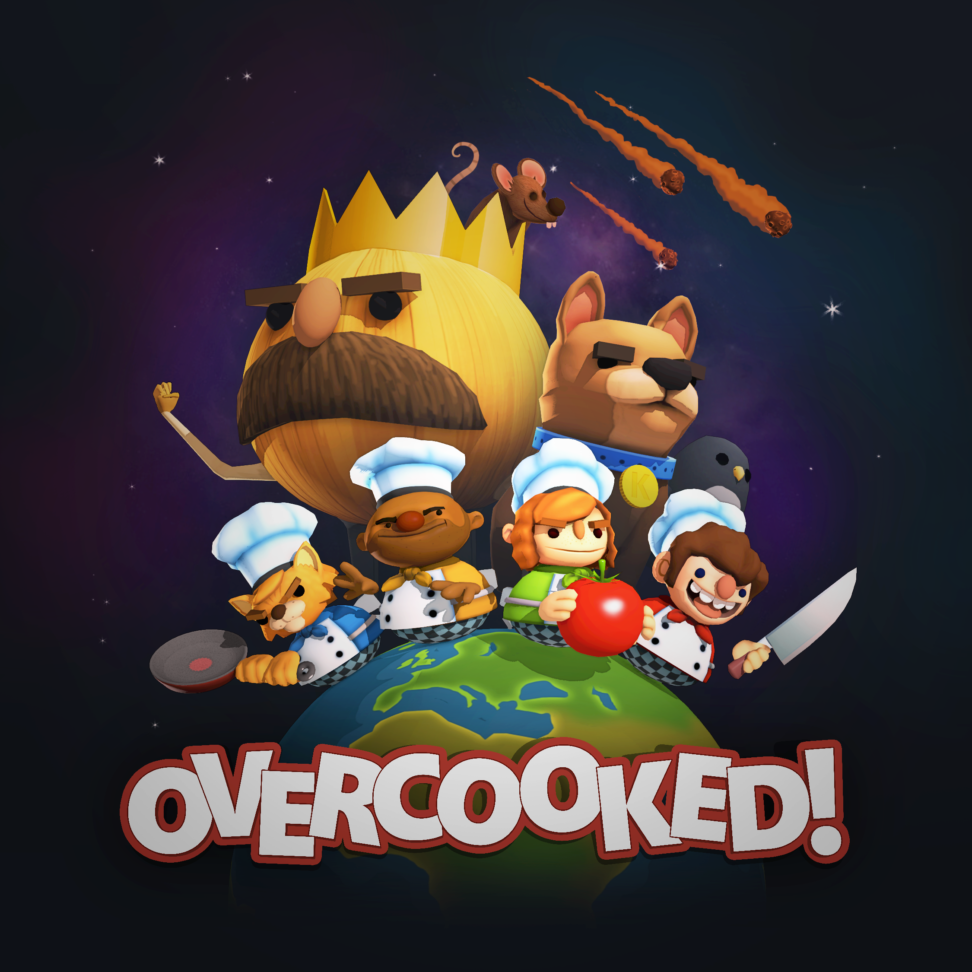 An indie game developed by a small team, Overcooked is an insanely fun title, challenging you and your friends to get your chef on, cooking dish after dish against the ticking of the clock. Collaboration is key to excel at this game, really making it a champion among the other video game icebreakers.
With an easy-to-access interface that encourages even the greenest of players to dive in, Overcooked is the perfect game to bring to your next party. It gets a 6.5 because it is simple and insanely fun to play. However, it has a couple of obvious flaws, that being its short length and steep difficulty curve alongside a couple of wonky control issues. That said, I was extremely impressed by what Overcooked had to offer, and with the addition of further DLC content, it may just prove to have a bit more lasting power.