Need for Speed Rivals – Xbox One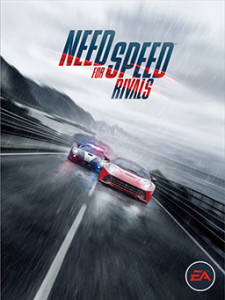 Platform: Xbox One

Developer: Ghost Games

Publisher: Electronic Arts

Release Date (NA): November 22, 2013

Genre: Open World Racing
Nerd Rating: 8.5 out of 10

Reviewed by Dovahkyle
We are born free, resisting authority. Daring to climb, to run, to defy the status quo.
I remember the first time I had the opportunity to sit down and play Need for Speed II for PC, not the most graphically impressive game as far as I can remember. I also remember when Need for Speed: Hot Pursuit came out, we played it on an Xbox that was hooked up to a projector, totally awesome. Times have changed yet again, and the racing game that seems to be different every time, is living up to expectations.
I am a huge fan of any games that allow any level of character (or car in this case) customization. One of my favorite things about Top Gear Rally for the Nintendo 64 was the paint shop. Need for Speed Rivals lacks nothing in the area of car customization on the racer career, from the paint, decals, and rim color to the performance upgrades and pursuit tech. I tell you the truth, this game must be played for a long time, and I mean a long time, to achieve purchasing all the vehicles and upgrades. I have been playing on and off as much as I can (with five children) for the past three weeks, and I can honestly tell you I have purchased maybe 4 cars on the racer career and all the performance upgrades and pursuit tech for them. Enough about me, let's get in to dirty dirt.
Gameplay
I am the reality show. The 15 minutes you'll never have. They say speed kills, but if you aren't speeding, then you aren't living.

The player has the ability to switch between two careers as often has he/she pleases. These two careers are the Cop and the Racer. Both careers have their own set of vehicles to unlock and purchase (except the cop cars are free), and each car at higher levels has their own customizable paint jobs, performance upgrades, and pursuit tech. I personally have to say, as fun as it is to play the cop career, chasing down racers and smashing them into the guard rails, I truly love the racer career better. The cop career can become tedious and downright boring after a while.
Let's talk about the racer career. The racer starts out with a choice between the 2014 Porsche Cayman S and the 2015 Ford Mustang GT, since I'm a proud American, I chose the latter. The vehicle action is very intense, from the second you start the engine, it's dirt flying, engine revving, NOS blasting madness. The career progression is made through "speedlists", these speedlists have a certain number of objectives that must be complete to rank up; unlocking cars, pursuit tech, and decals. The speedlists are separated into three categories:  Race, which tend to focus on winning races (either in events or head to heads) and using pursuit tech on other racers; Pursuit, which usually leans towards hot pursuit events, police evasion, and using pursuit tech on cops; and Drive, which can consist of everything from successfully using a full blast of turbo to earning a certain time length of airtime to drifting for a certain distance.
Only one of the three speedlists must be completed for a racer to rank up and move on to the next set of speed lists. Anything that is done in the open world, from near misses to competing in races earn the player Speed Points (money) which can be used to purchase paint jobs, performance upgrades, pursuit tech, and cars. Cars available to unlock and purchase include: Dodge Challenger SRT8 392, Ferrari F50, Austin Martin Vanquish, and Lamborghini Sesto Elemento.
The cop career is progressed by "assignments", separated by three categories, much like the racer's speedlists: Patrol – which tend to focus more on the Rapid Response (time trials) events, Undercover – which utilizes jumps, pursuit tech like spike strips, and busting racers, and Enforcer – which focuses more on interceptor and hot pursuit events and slamming racers. Advancing in the cop career is much faster than the racer, because the cops don't have to purchase new vehicles and they can't customize the cars, so all their cash or SP can be spent on buying and upgrading pursuit tech. The lack of customization options on the cop career leaves the player wanting more, I progressed ridiculously fast on here, and I was bored with it pretty quick. That isn't to say it's not fun to switch to the cop career every once and a while to bust a few racers.
Each racer and cop has the ability to purchase and upgrade pursuit tech for purchased cars. These are one hundred percent necessary in competing once the player's rank starts increasing to more difficult speedlists/assignments. Pursuit tech can include: Spike Strips, Electromagnetic Pulse, Jammer, Helicopter, Road Block, and Shock Ram. This is not a complete list, just a few of the goodies. Performance upgrades can only be used by racers, there are five categories: Durability, improves the amount of damage a vehicle can sustain and reduces damage taken from impacts; Strength, improves the effectiveness of damage caused to other vehicles through collisions; Control, improves the handling, high speed control, and grip of the vehicle; Acceleration, and Top Speed, which shouldn't need any explanation. Each performance upgrade has five upgrade levels to be purchased.
Need for Speed Rivals is an open world racing game. Once the player leaves the hideout (or command center if cop) he/she can freely drive wherever his/her's little heart desires. Racing events can be found throughout the city, and head to head (or pursuit if cop) can be engaged anytime a rival racer is located. This works for NPCs and other Xbox Live gamers, if the player crosses paths with any racer, a tap of the left bumper will initiate a head to head race immediately (or a hot pursuit if player is in cop career). I love this, I could spend all day just chasing down other racers and starting head to head races with them, especially if they are real live people, this definitely makes the challenge that much harder. The vehicles can take damage and finally crash for good, if this happens the players SP that he/she earned on that excursion will be reset to zero. So my advice is to hit the hideout (or CC) ASAP when you start piling up the cash, or at least find a gas station which will repair all vehicle damage and refill pursuit tech.
Story
There are two plots throughout the game. These are intertwined and based on which career the player chooses. The racer's career takes on the role of Zephyr, an experienced street racer. He posted videos of himself outrunning cops. This started a trend in the video upload world, and the result was the police cracking down on the racers. One of the player's missions will lead him/her to wreck a cop car. This action brings in the big guns. The FBI bring in their VRT (Vehicle Response Team), which is a team consisting of ex-street racers and special forces. The development of the story line is shown through cut-scenes as the player progresses.
The cop career will have the player become an officer of the Redview County P.D.. The player will complete some training exercises, then he/she will immediately begin busting and wrecking racers. The story of the cop is just the other side of the racer's story. The story's point of view will completely depend on what career the player is currently on. There isn't much depth to the plot, as this is a racing game. I don't think the story was necessary to make the game enjoyable, and I began skipping cut-scenes by the third one.
Controls
If there is one lesson the police should learn from this, it's that they can't keep up with us

As I have been an avid Xbox fan since the first console, I have always liked the controller (yes even the first big fat one). This new XB1 controller is perfect, it fits the hands comfortably, the rechargeable battery lasts for days, and the button/joystick response is quick and dependable, everything I would expect for $85 ($60 for the controller and $25 for the play and charge kit). The button location makes for using gas, brake, and pursuit tech simultaneously, a fluid and easy-on-the-hands motion. The only thing I don't like is that the right joystick controls a sort of flying camera that can rotate around the car, and if this joystick is accidentally tapped while racing, the camera will do this weird 360° rotation of the car. I have crashed almost every time this happens, kind of hard not to when your staring at the side of your car and not the road.
Graphics/Sound
Every man has his limit, and the only way to find it, is to go past it
I'm sure this is going to be the way of it now, but it's getting hard to tell the difference between video games and the CGI filled movies we watch these days. The graphics are mind bogglingly real to the point of feeling like you are actually controlling a real car at some points, and this makes the game experience that much more intense. While racing I will notice my leg muscles are totally tightened up, and every time I hit a hideout to put my SP away, I have to set down the controller and shake my hands out because I am holding the controller so tight. White knuckling is an understatement, this game puts you on the edge of your seat, then pushes you off.
Need for Speed Rivals has an in-game radio station that allows the player to cycle through the song playlist. The playlist includes artists like: Linkin Park, The Bloody Beatroots & Junior, The Qemists, X Ambassadors, I Am Legion, and Helmut Kraft & Miss Brown. While not everyone will like the in game music, EA Trax brings a varied set of songs that you'd likely find on a F&F soundtrack. The sound effects must be cranked to the max. If you close your eyes while racing (which I don't suggest) you'll feel like your riding shotgun with Vin Diesel in the latest Fast and Furious flick.
Replayability
This is an open manifesto to all street racers. I am not your enemy. I am not a threat. I am your rival.
I have no doubt, that while I'm not a huge fan of the lackluster cop career, the All-Drive feature will keep me coming back for more. Even if I complete all the ranks and speedlists, I can always turn on All-Drive and log into the EA servers, this allows six or seven other Xbox Live gamers to share the open world with me. Some times they are cops, sometimes they are racers. I am not lying when I say Xbox Live gamer cops are a million times harder to escape from than any NPC cop. Real people are not stupid (at least not most of them), and it makes the game that much more challenging when a real person is your rival. Although this game is a little too difficult for my 11 and 12 year olds to appreciate, I will be coming back to this one many more times, at least until ESO comes out, then no one will know what happened to me.
*FS Rating System*

Gameplay: 9 (would have had a ten if the cop career allowed car customization)

Story: 5

Controls: 10

Graphics/Sound: 8 (could've had some better music)

Replayability: 10

Overall: 8.5