Justicescooby's Bacon Bits
Welcome to Justicescooby's Bacon Bits! This is the little area of Nerd Bacon where I (Justicescooby!) talk about absolutely everything and nothing at the same time and it may or may not interest you. Either way, grab some popcorn and enjoy the ride that is my mind.
---
April 2nd, 2017 – 8:00pm – I'm Back! 
It's been quite a while since I wrote a review or news article, and it has been even longer since I updated this blog. I apologize for that, but personal things came up and thus I had to take a break. However, I am back now, and I have brought some new toys! In December, I upgraded my PC to be VR-ready and I purchased an HTC Vive, so I will now be able to do some VR game reviews. Furthermore, I purchased a PS4 Pro and a PS Vita last month, so expect some possible reviews for PS4 and PS Vita games as well. I have already started my newest review, and I would tell you what the game is, but in the words of Professor River Song: spoilers!
---
April 27th, 2016 – 2:30pm – Congratulations, BlankMediaGames!
If you've read my review of Town of Salem, than you most likely know that I am a big fan of it. Recently, the developers of Town of Salem have decided to open up a Kickstarter in order to fund a tabletop card game version of Town of Salem, with their goal being $10,000. I am so proud to report that they have reached 970% of their goal with a whopping pledge of $97, 221 with 2,343 backers. (as of 2:35 pm on April 27th.) This pledged number will most likely raise more and more within the 28 days remaining. I myself have pledged a total of $35, which is their second tier donation. Donations do come with perks including, but not limited to, a copy of the card game, special decks of their cards, in-game items for the PC game, etc. I have spent over 150 hours playing Town of Salem, and I can not wait until I get my hands on the tabletop version! Congratulations on your success BlankMediaGames, you deserve it.
---
December 25th, 2015 – 10:00pm – Happy Holidays, Nerd Bacon!
Hello everyone, and Happy Holidays to you! I had a pretty nice Christmas, and I got a lot of awesome gaming related goodies. My biggest "gaming-related" gifts were a Super Nintendo and a limited edition Hyrule Gold New Nintendo 3DS XL. I also expanded my Amiibo, Disney Infinity, and Sega Genesis collections. Of course, not everything I got was video game related. For example, I received a media server, plenty of items for my car, and many other great things. How were your holidays, and what did you receive/give?
PS: Congratulations, Nerd Berry!
---
November 30th, 2015 – 4:30pm – Sapphire's cover of Jealous by Labrinth
Hello! Today I am sharing a Youtube cover by a good friend and British Youtube star Sapphire. This video truly shows her vocal power while singing live, and quite frankly, I wouldn't feel right if I didn't share this on my personal blog.
---
November 9th, 2015 – 8:30pm – Very Stressful Week
Hello everybody! I apologize for the lack of updates in October, but I have been very busy with my EMS certification class as well as my HSE (High School Equivalency) preparation class. The worst part about the entire thing is that I finished high school, but because it was homeschooling, the state of New York doesn't see it as "official." I shouldn't have to take this HSE prep class, nor did I gain any benefit from it, but the local college forces us to.
Anyway, to the point, this week is going to be pretty stressful, but I am finally done with the HSE prep class. I will be taking my EMS midterm this Thursday, and I will be taking my TASC exam (what was once known as a GED exam) on this Friday and Saturday. Needless to say, I will be doing tons of studying this week.
On the more positive side, Fallout 4 releases in a few hours! I really want it, but I am still debating on whether or not to take the dive and purchase it right away. In the meantime, I will be working on getting my Beyond Bacon column up and running! Hopefully I will update that more then I update this blog, haha.
To send you all off on a positive and stress-free note, enjoy this gif of a cat.
Edit: Well, that just didn't work. Here's the link; http://gif.co/sLgC.gif
---
September 28th, 2015 – 11:00pm – Happy Birthday Justicescooby!
That's right everyone, it's my birthday! I got an awesome amount of gaming-related things that I can't wait to play around with, including about 10-15 amiibos, Super Mario Maker, Animal Crossing: Happy Home Designer, Disney Infinity 1.0, 2.0, and 3.0 along with almost every Infinity character currently released, Super Mario Galaxy, Super Mario Sluggers, and Kingdom Hearts 1.5 Remix! I also got my first car, a 2002 Chevrolet Trailblazer, as well as many accessories for it like Darth Vader floor mats and a Darth Vader steering wheel cover. Last but definitely not least, I got a 13-inch Macbook Pro w/ Retina Display, tons of furniture for my current apartment, and around $100 in cash. I can't wait to play my new games and write up some new reviews!
---
September 1st, 2015 – 7:00pm – Toys-To-Life and the Year of 2015!
In 2011, Activision released a game called Skylanders: Spyro's Adventure, which was the first game to use the toys-to-life feature. This feature consists of an NFC chip being placed into toys thus making it so the toys can be implemented into the game and even have data saved on the toy. In 2013, Disney attempted to use this feature in their own game known as Disney Infinity, which already has two sequels. The idea was then implemented by Nintendo into characters known as Amiibos which work on many already released and planned Nintendo titles. Most recent to join the "fad" of toys-to-life is Lego with their new title Lego Dimensions. The cheap cynical jerk inside me is saying that this whole toys-to-life feature is a gimmick to sell you glorified DLC, and while that is most likely true, the addicted collector inside me is screaming let's buy this and let's buy it now! Even while I know this will be expensive and is probably glorified DLC, I honestly can't wait until I get my hands on Disney Infinity 3.0 and Lego Dimensions! I also already have four amiibos, and I would like to ultimately have them all like Nerd Bacon founder The Cubist. In fact, my collective personality is most likely one of my biggest flaws, yet at the same time I love it. You may have noticed that I didn't include Skylanders on the list of things I am looking for and own, and that is because for whatever reason, I was never really into Skylanders. It's most likely the fact that I don't know the characters (other than Spyro) that makes me less attracted to Skylanders, being that Disney Infinity 3.0 is offering me Star Wars and Marvel characters while Lego Dimensions is offering me Doctor Who and DC Comics characters.
Enough about toys-to-life though, I would also like to talk about the end of 2015. 2015 has been a pretty good year, with releases like Splatoon, Grand Theft Auto V for PC, and Disney Infinity 3.0, but I would like to talk about some of the upcoming releases before the year ends that I am really excited about!
Super Mario Maker – Wii U – September 11th, 2015
Super Mario Maker is your average Super Mario game, but with a major twist! For the first time ever, you will be making your own Super Mario levels and sharing them online with the community, along with downloading other people's work to play for yourself! I honestly can't wait to see what insanely suicidal maps the community comes up with to torture us, perhaps I will even share some of my favorites here on this blog in the future! Super Mario Maker will also have amiibo features, which I always enjoy. The amiibos will add special elements to the maps you make, for example, the new 8-bit Mario amiibo adds a big mushroom that will make Mario giant while giving enemies a moustache. The other character amiibos will create costume mushrooms that will change Mario's appearance to the character on the amiibo.
Animal Crossing: Happy Home Designer – 3DS – September 25th, 2015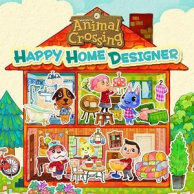 This Animal Crossing spin-off will place you in the shows of a home designer for the Happy Home company. As opposed to the normal life simulation the Animal Crossing games are known for, in this spin-off, you will be designing other character's homes for them. This game will also feature a special kind of amiibo known as amiibo cards that will be released simultaneously with this game. According to the series director Aya Kyogoku, these amiibo cards will also be compatible with the other Animal Crossing spin-off Animal Crossing: Amiibo Festival, which has yet to be given a release date other then Q4 of 2015. As a long-time fan of Animal Crossing and designing my home in Animal Crossing, I can't wait for this title.
Lego Dimensions – PS3, PS4, Xbox 360, Xbox One, Wii U – September 27th, 2015
I've already talked about this title in this blog post when we were talking about toys-to-life, but basically, this game will feature toys-to-life characters from many different franchises. This is the one game where I can say that Batman helped Scooby-Doo solve the case of the missing Dalek in the land of Oz while GLaDOS tempts them with cake. That statement right there pretty much sums up the sheer awesomeness of this game, and I can't wait until it is finally released (a day before my birthday, too!)
SWTOR: Knights of the Fallen Empire – PC – October 27th, 2015
As a huge fan of Star Wars: The Old Republic, I can't wait for the new expansion pack. The story is by far my favorite part of the game and this expansions promises to return the focus to story-telling, which is a huge promise, and I hope BioWare follows through.
Fallout 4 – PC, Xbox One, PS4 – November 10th, 2015
Possibly one of my favorites on this list is Fallout 4. I am an absolutely huge fan of the Fallout series and this title looks so amazing. Much like Skyrim, the Fallout titles are known for their modding communities, and as always, I can't wait to see what the amazing modders come up with! (Just please don't make the mods cost money, Bethesda.) Are you all ready to step back into the wasteland in November? Oh what am I kidding, most of us haven't left the wasteland!
Star Wars: Battlefront – PC, Xbox One, PS4 – November 17th, 2015
Do I need to say anything here? I feel like there aren't that many people not excited for this title! That being said, I have my fears for Star Wars: Battlefront, and I truly hope that EA and DICE don't screw up such a beloved franchise. The game looks absolutely beautiful, and I honestly can't wait to get my hands on this. I also have heard that the title will have split-screen which is something I am so excited for. I feel like after the PS2 era, split-screen multiplayer was killed off, and that saddens me because I can't enjoy gaming with my cousins on these new systems.
Just Cause 3 – PC, PS4, Xbox One – December 1st, 2015
I've actually been playing Just Cause 2 a lot this week in anticipation for Just Cause 3. Youtuber OfficialNerdCubed has me extremely hyped for this game, and I have always been a fan of the Just Cause games. Perhaps Just Cause 3 will have official multiplayer instead of a mod, yeah? Just Cause 3 looks beautiful and Rico's new wing-suit seems like a great feature, but will there be jet boosters for the parachute again?
Tom Clancy's Rainbow Six Siege – PC, Xbox One, PS4 – December 1st, 2015
From footage I have seen, the tactical gameplay of this game looks superb. I have never played a Rainbow Six game except Vegas, and I have never been a huge fan, but this game looks awesome and I can't wait to try it out. I always enjoy when first-person shooters encourage teamwork, and this game boasts that it does, so I guess we will find out in December!
Hitman – PC, PS4, Xbox One – December 8th, 2015
As a very long-time fan of the Hitman series, I wasn't too happy with Hitman: Absolution. That being said, this game seems to be heading in the right direction to be better then it's predecessor, and I can't wait to play it and see how it's improved. Apparently the levels will be bigger and less linear than in Absolution, which is a major improvement in it's own right.
While I realize a lot more great games are coming out in 2015, these are the ones I am looking forward to the most. I also did not include any games that do not have a set release date at this point. I'm curious, what do you think of toys-to-life games? What games are you looking most forward to in the remainder of 2015?