Town of Salem – PC
Platform: PC
Developer: BlankMediaGames, LLC
Publisher: BlankMediaGames, LLC
Release Date: December 15th, 2015
Nerd Rating: 10 out of 10!
BlankMediaGames' Town of Salem is a free-to-play murder-mystery strategy game in which each player is given a specific role that only they know. Each role is part of one out of three "factions" (and I use that term loosely because with the exception of the mafia, the other players don't know if you are part of their faction), town (good), neutral, or evil. Each role also has their own "night ability" that ranges from killing someone, arresting someone, controlling someone, talking to the dead, and many more.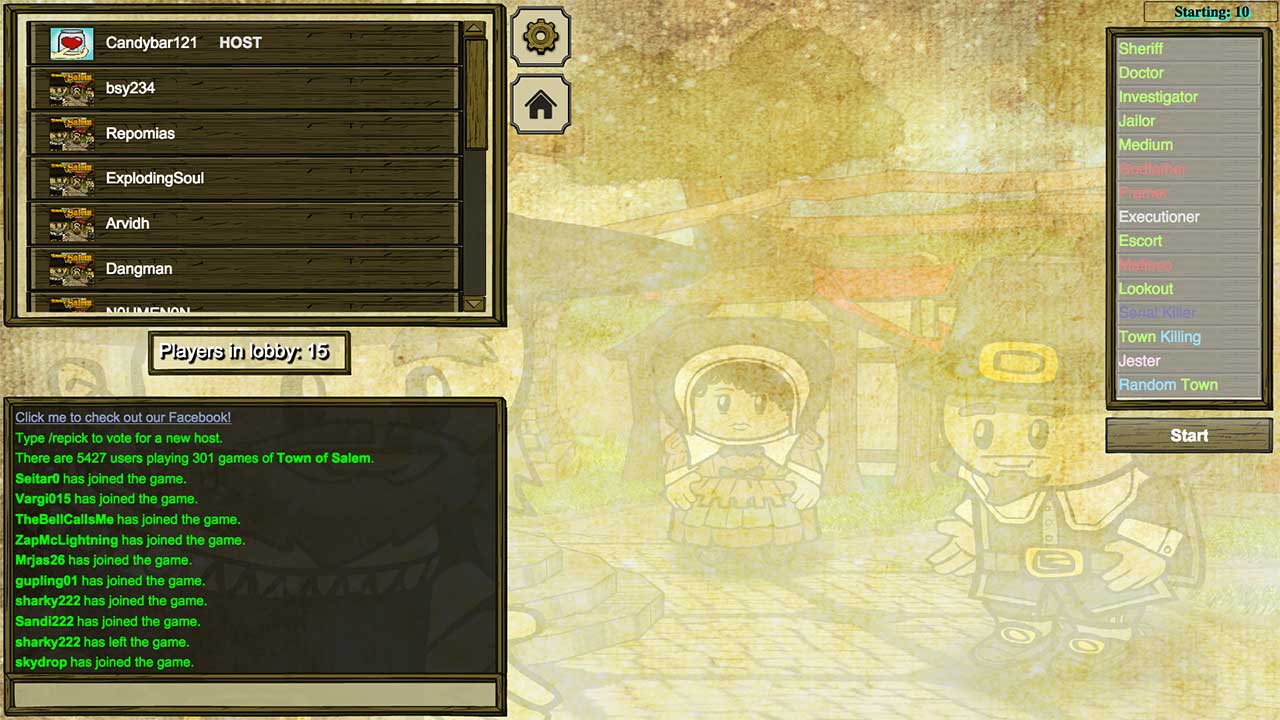 The goal of Town of Salem is to eliminate the other faction by any means necessary, and for the town faction, that first requires figuring out who the evil faction members even are. Using their nightly abilities as well as communicating, the town can slowly piece together who the bad guys are and either hang them, arrest them (jailer), prevent them from doing anything (escort), or kill them (veteran, vigilante, and vampire knight.) While the evil mafia do know who their fellow mafia members are, they do not know all the evil roles, which puts them at risk of being killed by the serial killer, burned to the ground by the arsonist, or turned into a vampire by the vampire faction.
Due to the nature of the game, Town of Salem has a very unique and simple art style. However, in this case, simplicity is definitely not a bad thing. Thanks to the art style, I feel like Town of Salem has a certain cartoonish charm to it. I do feel, however, that some of the skins available to purchase feel like they don't belong (like the yeti, the famous youtubers, etc).
While Town of Salem happens to be a free-to-play browser game, you are able to purchase it on Steam for $4.99. The benefits of paying money for Town of Salem are Steam account management, Steam achievements, and $5 worth of in-game currency.  This, of course, leads me to talk about microtransactions, a sad requirement for free-to-play games in order to gain money. I can honestly say that Town of Salem pulled off microtransactions extremely well. With the in-game currency, you are able to buy character skins, house skins, map skins, death animations, pets, and scrolls that raise your chances of becoming a certain role. BlankMediaGames is always offering sales on in-game currency, and you get a certain amount every time you win a match. I have never paid for Town of Salem, besides the $4.99 for the Steam version, and I own many different skins.
Ever since its release, I have been addicted to Town of Salem, having spent over 140 hours in-game according to Steam (and I was a player before it was available on Steam). Between its intensity, the hilarious and shocking events that unfold in every match you play, the beautiful soundtrack and unique art style, and the constant updates, I feel that Town of Salem certainly deserves a 10 out of 10. I highly recommend it to anyone who enjoys strategy games, games that require you to be cunning and to actually think about the game, and fans of tabletop games like Mafia and Werewolf (the inspirations behind Town of Salem).