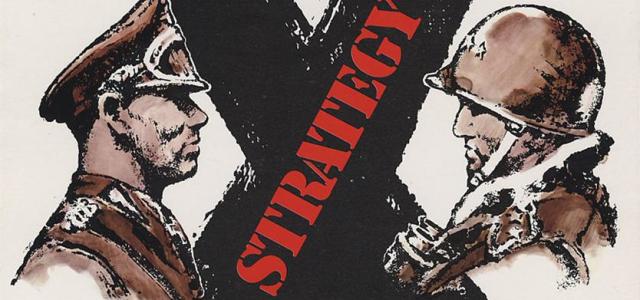 Strategy X – Atari 2600
Platform: Atari 2600
Developer: Konami
Publisher: Konami
Release Date (NA): 1981
Genre: Shooter

Nerd Rating: 5 out of 10
Reviewed by Space Invader
To understand what it's like to play Strategy X, you really have to understand the myth of Sisyphus. Once a somewhat overzealous ruler, Sisyphus made several mistakes, not the least of which was his suggestion that his own cleverness was greater than that of Zeus, who expressed his displeasure with that sentiment by banishing Sisyphus to Hades. He created a personal Hell for Sisyphus who had to roll a boulder up a steep hill, only to watch it tumble back down, at which point he would have to roll it all the way back to the top again. To watch it fall back down again. Forever.
You might assume that a review beginning with an analogy involving a version of Hell that involves repetitive, strenuous, eternal and ultimately fruitless manual labor might be a bad sign for the game in question.
You might be right. Atari 2600 games tend to be, by their very nature, repetitive. The better of them tend to inspire you to hit "reset" and grab the joystick for one more round. In Asteroids, no one who understands the wonders of twitch ever clears a screen, sees the new formation, then exclaims "Not another round!" before imbedding the joystick angrily into the wall and hitting hard the local tavern.
I can only imagine how busy the pubs must have been, and how many joysticks must have been imbedded into walls in 1981, when Strategy X was released. After a few rounds, you really do start to feel like ol' Sisyphus.
Konami's Famous Ear Candy

Strategy X is the earliest Konami effort I personally have encountered, and you can already hear the trademark that is the company's killer 8-bit music in the nifty, and fairly involved considering the hardware, harmonized little musical ditties that open and close each round. The graphics are best described as strange. Your tank looks good, rendered in that great orange color Konami thought the military was using back in the early '80s. The illusion of treads moving is striking on a CRT, although in still pictures and on LCD screens, the treads occasionally resemble weird spider legs sticking out from your tank.
The remaining graphics are a mixed bag. Turrets only seem like turrets because they're firing at you. Just by looking at them, you'd think they were those colored flower stick-on things you put in the bathtub to avoid slipping. Airplanes look like airplanes, albeit blocky ones. They fire little lines at you that don't look like much except little lines. With some imagination, terrain looks reasonable, but right off the bat, the patches of greenish-brown or orangey-brown (grass? Sand from a golf course?) set upon the gray backdrop team up to more resemble ugly wallpaper than any stretch of land I've seen or imagined.
What do I expect from an Atari 2600, you ask? Check out the relative graphical splendor of titles such as Robot Tank, and you'll see in lush, colorful big-pixel beauty that proves it simply doesn't have to be this way.
On the other hand, all these odd visuals scroll vertically with commendable smoothness, for 1981, and in the heat of battle, who really cares what looks like what? The things shooting at you are bad guys. Shoot them first. And stay off the grass.
Scrolling Tank Syndrome
The screen scrolls up without any input from you whatsoever — you can move your tank left, right, and pressing down slows your speed. You cannot, however, stop, which injects a sense of urgency as obstacles approach. Gates  must be blasted away before they collide with, and explode, your tank. Enemies from various distances fire projectiles at varying speeds, which really challenges your sense for geometry and physics. Most times, to avoid being stricken by a projectile, you must actually steer towards it so that it passes harmlessly overhead, which isn't that intuitive  but makes visual sense you're watching someone else play, rather than fleeing in the heat of battle.
Because I never get fuel in my tank as a result of blowing up gas stations, games that replenish fuel for shooting the source have annoyed me. I really appreciated that the hubris implied by blowing up life-sustaining fuel is rewarded only with points. After all, it takes balls to blow up an energy source when you know damn well that running out of fuel will blow you the fuck up.
At the end of each successful run, you get an extra life, but it's so easy to lose a life along the way that it feels less like a windfall and more like playing slot machines all night and breaking even just to lose your life savings by 3am.
Take the Wheel, Sisyphus
Just approaching that first gate one time too many can make you utterly insane. The game is in no way broken, but the sort of 2600 game that has aged well doesn't share many characteristics with this one. Sure, there are two different levels, and the action scrolls instead of appearing on one screen. The issue here is that the mechanics of the levels that repeat ad infinium require a disproportional effort to figure out than the return provides. The fact that this sort of game was done so much better a few years before, with Activision's River Raid, or that a string of successive Atari games also improved substantialy on what Strategy X tries to do doesn't help.
Sometimes, what's impressive in its day can just come off as mundane in the next. Strategy X isn't in any way broken or poorly done, and make no mistake, Sisyphus would much rather play this than roll his boulder all over Hades — but when you can play Asteroids or Space Invaders on the same machine to much more addictive effect, why bother?