Mortal Kombat X – PS4
Platform: PS4
Release Date (NA):  April 14th, 2015
Developer:  NetherRealm Studios
Publisher:  Warner Bros. Interactive Entertainment
Genre:  Fighting
Nerd Rating:  9 out of 10
Don't forget to check out other Mortal Kombat X related articles: the official fight pad, 10 Things that MKX Did Right, Jason video demo, and first impressions.
Mortal Kombat X proved to be one of the most anticipated games for the 8th generation, and for the most part, it's lived up to the hype.  There is a lot to see and do in this game once you scratch beneath the surface; I don't aim to cover every single detail and possibility in the game, but there are several high points with comparatively few lows.  Let's dig right in!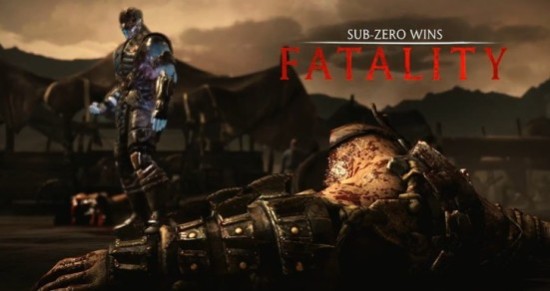 I've been a fan of the Mortal Kombat series ever since I was old enough to really grasp what was going on.  Although I remember having scattered arcade experienced with the franchise or maybe catching a match or two at a friend's house, my first serious time spent with the series was with Mortal Kombat on my Game Gear.  Granted this isn't the best representation of the series, but it was what I had, later followed by Mortal Kombat II.  However, around the time I was about 10 or so, I got a shiny new copy of Mortal Kombat 3 for the Genesis and that's where the fun really started.
I owe a lot of my interest to a young friend of mine at the time who had MK3 for the SNES, and I was endlessly fascinated with the differences between the ports.  He had access to all kinds of things that we take for granted on the internet now (I assume through gaming magazines and strategy guides, but I swear, he had the internet before the internet existed and it wasn't easy to go out and get the right magazine at 10 or 11 years old) including cheat codes and fatalities and all that good stuff.  Pretty soon I was exploiting that small Genesis cart for all it was worth.  Not long after I was able to easily track down used copies of the first 2 games, and then Ultimate MK3 dropped, and before long I found myself in complete awe of Mortal Kombat Trilogy.  And so the story continues.
As much as I like ripping out spines and burning people alive, as I said, I always had a rather intense focus on the story.  I will admit that by the days of Armageddon things were getting pretty messy.  While the 2011 reboot was visually and mechanically impressive, I was disappointed to relive the events of MK1 through MKT only this time Sub-Zero was a robot and Smoke wasn't.  Fortunately, this clean slate was exactly what the muddled series needed and now we have Mortal Kombat X.  I won't go into the story too much here, mostly because there's a fantastic means by which to experience it in-game.
The main one player mode, aptly named Story Mode, is a well-paced and fairly well-written 2 hour journey through the events that comprise and surround MKX.  It comes complete with a ton of cutscenes which, for the first time, bring a wealth of personality to these characters.  Although still a little stilted, this is probably the most natural dialog we've ever heard from our kombatants.  The story encompasses the present day, 20 years ago (shortly after the events of MK 2011), and a few cuts to 5 years ago.  What is so remarkable for us story hounds this time around is that things have actually moved forward and time has gained meaning.  Previously, it seemed as if almost everyone was suspended in an endless Mortal Kombat limbo, but now, we have believable human beings (and other critters) that have at least a modicum of dimension to them.
Some of the biggest developments include introducing the descendants of existing characters and (for now at least) the end of Shao Kahn.  They injected some realism into things finally; for years now we've had these frail Earthrealmers with their pitiful lifespans going head to head against 10,000+ year old beings from other dimensions.  You can't really have character development without change, and you can't very well convey change, after a point, without acknowledging the passing of time, which at long last the series has done.  Although the big bad in MKX is recognizable, it's still great to see events move away from Shao Kahn, who it seemed that the creators never could quite shake.  We've also got meaningful deaths to deal with as events unfold, another finality that the creators were previously unable to stick with.  Will they stay dead?  Who knows, but it's a good start nonetheless.
Another aspect I appreciate is the deft integration of Oriental-colored mysticism with our Western notions of high-tech war.  When they tried introducing guns and missiles and military agencies previously, it never really seemed to gel with all this "scared kombat" stuff.  Surprisingly, the writers did a great job of creating a world where both can exist with equal gravitas.  They establish that the Special Forces is of great importance within the opening moments of the Story Mode, instead of placing the center of the "good guy action" at a remote temple.
The Story Mode should definitely be every player's first stop.  It's got some great animation and a plot that should keep you interested, even if you're not a rabid MK fan.  It's a story with a beginning, middle, and end that anyone can follow, yet there are a number of allusions to the previous timeline made – and that makes me really excited to think that maybe the whole splinter universe thing was more than just an excuse to reboot the series, and the fact that this other alternate reality (the first continuity) is continually referenced gives me great hope for the future.  The level of realism in Story Mode may not be as advanced as some would prefer, but it's still a good looking chunk of game.
Other one player modes and pretty much every multiplayer mode revolve around 1 on 1 fights, so let's spend some time on what playing an actual match in MKX is like.
The mechanics are as smooth as ever.  And yes, it's still about pressing the right buttons at the right time to some degree, but the team has been getting increasingly better at making a match a more organic experience.  Controls are smooth, responsive, and perhaps best of all, a little forgiving.  It's less about precision reflexes and timing, and more about understanding what your opponent is comfortable doing and getting around it.  I'm no strategic wizard when it comes to fighting games, but the strengths and weaknesses of each character are a little more obvious to the casual player this time around, and it can be easy to form a solid routine/strategy without studying exact damage percentages and moveset latency.  Of course you can dig right into these things and get a jump on most people, but quite a few measures have been put in place to keep a player from winning just because they know when and how to connect a few deadly combos.
One thing that I appreciate (and which had already taken a big step forward in MK 2011) is how easy it is to distinguish between certain types of moves; pop-ups, take downs, flings-across-the-screen, etc. are easy to learn and understand from the outset.  Most special moves are simple too, and even if you don't know the particulars for a kombatant, a few seconds trying out some common buttons sequences will yield results.  Special moves are so easy to remember and perform that they play a huge role in kombat.  A good bit of the experience still rests on knowing combos and fundamentals, but each character really stands out based on the nature of their special moves.
The character models themselves are huge and take up a lot of screen space, but they never feel sluggish or awkward.  Players who previously relied a great deal on jumping techniques might need to rework their strategies for MKX.  Acrobatics are eschewed in favor of more practical fighting techniques.  They may all be great warriors, but they're not necessarily expert gymnasts, which is firmly reflected in some of the most realistic fighting the series has ever seen.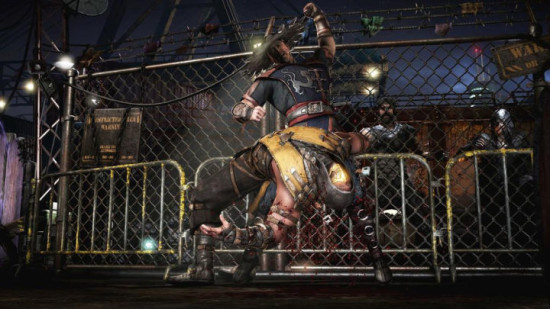 One of the bigger changes introduced in MKX are "variations."  These variations more or less replace the system of "fighting styles" that made their debut way back in Deadly Alliance.  What was a good idea at first felt gimmicky by the time of Deception, and by MKA it was all but a joke; players had swapped and changed styles and they didn't really serve much of a purpose.  Most of the fighting styles had a deliberate weakness, essentially forcing top-tier players to actively switch between them constantly.  All of that has been done away with, and now players select of one of three different variations for each character.  While they have some effect on the basic movesets, their biggest function is to provide a difference in which special moves are available.  The bulk of each character's special moves are available in any variation, but there are a few that can only be used by a specific variation, typically playing on a certain theme and even synergy between moves.
This system might be considered a little superfluous, but it does provide a couple of neat opportunities.  For one, it opens the possibilities behind each character, even if these possibilities aren't always available at once.  It allows each character to have a wealth of special moves without bloating the kombatant to the point of overwhelming or adding in a bunch of difficult-to-pull-off moves.  It also allows skilled players to get a little more mileage out of the game.  Instead of just "mastering Scorpion," one can master 3 different versions of Scorpion, and so on.  It doesn't quite cram 3 characters into one, but it comes close.
Quite a number of new mechanics are introduced.  Players have both a Run Meter and Super Meter.  X-rays are still around threatening to deal massive damage, but the meters have other uses as well.  One of the many things that the Run Meter gauges is "stage interaction."  Stage interactions include using objects to damage your opponent (throwing a piece of scenery, slamming their head into something, etc.) as well as running and jumping off of certain background objects to quickly change positions.  Also new to MKX are wake up attacks (attacks executed immediately after standing up from a knock-down) and armored attacks (those that can't countered by other attacks).
Fighting is the name of the game, and there are plenty of ways to do it.  Other one player modes are built around different types of towers.  In addition to conventional matches, many towers are designed with a certain theme and others (such as Test Your Luck) add "modifiers" to the fight to keep things interesting.  Some modifiers only affect one player, for example making them stronger or weaker.  Others send ice balls flying from the sky, homing missiles constantly locking on, a screen that goes black randomly, a constantly tilting horizontal plane, upside-down kombat, and dozens of others.  This is a great way to spice things up or to even the playing field between players of different skill.
One new feature that plays heavily into the communal aspect offered up by the internet is the introduction of "Factions."  At all times, each player is part of a "faction."  The actions of the members involved in a given faction are cumulative and include completing various arbitrary challenges, special towers, and plenty of other exclusive fights.  Factions also come with their own set of fatalities and the player is free to switch between them at any time.
The other big mode in Mortal Kombat X is the Krypt.  The developers took a different approach this time around, combining elements of the Krypt in past games with a pinch of Konquest elements from MKA and MKD.  Rather than just gathering coins and popping open coffins, the Krypt in MKX is a large area spanning several discrete sections.  There's a cemetery, mausoleum, Kahn's tomb, underground tunnels filled with spiders, and even a little piece of the Netherrealm.  Along the way, the player must collect certain objects to access new areas of the Krypt.  These objects are similar to the relics found in MKA's Konquest and include things like Scorpion's spear and Kenshi's sword.  There are also a few quick time events in the form of attacking wolves, spiders, and Meat-esque beings.
It takes a fair bit of coinage to make it through the Krypt, though thankfully there's not nearly as much filler as in past games.  There's the usual concept art and a few other odds and ends, but most of the unlocks are brutalities, fatalities, and alternate costumes.  The semi-interactive nature is actually kind of fun, though not a real substitute for a real Konquest mode, which I really wish NetherRealm Studios would bring back in some form. Earning enough koins to make a serious dent in the Krypt can be something of a chore though.  Many coffins (and chests and other containers) are relatively inexpensive, but pretty soon all that's left are the really pricey ones.  Paying for a few dozen coffins at 7,000 koins a piece can be daunting when one is earning only 200 – 300 koins per match.
Fatalities have always been a huge part of the MK experience.  They look great this time around and the developers have taken some time to come up with some really creative ones.  I won't spoil too much, but several of them are the best the franchise has ever seen.  They aren't all #1 hits, yet even the weakest aren't as bad as the slop we were given in UMK3 and MKT.  And no more ridiculously lazy "Kreate-a-Fatality" either.  Added to the line up of finishing moves is the reimagined brutality, seen when certain special moves are executed against the opponent when the opponent is one hit away from defeat.  These can be performed on purpose, but many times they come as a fun little surprise.
It's also worth taking a few moments to comment on the new roster.  Previous games had a bad habit of (roughly speaking) moving in a 3-stage cycle when it came to characters: 1st game introduces new and fun characters, 2nd game tries to change things up, removes several beloved characters and inserts several more of dubious importance, 3rd game throws it all out the window and crams every version of every character into a game.  MKII = Game 1, MK3/UMK3 = Game 2, MKT = Game 3.  Deadly Alliance = Game 1, Deception = Game 2, Armageddon = Game 3.  Yeah ok, MK1 and MK4 don't fit in too cleanly but I definitely think the pattern is there.  It may be too early to tell where this reboot is going yet, but I'd say that Mortal Kombat X is off to a good start when it comes to breaking the mold.
A lot of the fat has been trimmed so to speak, with most of the characters who "died" during the events of MK 2011 left out.  (Though I still don't understand the "human" and seemingly non-cannon appearances of Kitana, Liu Kang, and Kitana, yet no Kabal, Stryker, and Sindel – you'll see what I mean if you follow the story.)  We've got a healthy number of new kombatants this time around.  Out of 25 "initial" characters (I'm counting Goro and Shinnok), 8 are brand new.  Granted 4 of them are "just humans," but due to the focus given to them in Story Mode and their distinguishing special moves, they don't seem as plain and as generic as they might've in older games.  By and large I think the new additions work well, with several of them playing a huge part in moving the MK story forward through time.
There are a few other small details here and there (like the Kombat Kard) that I've left out, but again, this is a huge game with a number of facets and features to extend its replayability and alleviate burnout.  Fighting is still the main activity, though this time the accumulation of koins, XP, faction XP, etc. helps keep the game moving forward instead of stagnating.  I also love how many nods are made to the previous timeline, and astute fans will get a kick out of them as well.
Graphics look as good as ever.  Detractors will probably focus on the lack of realism, and where there is a certain degree of fantasy and animation in the looks, there's still an exquisite level of detail and a vibrant use of color.  Clothing moves and wafts, rain leaves wet droplets, sweat appears on kombatants, and the scenery is top notch.  Maybe it doesn't look like "real life," but it's obviously not supposed to.  The only issue I have is that, while such great lengths have been taken to depict detail, there are still some serious faux pas when it comes to the fatalities.  For instance, a popular theme in MKX is splitting people and/or heads in half.  The gore is great, but if the character has a ponytail (Sonya, Goro, etc.), the ponytail itself is split directly in half as well.  With the fatalities and innards looking as good as they do this time around, it's a shame to see little inconsistencies like this.
Sound is great too.  The kombatants engage in a bit of repartee with each other prior to each match, and this changes depending on who fights who; it's another feature that helps spice up gameplay and add personality to the characters (some of them, anyway).  We also get to  hear a lot of well handled screams, and unlike previous games where we had guys, girls, and Liu Kang, many of the characters actually have different screams, i.e. Mileena's scream and Sonya's scream are easily distinguishable from one another.
Have I missed anything?  Probably.  But if so, that's only one more reason why Mortal Kombat X is worth your time, and why it may be worth further consideration for those who don't yet own an 8th generation console (specifically the PS4 or Xbox One).  Although the game is slated to appear on 7th gen systems soon, it will almost surely suffer a reduction in quality.
If I had one truly negative thing to say about Mortal Kombat X, it would be regarding the business practices surround the release of downloadable content (DLC).  Even just barely a month after its release, there are several things you won't have if you haven't sprung for the DLC.  So far, "just the game" will be absent Goro, special Samurai skins for Kitana, Shinnok, and Kenshi, special Horror skins for Mileena, Ermac, and Reptile, guest character Jason Voorhees, the Legendary Goro, and a neat little alternate skin for Sub-Zero.  Worse still, more DLC is on the way, including Tanya, the newly playable Tremor, and guest number 2 Predator.  Each of these characters will be released alongside a further 3 skins.  Beyond them, there are rumors of "classic fatalities" as well as unplayable characters who appear as opponents in-game, notably Baraka, Rain, and a possessed Sindel.
I appreciate the attempt to keep gameplay fresh, but it is a little disappointing feeling like what was released as "Mortal Kombat X" is incomplete without loads of supplemental content to be released over the span of several months; even worse is that it must be paid for.  But if you've got a little patience, it may be worth it to wait.  2011's Mortal Kombat boasted a hefty load of DLC as well, yet a "Komplete Edition" with all the DLC and then some was released less than a year later with a few new small exclusives of its own.
Despite the overwhelmingly flagrant display of corporate greed, those with the "vanilla version" should be able to have a fantastic time with MKX even if they are a few "kostumes" and "kharacters" short of a full roster.  I haven't kept up much with fighting games in general, but I can't imagine anything currently outdoing MKX in terms of depth and quality of gameplay.  I still want a strong Konquest mode to come back (maybe a mixture between the MKA action-based game and the more open-world approach of MKD) but there's always next time, and what they've done with the Krypt gives me a little hope for the future.  If you have a PS4 you'll definitely want to get your hands on this, and if you don't, go ahead and add it to your list of good reasons to get one.
Be sure to check out other articles related to Mortal Kombat X:
Reviewed by The Cubist