Mario Party 5 – GameCube
Platform:  GameCube
Developer:  Hudson Soft
Publisher: Nintendo
Release Date (NA):  November 10th, 2003
Genre:  Party Game
Rating:  4 out of 10
Wow, who would've thought the series would've dropped so far from the very passable Mario Party 4?  I was really hoping for the upward trend to continue, but after the first 5 minutes of the 4-5 hours I spent on Mario Party 5, I could already tell that a mistake had been made.  The pace has slowed to a virtual crawl, minigame quality and difficulty is the most inconsistent so far, the courses have been transformed into either sprawling multi-level mazes or the simplest of circles, and star placement collides with level design to birth strategically non-existent games that are almost completely dependent on luck.
From the start of my first game I knew immediately that I was in for something different; the first star up for grabs was literally 4 or 5 spaces away.  This meant either than one of the characters had a good shot of getting 10 more coins before moving those 4-ish spaces (unlikely considering previous titles), or that it was quite easy to find some shortcut back to the beginning of the board in order to collect it.  On my first turn, I rolled a 1, and happened to uncover a hidden block in which I discovered 10 coins.  But did I get the star?  No.  Another character won the first mini-game, had only rolled a 3 on the turn prior, and was able to scoop up the precious resource before me.  Sure, it could be a fluke, but such a big lead early on isn't common.  Lo and behold, the next star appeared less than 15 spaces ahead, and in a straight line.  For those who've played other Mario Party games, you know that even when stars are placed relatively close together there is usually some trickery employed with the direction one is able to travel on the board so that claiming the star is a bit more exciting than just a race between those with 20 or more coins.
And so the first "Toy Dream" level continued.  One star after another, spaced roughly 10 to 20 spaces apart.  In a game of only 15 turns, a total of 9 stars were collected, not counting the bonus stars awarded at the conclusion.  Anyone with enough coins and high enough rolls of the die are able to pick up at least 1 star every turn or two, sometimes 2 stars on a single turn.  While I'd hoped I'd be the lucky character, I was not, despite my enormous coin total.  Another character did accomplish this, and ended up gathering 4 stars in 3 turns during the last third of the game.  My point is not to describe every detail of my first game, but to illustrate how effortless gathering stars can be.  Most of what happened in the first level depended entirely on the roll of the die.  Using items and other advantageous board spaces wasn't enough to counteract this level of luck.
On the other side of the spectrum are massive boards such as "Future Dream" that are all but impossible to reasonably cover in a 15 or even 20 turn game.  "Future Dream" consists of multiple
levels of circles accessible only by specially placed rockets.  Truly a nightmare.  The only upside to the new courses are the absence of 1,000 ways to impede progress.  There are a few features here and there, but they're mostly exclusive to one course and usually the player has a choice of activating the option or not.  While at first I was excited about the removal of such impediments, it was undone by all the hardship caused on individual spaces, (which I'll discuss shortly) and I began to wish there were a few more skillfully planted variables in the shorter, more straightforward stages.
Donkey Kong continues his participation in the fifth installment, only this time as an in-game counterpart to Bowser instead of a playable character.  Now he has his own special "DK Spaces" to rival the long-dreaded Bowser Spaces, where he usually does something beneficial like hand out coins or even give away a star.  All of this adds to the copious list of time-wasting happenings, the worst of all being his unique offering of a DK Minigame.  These minigames function as bonuses where each character earns coins via bananas.
Items in Mario Party 5 have been somewhat revamped, with a whole new method of obtainment used.  The player intermittently passes by what looks to be gumball machines and has the option to receive or decline a capsule.  If one says yes, the random capsule is added to the player's inventory.  Unlike other games where items are paid for and chosen by the player, one doesn't know what the capsule is until it is gotten, and no payment is due until the moment the item is used.  This strikes me as a very roundabout and inefficient process of obtaining powerups, and highly reinforces the huge role that luck plays throughout the game.  If random items are going to be distributed, they ought to be free.  If money is needed, then a player ought to have some degree of choice.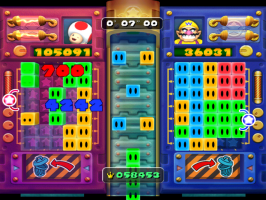 Much like Mario Party 3, there is such a diverse array of items that it's hard to get comfortable using them, nor can one regularly rely on a small number of items particularly suited to his or her playing style.  Several actions are represented, but most of them involve a redistribution of materials, be it coins, stars, or capsules, as opposed to the generation of all new items.  In a nutshell, when a capsule is used, it is nearly always at the expense of what another player has already gained.  Capsules are relatively easy to get since one can pick one up at several points in the game without having to immediately pay for it.  This leads to rampant use and elevated levels of frustration, as the leading player is universally targeted.  It also serves to waste a hell of a lot of time during turns, one of the major aspects that brought the enjoyment of Mario Party 2 and 3 well below what it may have otherwise been.
Gone now is the option for a game lasting under an hour, as even 15 turns can easily span 90 minutes.  A number of new features are to blame for this headache, including the capsules mentioned above and all new "events" built into the board.  Whatever capsules don't immediately affect another player are laid on spaces of the game board as a sort of trap.  These traps range from battle minigames, to Bowser mini-games, to chance games (allowing players to use a roulette type
device to force one player to "give" some quantity of something to another player), to the irritating loss of coins, complete with a lengthy Hammer Brother animation to boot.  Events function similarly.  At the commencement of each game, the presiding star character (giant stars with a face who oversee these "dreams") announces how many events are hidden around the board.  These events can be bad or good, but usually result in some sort of luck-based redistribution battle minigame.  Among the events is the exasperating return of the damned Koopa Bank, good for nothing but stealing 5 coins and wasting time with boxes of text.
Like past Mario Party titles, the last 5 turns kick off with a little generosity towards the player in last followed by a randomly decided change in gameplay.  Generally it's something equally beneficial and detrimental such as red and blue spaces giving or taking away twice as many coins, but in Mario Party 5 there's the additional probability of having EVERY SINGLE SPACE turned into an event space, just in case the game wasn't going slow enough beforehand.  This makes for an excruciating experience and I advise anyone unlucky enough to activate this curse to immediately reset their GameCube, or follow these easy steps:
Press the gray "Power" button located on top of the GameCube.
Press the blue (or whatever color GameCube you have) "Open" button located on top of the GameCube.
Push on the plastic in the center, the part holding the disc in.
With the other hand, remove the disc.
Put the game back into its plastic case.
Replace with Final Fantasy Crystal Chronicles.
Let's visit Mario Party 5's minigames for a moment.  Minigames are the heart and soul of Mario Party; admittedly, the series would be pretty damn boring without them.  Then again, no one wants t o be on some screen aimlessly selecting minigames with no further purpose, so the two indeed have a symbiotic relationship.  The ones crafted for Mario Party 5 have much of the same feel as those in the fourth installment but seem to suffer from inconsistency.  Controls are more than adequate, visuals are on par with Mario Party 4, but sometimes the concepts fall completely flat and it feels like
Hudson Soft was trying a little too hard.  A few examples include the game where Chain Chomp must be "lured" past obstacles, the 3 vs 1 game with the cubes of rock, the race across the quilt, and the jumping up the beanstalk minigame, something that would've been more at home in the first couple of titles.  All of these are doable, but aside from the beanstalk, they are difficult ideas to grasp quickly, there are no particularly efficient ways to complete them speedily, and they aren't exactly simple or addictive enough.  These games need practice and in some cases extremely competent computer players, requirements that shouldn't be necessary for Mario Party minigames
However, those that aren't bad are quite well done, a handful even being among the best in the series.  Standouts include chasing the chimps, the ice/speed skating, the penguins running to sea, and stopping Chain Chomp with the flashlight.  Many of the ideas are fresh for the series and make use of the GameCube's increased abilities over the N64.  An extremely fun assortment  minus the dozen bad apples are the only reason I
can comfortably award Mario Party 5 a 4 instead of a 3.5.  Unfortunately the awesome minigames within are a bit of an afterthought.  Since turns are bothersomely extended, the fun gleaned from minigames is short lived.  Often the time spent on 1 player's turn (especially after the first 5 turns) is enough to play through 3 or more full minigames.  Interestingly, if 1 player chooses story mode, the 3 computer controlled Koopa Kids all take their turn at the same time, improving the pacing of the game, although dealing with the board spaces is still a constant annoyance.  That isn't to imply that the computer is to blame for the excessive length of games; the nature of Mario Party 5 itself prevents any brevity or efficient use of time.
I can't say I full understand what Nintendo / Hudson Soft were aiming for.  Perhaps my expectations were too high, or maybe theirs were too low.  It seemed as if Mario Party 4 was determined to trim the fat from the series, transforming it from a plodding, exhaustive experience into a lean, sleek game where a player could opt for more turns if longer games were desired.  It's a shame, really.  I doubt even the sub-par minigames would stand out all that much if the remainder of the game could be whittled into a more direct procedural.  Soon though, it will be time to unravel the ol' GameCube Microphone for the second half of the franchise's time on the GameCube, Mario Party 6 and 7 …
Reviewed by The Cubist
Mario Party Series
Main Series
Handheld