Mario Party 7 – GameCube
Platform:  GameCube
Developer:  Hudson Soft
Publisher: Nintendo
Release Date (NA):  November 7th, 2005
Genre:  Party Game
Rating:  7 out of 10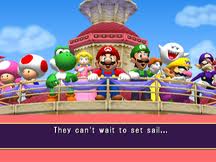 Mario Party 7, the second half of the GameCube Mic duo:  finally we have a Mario Party that retains what was so fresh about the first game and expands on some of the better ideas toyed with throughout the series.  I still have some issues with Mario Party 7, but it is an improvement in so many ways it's hard to dislike.  To a large extent Mario Party 7 is an updated and improved version of Mario Party 6.  The visual style is almost identical, the orb powerups
are carried over, and the concept of each board requiring a different method of gameplay to collect stars has been fully fleshed out.  The mini-games are less of a focal point than in games past; instead Hudson Soft has attempted to put more of the action on the game board.  I actually like this approach, and in retrospect I understand why I considered the mini-games in Mario Party 6 forgettable; I wasn't yet understanding that more emphasis was being put on the actions occurring on the game board.  Yet again, use of the microphone is strangely limited.
Most of what we see here is established in the previous console installment.  Basic gameplay, graphics, board spaces, powerups, and all of the other elements that seem to change from title to title will finally look familiar.  While in some ways it's a nice change to have an entirely new game from release to release, I can also appreciate not having to re-learn fundamentals and going through the process of figuring out what old features have been transformed and given a new facade.  The idea to have each different game board present a unique way to gather stars was the defining characteristic in Mario Party 6 and is continued in this entry to great effect.  Several types are offered, including the standard moving star, a linear path with a star at the end, a course where stars are stolen from other players, and the amazing windmill  board where players must invest money in windmills along the way which reward the player with 1, 2, or 3 stars for as long as their investment remains the highest.  With the high level of variety, drastically different games are possible other than simple star chasing, requiring all new strategy and placing fluctuating focus on luck, coin collecting, orb usage, and board movement.
Powerups (in the form of orbs) are used judiciously in Mario Party 7, at times to a fault.  More so than in 6 they are scattered around the board and can still be purchased at shops placed at fixed intervals.  Many orbs have singular functions such as rolling 2 or even 3 dice, but several new additions are designed to be placed on spaces around the board.  Some of these (such as the thwomp and spiny) are activated as a player passes by, but most of them must be landed on to affect an opponent.  Different events occur, most of them being roughly geared towards the aim of stealing coins.  To further exert influence, many of the spaces are permanent and do not disappear once activated.  In smaller boards or games with longer turns, the board is turned into a minefield of orb-affected spaces making travel very treacherous.  I do enjoy the increased action on the board and more emphasis being placed on the main game, though I did find myself growing impatient due to all the time spent picking up orbs, using orbs, and dealing with landing on orbs.  At times it seemed as if the turn would never conclude and brought back nightmarish recollections of Mario Party 5.  
Minor complaints aside, there is one enormous problem woven throughout Mario Party 7:  BOWSER.  His pervasive presence precludes pleasant and punctual performance pertaining to play.  This guy is virtually omnipotent, weaseling his way into almost every area of the game.  Koopa Kid spaces are prevalent, typically resulting in the loss of coins or another injurious act.  At the onset of each turn, a giant Bowser face is displayed on screen in lieu of the night and day mechanic of Mario Party 6.  Each time, lava fills up 20% of his face, and once full he assembles all the players for a diabolical deed.  Anything goes, from stealing coins and taking over stores and forcing players to hand over lots of coins for useless items, to affecting different boards in different ways; for example on the Canal board he replaces all the bridges with new ones filled with Bowser spaces, and in the Windmill course he completely razes a windmill, thus subtracting those stars from whoever held the highest investment.  This dastardly act occurs every 5 turns aside from the turn that begins the "last 5 turns."  When the last 5 turns start, Bowser summons the last place player and awards them either 20 or 30 coins, based on the roll of a die.
Bowser spaces are found frequently even without accounting for the aforementioned event, and it seems players are always falling victim.  Typically Bowser forces the single player who landed on the space or all players to play a reasonably tough mini-game.  Losing this mini-game results in the loss of either half or all of the losers' coins.  These perils alone are tolerable as similar events are found in all Mario Party games, but the problem lies in how repeatedly they take place, especially during the latter half of a game.  Not only does it end up taking up vast amounts of time, it also leaves the characters' pockets in a constant state of turmoil.  By the time one can recover a lost or displaced fortune, it is again time for Bowser (or a Koopa Kid, equally vicious) to invade and destroy.
The GameCube Microphone is integrated into Mario Party 7 more so than the first half of the mic duo, but just barely.  Instead of 5 mic mini-games, this time around there's 10.  With 88 total mini-games however, ones utilizing the mic are rarely played.  Diffused about the boards are a few special "mic spaces," and these allow the player to wager any number of their coins on a single player mic mini-game.  Games involving the microphone are fun and refreshing, and I really wish they had been pushed further and made more prominent considering how responsive the device is.
As I've mentioned several times previously, the mini-games are not the focal point in Mario Party 7.  Although they are fun, there's enough going on within the game board that most players won't be as preoccupied with getting to play mini-games as they may have been in past titles.  I can't say that these are filled with innovations and wacky ideas, but for the most part they are simple, fun games relying heavily on pushing buttons quickly and rapidly moving around to avoid one object or another.  Some of my favorites are the floating water bubble, the conveyor belt, running through the haunted house, and the weird number bingo game.
Outside of regular gameplay, there are a few other things to do.  One player can either play courses at will in "Party Mode" just as one would do with multiple players, or they can participate in "Solo Mode."  Unlike the last couple of games that included a "Solo Mode," these aren't dumbed down dueling versions of game boards, but the same as those in "Party."  It does play out somewhat like a story, rewarding the player with the 6th and final game board for free play in "Party."  Thankfully, a new option has been added that will at last allow one to turn off watching the incompetent computer-only mini-games.  It's a bit hidden away, stashed in the "Pause" menu, but it is there and I'm grateful.  Mario Party 7 also includes a counterpart to the Star Bank found in 6, this time taking the form of a souvenir shop.  When games are completed by any number of players in any mode, "cruise points" are awarded and can be used to buy various items.  The most notable are extra characters Birdo and Dry Bones, and the extra hard difficulty for computer opponents.  Also available is the novel 8-player game.  I thought at first it was meant for connecting 2 GameCubes and perhaps having everything display on one TV, but it's actually a game where 8 players compete in teams of 2.  The idea is that one of the partners controls the left half of the controller, and the other controls to right.
Hudson Soft got a lot of stuff right when this one, but it still needs some work to take out minor annoyances.  I don't mind all the featuers, powerups, and otherwise diversions from the game, I only wish they could all be included in a way that didn't halt gameplay for 3 other players and upturn everyone's standing so often.  When 1st place is being changed every 2 turns by an element other than the achievements of the players, competing starts becoming pointless.  Too much of the game turned over to chance eliminates the importance of skill, and I fear that all the Bowser/Koopa Kid trickery pushes the limit.  Fortunately though, I have indeed played Mario Party 8 enough to know what an awesome game it is!
Reviewed by The Cubist
Mario Party Series
Main Series
Handheld