Fallout 4: Contraptions Workshop – PS4
Platform: PlayStation 4 (Requires Fallout 4)
Developer: Bethesda Game Studios
Publisher: Bethesda Softworks
Release Date (NA): June 21st, 2016
Genre: Action RPG
Nerd Rating: 4 out of 10
This review is going to cover the contents of Fallout 4's fourth DLC pack, Contraptions Workshop. This isn't an overview of the base game, nor the Season Pass. For those interested in the other DLC packs, be sure to check out their individual reviews below.

At the beginning of this year I covered Fallout 4 for the PlayStation 4 for Nerd Bacon, since then six DLC packs have been released for the game so I figured it'd only be right if I returned back to give the fine folks here my thoughts on each of them. Note though, that although the screenshots I've used for many of the DLC packs come from a modded saved game, I did in-fact play though each DLC pack at least once without mods (as trophies are disabled for modded saved games) and I'll be judging them on that.
Not that it really matters though, because you can't get the Unofficial Fallout 4 Patch for the PlayStation 4 version of Fallout 4 anyway, since Sony's anti-piracy paranoia has turned the sweet prospect of mods on consoles into little more than legal game cheats. So if anything, you'll want to stay away from this lesser version.
Contraptions Workshop is the fourth DLC pack released for Fallout 4, having been leaked, revealed at E3, then subsequently released last June. Not only is it another rip-off Workshop DLC, but it takes the cake for being not only the biggest rip-off but also the most forgettable DLC pack ever released. I swear, if I hadn't bought Fallout 4's Season Pass while it was on sale last November, I would never have even downloaded this piece of crap, nor would I have ever had the displeasure of reviewing it.
There are three reasons, and only three reasons that the Contraptions Workshop exists and they are the following:
To allow players to craft ammunition
To have more trophies to unlock
To make Bethesda Softworks more money
And unless you're a trophy-hunter like I am, you'll only likely care about the first reason.
I mean, sure you can also craft guns, clothes, radiated food products, and random crap, but the likelihood that anyone would waste precious resources to make fifty Vault-Tec Lunchboxes, or Laundered dresses is so….so small. However, being able to take some Lead, Plastic, and Fertilizer that you'd rarely use anyway to create more Shotgun shells-is priceless. Actually, it's $4.99. Yet, there already exists better and more expansive mods that allow players to create just about any item they wish at a crafting table-for free. And yes, these same mods are available for no-external-assets PlayStation peasants, so there really are no excuses to pay $4.99 to buy Contraptions Workshop, unless you either want trophies or love throwing away your money at Bethesda Softworks.
Alright, alright, so there's more to Contraptions Workshop than making ammunition-there are armor racks, just like Skyrim had in its vanilla game. Ok, you win, maybe this piece of shit is worth at least half of what I thought it should be…
Besides the ammunition producer, players can also add greenhouses, armor racks, logic gates, ball tracks, elevators, scaffolding, boxcars, display cases, pillories, and fireworks to their settlements. Although you'll still probably never touch half that shit. For some reason though, settlers assigned to the pillory usually never bothered to walk over to it, similar to how herding settlers to their assigned spots in the arena rarely worked… Oh well, if it isn't bugged to shit, it isn't a Bethesda game, amiright?
Although I've been beating down on all of Fallout 4's Workshop DLC packs (mostly Contraptions Workshop) and it isn't a far stretch to call me cheap, I'd really like it if someone could just give me one solid reason as to why these Workshop DLCs exist when mods are available. Sure, being able to add things like armor racks, elevators, and green houses around my deserted settlements is nice, but Bethesda peddling three packs of minimal content for the price of a Runescape membership-each pathetic.
At least with Skyrim, Bethesda delivered two pretty solid pieces of DLC; Dawnguard and Dragonborn, in addition to a lower-content Hearthfire. At least Hearthfire made sense for console players who couldn't access mods that allowed them to adopt children or create their own custom player-homes. But this? Someone tell me why this isn't an example of pure greediness.
But before that, let's play a game for a second, it's called, What can I buy for $5 on the PSN?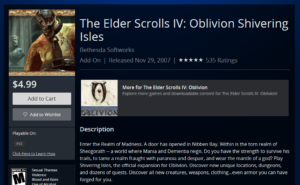 …and please, tell me with a straight face that these Workshop DLC packs aren't just the new Horse Armor.
Looking for my thoughts on the rest of Fallout 4's content? Check out the following:
Fallout 4: Contraptions Workshop – PS4