Fallout 4: Wasteland Workshop – PS4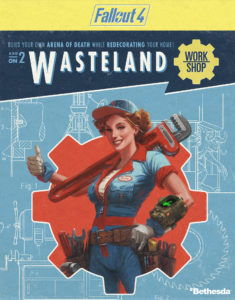 Platform: PlayStation 4 (Requires Fallout 4)
Developer: Bethesda Game Studios
Publisher: Bethesda Softworks
Release Date (NA): April 12th, 2016
Genre: Action RPG
Nerd Rating: 5 out of 10
This review is going to cover the contents of Fallout 4's second DLC pack, Wasteland Workshop. This isn't an overview of the base game, nor the Season Pass. For those interested in the other DLC packs, be sure to check out their individual reviews below.

At the beginning of this year I covered Fallout 4 for the PlayStation 4 for Nerd Bacon, since then six DLC packs have been released for the game so I figured it'd only be right if I returned back to give the fine folks here my thoughts on each of them. Note though, that although the screenshots I've used for many of the DLC packs come from a modded saved game, I did in-fact play though each DLC pack at least once without mods (as trophies are disabled for modded saved games) and I'll be judging them on that.
Not that it really matters though, because you can't get the Unofficial Fallout 4 Patch for the PlayStation 4 version of Fallout 4 anyway, since Sony's anti-piracy paranoia has turned the sweet prospect of mods on consoles into little more than legal game cheats. So if anything, you'll want to stay away from this lesser version.
Wasteland Workshop is the second DLC pack for Fallout 4, released a month after Automatron, last April. Capitalizing on the popularity of the in-game Settlement workshops, Bethesda released the first of three "Workshop" DLC packs. Instead of focusing on adding new areas, new factions, and quest-lines as they commonly have, the Workshop DLC packs add new creatable objects for settlements based on a certain theme.
Wasteland Workshop's items all revolve around its creatable arena, although most of the items added in the DLC were part of the vanilla game anyway, just not usable in settlements. For example, players can now create concrete structures similar to those found at military bunkers. There's also plenty of new decorations to use, such as neon letters and numbers, more taxidermy pieces, and oil lights.
One of the only draws for Wasteland Workshop though are the cages that players can now add to their settlements that allow them to capture everything from the docile house cat, to Deathclaws, Raiders, and even Gorillas as seen in the Institute. Although captured creatures can be used in arena battles, they can also be tamed and used to bolster security in settlements (Deathclaws), or raise happiness (Gorillas).
The biggest draw for this DLC pack, however, is the aforementioned, build-able arena. The arena itself is actually just two colored spots that you can assign NPCs or creatures to. Once one plate for each of the opposing combatants (blue team and red team) are assigned an NPC or creature, they'll begin to fight. The actual arena and seating are up to players to build, but it's usually advisable to keep the fighting in an enclosed area, especially if you choose to assign unkillable NPCs or companions to your arena.
To be honest though, fights with non-essential NPCs are usually ridiculously short and pretty boring, so I'd suggest tossing in some companions you could care less about to duke it out. Or, if you're looking to clear out some settlements to build your robot armies from Automatron or claim for one of the three Raider gangs from Nuka-World, having your settlers all fighting to the death is usually the most efficient way to do that.
However, charging players five dollars to use Settlement items that almost all of which already exist in the game is a rip-off. Especially when mods exist on every system Fallout 4 can be played on that add these same sorts of items and more. When Hearthfire, Skyrim's home-building DLC came out I had a similar opinion, I thought it was ridiculous that Bethesda would try to sell PC players a DLC pack that added the same things that so many mods had already done (customizable player-homes and adoption), but with less options and more bugs. However, I let that criticism go a bit for consoles because such a thing didn't exist (through legal means at least) and these were things I wanted to have in my console game.
This thought process is outdated now. Fallout 4 is mod friendly to all platforms (well, besides those poor no-external-assets PlayStation peasants), meaning if Bethesda wants to make money on DLC, they have to do a lot more than peddle crap a mod's already efficiently done. So, while re-creating The Most Dangerous Game in Fallout 4 is fun and all, the amount of content added for the price Wasteland Workshop is retailing at is ridiculous.
Looking for my thoughts on the rest of Fallout 4's content? Check out the following:
Fallout 4: Wasteland Workshop – PS4