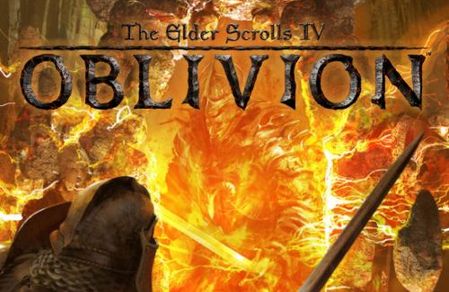 Elder Scrolls IV: Oblivion – Xbox 360
Platform: Xbox 360

Developer: Bethesda Games Studios

Publisher: 2K Games

Release Date: March 20, 2006

Genre: RPG
Nerd Rating: 7 out of 10
Reviewed by Dovahkyle
There is sufficient proof that the Elder Scrolls games are elite when referring to open
world/ RPGs, I have vastly enjoyed most of them, but Oblivion, the fourth game in the series, was not the extraordinary sequel I was hoping for. Don't get me wrong with the ease of reaching 500+ hours of game play, there is allot to do, and allot to see. With sixteen square miles of world to explore (ten more than it's predecessor "Morrowind), over 220 quests(including DLC) and around 130 dungeon like areas to find and pilfer not to mention the nine major cities to visit, this game is expansive and ultimately impressive. I'll tell you this, if you have never played an ES game before and you love RPGs, this game will amaze you. If you have played, for instance, Morrowind, like I have, you could be under-impressed or even disappointed.
There is no easy way to say it, lets touch on the
positive side first. The graphics were off the chain for it's time, before this game we were all playing the PS2 and the Xbox, so the visuals and environment blew my mind. I mean NPCs talked to you with their mouths actually matching the words they were saying, unbelievable, this was a turn of a new leaf for gaming. The choices at the start of the game for character creation is more detailed(for appearances) and still consistent with past versions for racial stat bonuses. The ability to choose a main specialization(Combat, Stealth or Magic) remains intact, while the choice of minor skills is gone, which is fine by me, I usually sit there trying to figure out what other skill I could possibly need.
I could still pick seven major skills, which become the only thing that allows me to level up, for example if I did not choose Destruction Magic as a major skill then I used it allot and got it leveled really high, it would never add to my experience points towards the next character level. I will try not to get confusing here, when you gain level with a particular skill, we'll use blunt weapon as an example, you will gain possible multipliers to your governing attribute(Strength, Intelligence, Willpower, Etc...), so for this weapon it is Strength, if Blunt Weapon is not one of my major skills I can still use this skill to add to my multiplier so when I do level up,
I have the choice to add the max multiplier to my favorite attributes. Sorry if I confused you but this is a really cool leveling system, it's not just hack and slash and pick some perks, it really takes time and strategy to level a character successfully, you don't want to level too fast and have low attributes, the environment will become more deadly than you are.
Another plus to this game is they got rid of those stupid Cliff Racers, that will only make sense if you have played ES III, but they were essentially just large pterodactyls that attacked you constantly in the wild, really annoying. On top of that the entire world was leveling up around me as I level up, when I first emerge from the prison(yes it's a prison, it's always a prison) if I were to start dungeon delving I would find, rats and low level skeletons and so on, as I level up those same places would have bears or trolls, pretty cool. These indefinite monsters, based on the characters level, have become known as "Ninja Monkeys", I believe the same system is used in ES V or Skyrim. I love it and hate it, I kind of like finding a place filled with monsters and marauders to strong for me, so I knew I needed to get my butt out of there and get stronger, it gave me something to look forward too. But on the other hand it is pretty neat to visit a place I have already been, and cleared, to find new and stronger enemies then the last visit.
The storyline revolves around the daedric prince of destruction, Mehrunes Dagon, who is trying to merge his world "Oblivion"(pretty much hell) with Cyrodiil, the land mass the game is taking place in. His "Mythic Dawn" worshipers that follow his every whim, try to stop be at every turn of the main quest, though almost unheard of otherwise. The Morag Tong(assassins guild of Morrowind) is long forgotten and the Dark Brotherhood has stepped up to answer the bidding of the Night Mother for local and regional assassinations.
The fighters and mages guilds are available for the joining and take over, and of course the beloved thieves guild ran by the mysterious "Grey Fox". The faction quests are fun but ultimately over pretty quick in relativity with past games, and the fast travel ability has come into play, so no more traveling from mage guild to mage guild. Although this world is six square miles larger than ES III, the fast travel makes it seem so much smaller. I also had the chance to purchase a horse, for a steep price, but still cool for those who like to enjoy actually seeing the world.
The arena is where I spent allot of my time, as you can join as a low level nobody with zero respect and come out a hero. It is a gladiator type battle in a coliseum setting, a big crowd of spectators that bet on the matches. Sometimes you fight a lone warrior or mage, sometimes you fight three at a time, it's pretty awesome and it pays. As I wander out into the world I found Oblivion Gates all over the place, not sure if these were randomly spawned or preset, either way, I had to enter these portals to the realm of Mehrunes Dagon and conquer the gate to close it.
Those are really fun and I loved that aspect of this sequel. I also learned that having a shield in this game was actually useful, I could pull a trigger on my controller and hold up my shield for realistic like blocking, very cool, with the combination of successful blocking and attacking no one could stop me. The power attacks were a great addition as well, as they have a chance of either knocking back, disarming or even paralyzing the enemy, I had allot of fun with these.
Don't get me started on the down side to this game, I hate bashing anything by Bethesda, but you would have to be blind to not realize this game was rushed through production to be the title release for the Xbox 360. Sure there are a numerous amount of quests requiring me to run all over Cyrodiil, but the magic content has been cut down to almost nothing. The spell making and enchanting in this game are bare bones. Just a few spells in each college. And my worst nightmare came true, no more levitation. Come on people! I was a god in Morrowind, now I just ride a stupid horse, whatever, I'm being melodramatic as usual.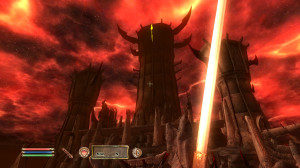 They also ditched the Medium Armor skill which means, yea there is no medium armor, so you have like ten choices between heavy and light, pretty slim pickings. I would have liked to see a more diverse creature and animal population, as I was spoiled with the previous game. I do love the daedra (new creatures from the realm of Oblivion) and the Oblivion realm itself, as I had to travel there many times in this game, very cool stuff.
This game is overall on the up and up, no match for it's prequel or even it's sequel for that matter, but really a fun and time consuming game.
The plot is not quite what it could have been, a little impersonal for me, but still entertaining. If you love RPGs, and open world adventuring than give it a try, I would even suggest trying it on the PC and using Nexus Mods to expand on it, as there are over 27,000 mods available for this title, including new lands, new factions and of course new armor and weapons. I give it a 7 out of 10, negative points for cutting out content, but ultimately good.