Burnout Revenge – Xbox 360
Platform: Xbox 360
Developer: Criterion Games

Publisher: Electronic Arts

Release Date (NA): March 7, 2006

Genre: Racing
Nerd Rating: 10 out of 10

Reviewed by Dovahkyle
Do you like adrenaline? Do you like speed? Do you love it when your heart is literally racing and your hands are sweating? Then you will love EA's Burnout Revenge. This game fuels your need for speed and levels it off with a heavy dose of destruction. I loved this game so much I actually had a band named "Aftertouch" at one point, but we'll talk about what that later. The burnout series has always been a trendsetter in the racing world, and Burnout 3 was a fantastic thrill ride on the Xbox, but Burnout Revenge is a cut above the rest.
I wish there was a game genre for Vehicular Combat because this game would be the epitome of such a title. No, this isn't like Full Auto or Twisted Metal with weapons, but with breakneck speeds and the ability to blow your car up on command, who needs 'em? Racing in rush hour traffic on highways and downtown streets in five different game modes with 77 different cars, this game is always a challenge and extremely fun. You don't even have to like racing games to enjoy yourself since this isn't the "real racing" like Gran Turismo or others like it; this is the 180 miles per hour, traffic-checking, opponent-wrecking, fireball of a racing game.
You have seven downloadable cars (free), which look pretty sick and include Xbox, Yellowcard, and Spike TV cars. With color being the only customization allowed in-game, there is little to be distracted by- just pick the car you want and go. I love the customization aspects in games like Need For Speed: Underground 2, but this game gives you a chance to just do what you came here to do: race, crash, or whatever suits you. I will say, the bigger the TV, the better- when everything is flying by, it really helps to have HDMI on a flat panel to see all the detail, including buses and oncoming traffic. But by the time you see it, it's probably already too late.
Gameplay: The game operates off of a ranking system with 11 ranks. The bronze, silver, or gold stars earned by racing in various modes will earn the player points towards the next rank, which will unlock a whole new set of races. A rank of games may include Burning Lap, which is a countdown race against time using a special car, where finishing without crashing will usually give you a gold (but that is way harder than it sounds); Eliminator, which sounds just like what it is, except in normal racing games the eliminated car doesn't explode (just don't be in last place at the end of the lap); Road Rage (one of my favorites), which isn't about finishing in any place, but instead just finishing in general- crashing as many rival racers is the key to winning this mode; Circuit, a typical race mode; Traffic Attack, where hitting same way traffic is OK and actually the point of this race mode ( if you don't hit enough cars and keep the meter full, it's blow up time); and the best of the best, Crash, where the player is launched into a busy intersection and the idea is to rake up as many dollars in damage to win.
During most races a meter at the bottom of the screen will fill up with every near-miss, traffic check, rival take down, and driving on the wrong side of the road. As long as this meter is constantly being filled, the player can race with full boost nonstop, which is how the game is supposed to be played- full boost all the time. The key is to get the multiplier on the burnout meter, which can give the player up to 4 times the normal burn gain. Taking down rivals in specific areas on different tracks can earn the player takedown cards (really just challenges to shoot for). Takedowns can be completed by ramming an opponent into a wall or oncoming traffic, or even tailgating until they "psych out" and crash.
The player can detonate his/her own vehicle in most races if he or she crashes (and you will crash). If the player detonates the vehicle at the right time, he/she could successfully wipe out opponents, also known as Aftertouch Takedowns, full satisfaction guaranteed. The crash races are one the best things I have ever done in a car game. The player starts out by selecting a crash car ranging from light to heavy and then launches with full boost towards a rush hour intersection. Once the player hits traffic, the burnout meter fills with fire for each dollar of damage earned. If the meter is filled, the player can detonate the vehicle to create a devastating wreck, and in the air you have full control over the direction of travel to cause even more destruction.
Controls: The response time is quick, which is essential in a game of this speed and intensity. Dodging oncoming traffic, hitting jumps, and finding shortcuts make quick thinking a big part of Burnout Revenge. I had to take a break every once in a while because my hands would be tingling from gripping the controller so hard. I am a huge fan of the 360 controller; not only does it fit my hands just perfect, but I love the long draw triggers for gas and brake. Learning how to brake at the right time to drift around long corners will make or break you in these races.
Graphics/Sound: I remember this being one of the first 360 titles I had ever played besides Halo 3 and Elder Scrolls IV: Oblivion, so the shock and awe of 7th generation console graphics were still rampant. The bright colors of the cars and the surrounding traffic and city make it easy to pick out what to and what not to hit with the car of choice. The soundtrack is provided by Crash FM, which is the in-game radio station with 40 different artists of differing genres, including but not limited to All American Rejects, The Black Velvets, CKY, Mindless Self Indulgence, Thrice, and Yellowcard. I loved the music in Burnout Revenge, and no matter how much I played this game I don't recall getting sick of what was playing. The races are face paced and intense, so paying attention to anything besides the road could be deadly.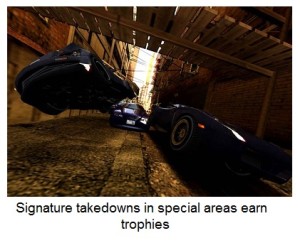 Replayability: It's a racing game with awesome multiplayer modes, so I don't see how this game could ever get boring. I don't think I ever stopped playing because I was bored with it. Most of the time I would stop because a race was so stinking hard that I just wanted to throw my controller across the room- that's when you know it's time for a breather. This game is fun over and over again by yourself or with friends, and the online multiplayer is great too.
Overall, this is the best racing game I have ever played. I would even go so far as to say it was perfect. And I can only hope they will produce something this awesome for the 8th gen consoles as I wasn't impressed with Burnout Paradise (Burnout Revenge's Successor), but I know they can redeem themselves with a new title of the same magnitude and adrenaline as Burnout Revenge. I ended up paying like $60 for this game because I rented it from Blockbuster (yes, Blockbuster the building, not the website) and I never returned it since I was so hooked, and thus had to pay a hefty fee, but this game can be picked up for a fairly inexpensive price on Amazon, and it's worth every penny.
*FS Rating System*
Gameplay: 10
Story: N/A

Controls: 10

Graphics/Sound: 10

Replayability: 10

Overall: 10