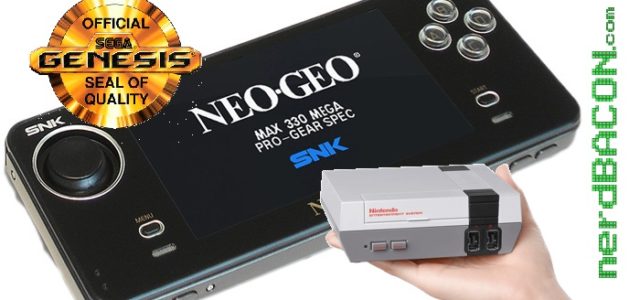 Could NES Classic Edition Pave Way for Others?
The NES Classic Edition, or more commonly referred to as the NES Mini (in my house, anyway) is a new piece of hardware from redhot company Nintendo. This cute little machine is about the size of your average human's hand which is a stark contrast to the original NES that was probably the size of Shaquille O'Neal's hand. This badboy comes pre-loaded with 30 of Nintendo's best selling and most adored NES titles. From Mario to Zelda to Kirby and Samus, there's no shortage of quality heroes to entertain you for another 30+ years!
The NES Classic Edition has been making serious internet waves in no small part to Nintendo's recent re-emergence. Nintendo's Wii U may have struggled with sales and third party support, but it was a great idea and fun system nonetheless. So what brought about this "re-emergence" that I speak of? For starters, Pokemon GO was a runaway success, capturing the souls of millions of Americans in their little Poké-apps. Then there was the mysterious NX, now officially titled Nintendo Switch. For a long time, what the NX actual would be was anyone's
guess. It had been held completely under wraps less a few leaked and unconfirmed rumors. This secrecy allowed gamers to create ideas and concepts in their heads for the better part of the year as excitement continued to build. Pair Pokemon GO with the Switch and the NES Mini and you've got a fired up recipe for financial and critical success!
With the NES Classic Edition making its final approach, all we can do is count down the days until touchdown. I've been stuffing my face with Memberberries for years now as I surround my video game life with delicious and tasty nostalgia. Sure, I play the new stuff, and I love it. But nothing satisfies me the way culture and life of the 1980s and 1990s do. That is why I can't help but consider the possibility of the NES Classic Edition bringing forth similarly nostalgia-laden classic hardware. Sega Genesis Classic Edition, perhaps?
But first, it MUST be noted that the NES Classic Edition isn't quite the first of its kind. But I will tell you, however, that it is already the most successful of its kind, and it hasn't even hit the shelves yet. Others have come before the NES Mini, and one can only speculate that Nintendo did their research on these guys before they built this fine microNES.
---
Below are 3 systems who have recently taken a stab at this same dedicated retro-console idea:
SNK NEO GEO X
The Neo Geo X is a handheld gaming device released by SNK Playmore in 2012. Much in the same way Nintendo is bringing their classics back, SNK had this idea planned out nearly 4 years prior. Unfortunately for SNK, as popular as some of their games may have been, they just couldn't hold a candle to Nintendo, Sega, or Sony, easily bringing up the rear more often than not. But SNK did have their day, most notably when referring to "best fighting games of the 90s." SNK's Neo Geo MVS arcade cabinets were insanely badass, bringing forth incredibly well-made titles such as The King of Fighters, Metal Slug, Samurai Shodown, and one of my personal favorites, Super Sidekicks.
The Neo Geo X sought to breathe life back into their classic lineup by introducing a strong and badass little handheld with a 4.3″ LCD screen, moderately ergonomic and sleek design, 20 games pre-loaded out of the box, and an SD card slot to play purchasable games. All of this for just $199 for a portable handheld gaming system that can also be hooked up to the TV? I think it's a solid deal, a great bargain, and very well-thought-out by the masters at SNK Playmore. But there's one major issue here: How much do I really give a damn about SNK games? Some are fun, like the Metal Slug series. But I already own a compilation of all 7 Metal Slug games on my PSP. The King of Fighters series a classic (my esteemed colleague theWatchman would agree), but is also shortlived and not my cup of tea. This system really is for a small market of retrogaming enthusiasts, which is already a small market in itself.
So while it's a good fit for some, there's no way they can compete with Nintendo in the home market. I can't sit here and say that this thing was failure. From everything I can see, it was actually moderately successful and profitable, despite legal battles between hardware developers Tommo and SNK. I wish them well, and I hope their success paired with Nintendo's will pave the way for the old and classic titles to maybe find their way on the home market once more.
AtGames' Sega Genesis Classic Game Console
So there's this. What is "this?" THIS thing is an excellent fucking concept that just hasn't gotten the publicity it needed. It's essentially the NES Classic Edition except with more games, better functionality, and greater extension of life due to the fact that it is compatible with standard Genesis cartridges. So why do I sound less than excited?
Before I answer that, I need to put out a little disclaimer: I am a Sega fan. Always have been. Always will be. That doesn't mean that I think Sega > Nintendo. No sir. In fact, I think Nintendo is way better, and their history proves that. But I still identify with Sega, namely the Genesis, as they were always more my speed (no blast-processing-puns intended). As a child, many of my friends were watching cartoons and listening to pop music while I was more into live-action movies and hard rock like Guns n' Roses, Metallica, and Black Oak Arkansas (I've always loved Southern Rock, and B.O.A. always had a heavier sound than their peers). Sega had that edge. That razor sharp image that screamed "we're not fuckin' around." Nintendo was like "lah-dee-dah dee-dah. Let's play hopscotch and eat our vegetables." I wasn't about that. ANYWAY, let's get back on track.
So, why do I sound less than excited about this Classic Sega Genesis Console? Because it's not an official Sega product! I mean, it is licensed by Sega. But it's not like Sega is stamping their name all over it. Instead, AtGames is stamping Sega's name all over it. It just doesn't feel the same as the NES Classic Mini. Is it because it doesn't LOOK like a Sega Genesis entirely? What is it? To tell you the truth, I can't quite put my finger on it. Something about it just doesn't feel right.
The NES Classic Mini, however, feels juuuust right. It looks perfect! In every way! Granted, it would have been much better if they had provided a way for us to hook in and play classic NES carts. But I digress. This Genesis system knock-off feels uninspired and lazy. It doesn't make my nostalgic tastebuds water the way the NES Classic Edition does. The little details seem to be missing here, and instead of trying to really captivate my nostalgia, they're just trying to cash in. I don't feel like they care about ME, the fan, the gamer, the same way Nintendo seems to care.
Atari Flashbacks
And then there's the Atari Flashback series. Another AtGames attempt at capturing your money, I mean, er, um, capturing your love for retro. This concept is cool and all, but it's boring as hell. It's the same idea as the Classic Sega Console mentioned above, but it fails to really captivate the true experience of playing an Atari system in the 70s/80s.
So this whole concept gets messy, and I'm not very inclined to get too detailed here. There's an original Flashback, then there's the Flashback 2, Flashback 2+, Flashback 3, Flashback 4, Flashback 5, Fleshlight 6, Flashback 7, and a proposed Flashback Portable that some sources say never fully materialized but research is proving challenging on the portable system. Lord have mercy. It appears that each successive system updates some stuff, adds a few games, and so forth, except for a few major changes such as the Flashback 4 going wireless with the controllers, and the original Flashback system looking like an Atari 7800 while the rest are 2600 based. To note, the original Flashback started with I think 20 games, and by the time the Flashback 7 came about, they were at just over 100.
Again, not a terrible idea. But with no less than 8 different releases / updates, it's apparent that the Flashback failed to truly create an identity for itself. Nonetheless, I believe that these systems were overall profitable and could be considered a financial success. Can't argue with that.
---
NINTENDO VS……
After viewing the systems above, you can easily see that there's a place for this kind of stuff. Everyone wants to relive the glory days of their youth. Unlike the systems above, the NES Classic Edition will not fail. Nintendo's 2016 marketing strategies are truly on point. They're building mystique and creating positive buzz. With this comes high expectations, however. The good thing is: These 30 built-in games have already been tested and proven successful! So what do they have to lose?
The NES Mini system is absolutely awesome down to every detail: The box looks like a classic NES box, the console itself is identical to the original just scaled down and with different looking outlets and plugs, and the controllers are the SAME SIZE as the originals, so you get that authentic feel.
Where others have failed, Nintendo will succeed. If this strategy proves to be a success, which I suspect it will be, then what can we expect from other developers aiming to awaken their dormant titles from the 1980s and 1990s? It doesn't make sense for a company like Hudson Soft to create an entire gaming system. Instead, maybe Hudson Soft would opt for a Bomberman compilation disc (with all 23,000+ Bomberman games on it) / download title. Who might be the next big dedicated retro system?
---
WHO MIGHT BE NEXT?
SEGA?
I think the obvious big contender would be Sega, but I can't quite say if they would or would not do this considering they already sort of have one with the Sega Genesis Classic Game Console. Furthermore, I haven't the slightest clue what sort of contractual terms they might have with AtGames that would limit even THEIR ability to re-release their own games on a hardware system.
♦Nerd Bacon Fun Idea: What about a Sega system in the vain of the NES Classic that plays Sega's best titles from the Sega CD, 32x, and Saturn? Not sure what the hell games you'd pick from the 32x, but the Saturn has some of the best games of 1990s, hands down. Not to mention that its failed attempt at getting marketshare in America kept most of its best titles in Japan. Considering that it's harder to get your hands on Saturn games than Genesis games, and millions of people own Genesis games, this might actually sell!
CAPCOM?
Although Capcom may have never released a home gaming console, they were prominent players in the arcade scene. They have tons of classics, but the only reason I think this idea may never pan out is because they already have some compilation discs out there, and not as many classic games as say Nintendo or Sega.
♦Nerd Bacon Fun Idea: Perhaps they could release a classic miniature arcade cabinet (without a functional screen, of course) that links to the TV, has wireless controls, and looks like vintage art that fits perfectly on a bookshelf / movie case next to other trinkets and knick-knacks. This way even if you're not actually playing the system, it fits with your other shelf items under the guise of retro-art.
SONY?
I'm not sure Sony would even be down with this, nor are they in such dire straits as SNK or Sega. They may have bigger plans for their classic PS1 games, not to mention the fact that a number of them are purchasable on their network. So this is merely a fun thought.
♦Nerd Bacon Fun Idea: Can you imagine a cool tiny little PS1 system next to your NES Classic Edition system on the TV stand? I know I can. And to tie this little dedicated system together with current PS4 owners, what if the system could be bought for $59.99 with a standard classic PS1 controller or $45 without a controller and would be compatible with your DualShock 3 or DualShock 4 controllers? The design/feel is practically identical to original PS1 controllers. This might make PS4 owners more likely to buy the system!
3DO, Atari Jaguar, Turbografx-16, Etc.
Okay, okay. The 3DO and Jaguar were jokes. I don't think there's enough quality games on either of those systems. Hell, can you imagine what that would look like? "Classic Jaguar System! Pre-loaded with 1 game!" But if the SNK Neo Geo X is real, then why can't an NEC PC Engine / Turbografx work? Sure, this system was much more successful in Japan, but with the right price-point, it might be able to sell some units in America.
---
CONCLUSION
There are so many reasons why Nintendo is at the top of their game, and the NES Classic Edition is just one of them. On November 11th, 2016 we'll all have an opportunity to take a trip down memory lane with some of our best animated friends from the 80s and 90s. I, myself, am thoroughly looking forward to the ability to switch games easily and not have to re-align the cartridge pins over and over until the game will actually work. If you can't tell, my NES systems don't work very well… and I have 5 of them!! I also have terrible ADHD and minimal patience, so I need to pack in tons of games in a short period of time.
I'm sure that I'm not alone in my hopes that others will follow in Nintendo's footsteps. A true Sega-made machine is what everyone would love to see. And what if Sega released one of these and included a previously unreleased Genesis game on it? Or maybe threw in a few unreleased Sonic stages? Just a thought. But incentives like that could help generate some buzz and sales.
Regardless of what the future holds, one thing is for sure… Someone is going to be confused when they see me blowing into the back of my NES Classic Edition before turning it on.