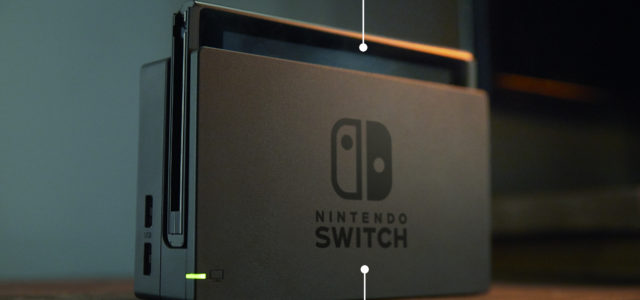 Nintendo NX revealed as the Nintendo Switch – News and Analysis
After a long wait, the Nintendo NX was unveiled today in a teaser trailer as a crazy new console called the Nintendo Switch. Always one to innovate, Nintendo hasn't simply created a third option in the PlayStation 4 vs Xbox One debate, but a console that hopes to revolutionize gaming by allowing players to conveniently play the games they want at home or on the go, by themselves or with friends, and with a few options as to how you go about doing any of those.
The Nintendo Switch is aiming to be the most versatile piece of gaming hardware that's been released. The ideas presented by the Switch aren't entirely new, but it looks like the overall goal for the new console is perfect the idea of playing whatever you want, whenever, and wherever. If you've ever wished PlayStation's Remote Play wasn't so finicky, this is for you. If you've ever wanted to take your Wii U Gamepad out of the house and play, this is for you. If you've ever wanted your 3DS to have an HDMI out, this is for you.
The console itself is the device that resembles a tablet, which remains docked in the Nintendo Switch Dock when playing at home. Games for the Nintendo Switch will come in the form of cartridges. Players can play the device with the two Joy-Con controllers (the small Wiimote-like pieces that slide on and off the sides of the Switch) or with a Nintendo Switch Pro Controller (which looks like an Xbox One and Steam controller fused together). The Joy-Con controllers themselves are a thing of wonder. Sure the Wiimote had many uses, but the Joy-Cons are truly next level.
Players can choose to hold the Joy-Cons separately, similar to a Wiimote and Nunchuk setup, or they can snap them together with the Joy-Con Grip and they become a more traditional controller. If there are multiple players, each Joy-Con can serve as a single controller for each individual (shown in the teaser when Mario Kart is being played), and more than two Joy-Cons can be used for more players. Lifting the Switch from the dock will have the system switch to portable mode, allowing players to continue their game, without pause, and go anywhere they'd like.
In portable mode, there are still multiple play options. Players can hold the Switch like a portable game console with both Joy-Cons attached to the sides of the screen, or they can prop the system up with its kickstand, remove the Joy-Cons, and play using any of the Joy-Con configurations, or with a Nintendo Switch Pro Controller. Multiplayer on a single Switch system is still possible on the go, and there's also local multiplayer between portable Switch systems.
While we didn't get any detailed specs today (or a price, or a launch lineup, or a release date), we did see some third-party support in the video in the form of Bethesda's The Elder Scrolls V: Skyrim and some version of NBA 2K17. Bethesda's Pete Hines has stated in the past that they'd support a Nintendo console if the titles they released on it didn't have to have edits or cuts made to work with weaker hardware, so this would imply that the Switch is at least powerful enough for The Elder Scrolls: Skyrim: Remastered to be released without being heavily altered from its PlayStation 4 or Xbox One versions.
Support from a company as important as 2K is also essential for Nintendo after the dearth of content that their third-party relationships caused for the Wii U. Here is the list of developers and middleware partners who will be supporting the Nintendo Switch.
505 Games
Activision
ARC SYSTEM WORKS
ATLUS
Audiokinetic
Autodesk
BANDAI NAMCO
Bethesda
CAPCOM
Codemasters
CRI Middleware
DeNA
Electronic Arts
Epic Games
Firelight Technologies
FromSoftware
Frozenbyte
GameTrust
GRASSHOPPER MANUFACTURE
Gungho Online Entertainment
HAMSTER Corporation
Havok
INTI CREATES
KOEI TECMO GAMES
Konami Digital Entertainment
LEVEL-5
Marvelous
Maximum games
Nippon Ichi Software
Parity bit
PlatinumGames
RAD Game Tools
RecoChoku
SEGA
Silicon Studio Corporation
Spike Chunsoft
SQUARE ENIX
Starbreeze Studios
Take-Two Interactive Software
Telltale Games
THQ Nordic
Tokyo RPG Factory
TT Games
UBISOFT
Ubit
The buzz around the system is positive, but without a launch lineup and price, it's hard to predict whether the system will be a success. Nintendo has had an incredible year, not in capturing market share, but in revitalizing interest in its most important brands. Pokemon Go set the world on fire for quite some time and is still played by many today. Nintendo won E3 in many gamers' eyes with a single game: the impressive The Legend of Zelda: Breath of the Wild, which will likely be released at launch with the Nintendo Switch. Leveraging their relevance in popular culture will be important to the success of this system.
Since this system is a home console and also a portable system, this could be the time for Nintendo to release a full HD Pokemon title. I'm sure they could release a simple teaser trailer for a project like that a month before the systems launch and secure a few million extra customers in their install base. With the direction The Legend of Zelda: Breath of the Wild is taking, and the inclusion of Skyrim in the Nintendo Switch's trailer, there are good signs that Nintendo is catching up with the times, and with the demands of the video game market. I have high hopes for their new system.
When companies attempt to innovate with new tech, they often add new features we never knew we needed, and oftentimes ones we'll never use. The Wii U was touted as a "new way to play" up until Nintendo pretty much stopped supporting it this year, and very few games used its two-screen gaming effectively. Innovation doesn't always need to be about how far we can go into the future, or how crazy our motion controls and dual screen antics can get, and it looks like Nintendo realized this when creating their new console.
The Nintendo Switch is an innovation in convenience. Being able to play Nintendo's newest masterpieces, (along with their old ones, hopefully) and all of your multiplatform favorites whenever, wherever, and with whoever sounds like pure bliss.
We'll let you know as soon as we find out more about Nintendo's newest, craziest console! What do you think of it so far? Do you plan on picking one up, or do you need to see more before you make a decision? Let us know in the comments!