Wolverine – NES
Platform:  NES
Release Date (NA):  October 1991
Developer:  Software Creations
Publisher:  LJN Ltd.
Genre:  Action
Nerd Rating:  4 out of 10
Last year about this time, I started really paying attention to some of these older 8 and 16-bit games based off of superheroes.  Honestly, the main reason that they caught my eye was because of their steady increase in price.  I was a little confused though; I remember renting games like this when I was younger and not having very much fun with them.  But I relented and started snatching up some of these games, and for the most part, they were as lackluster as I remember, though I was able to have some fun with them.
(I'm sure the rise in price has to do with the recent popularity of almost every imaginable superhero in film and television.  In the last 10(ish) years we've gotten The Dark Knight Trilogy, Marvel's Cinematic Universe, about a billion boring X-Men and Wolverine films, 2 separate Spider-man series, and then a whole slew of flops that nonetheless brought some of these guys to the light of day for the first time in decades.  Green Lantern, The Green Hornet, Jonah Hex, The Punisher, Fantastic Four, the long awaited fifth Superman, Constantine, Ghost Rider, Elektra, Catwoman, Hellboy…are just a few that come to mind, and then there's even more on the horizon: Wonder Woman, Ant-Man, more Supeman, more Batman, Shazam, Captain Marvel, more Spider-man, Gambit, Deadpool, Doctor Strange, Fantastic Four reboot…no one even gave a shit about comics 20 years ago!  And it's all over TV, too, with the likes of Agents of S.H.I.E.L.D., Arrow, The Flash, Gotham…I mean damn.  DAMN.  DAY-UM.)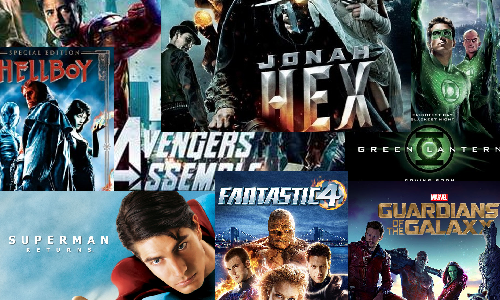 So yeah, crappy-ish old superhero games are hot because they're an older version of something that's new and inescapable!  And suddenly some 17 year old tool who probably would've laughed at my copy of Justice League Task Force if he was born 10 years earlier suddenly thinks it's a hot collector's piece because of the upcoming DC Shared Universe.  Scratch that.  Because of the existing Marvel Cinematic Universe.  That fucker probably doesn't know the difference.  Comic geeks are one thing, but now we've got…like…wanna-be geeks…or something…I can't figure it out.  It's fucking lame, whatever it is.
Any
Damn
Way
So yeah, playing those old superhero games wasn't as much fun as I had hoped, but then again most of them weren't horrible, and it was fun going back to the days of the X-Men before they all wore tactical gear and a time when Iron Man was just some random hero that no one really gave a shit about.  I guess I still want to find that one great, retro comic-based game, and my eyes tend to unintentionally scan for them whenever I'm out.  One such game I landed on recently was Wolverine for the NES.
It actually wasn't as pricey as I had worried it'd be – $9.88 to be exact.  When I got home I saw why…it had the dreaded "LJN" logo proudly displayed on the label.  Undeterred, I gave it a shot.
Apparently Sabretooth and Magneto have developed some weird system of "trials" for Wolverine to endure on some deserted island.  The levels have painfully corny names like "Trial by Fire" and "Trial by Terror" and so forth.  But whatever, I can live with a little bit of cheese in these oldies.  As Wolverine, the player makes his or her way through a bunch of semi-abstract environments, slashing and clawing and punching and kicking their way through several nondescript enemies.
And that's kind of it.  Seriously.
There wasn't a whole lot of imagination put into this game.  The levels have their different theme, but within the levels, they're exceedingly basic, bland, and repetitive.  Although combat is the main focus, there are some marginally noteworthy platforming elements to negotiate, which adds a little bit of flavor I suppose.  But the levels themselves are remarkably featureless…at least they're fairly short.
One thing that Wolverine does have going for it is its rather well-designed control scheme.  Jumping around is quite fluid and much less cumbersome than I imagined it would be.  I was able to complete even some of the more difficult platforming sections with ease, and it wasn't because they were easy (I'll get to that in a minute) but it was because the controls allow for a good deal of flexibility, especially with regards to jump height, jump distance, landing, and maneuvering in mid-air.
Combat is pretty basic – push B and Wolvie attacks.  The caveat is that he can walk around sin or sans claws.  Obviously without the claws he deals less damage (about half as much I'd reckon), but with the claws extended, his energy/life slowly drains.  And that's where Wolverine's biggest problem kicks in: the crazy difficulty.
Wolverine is needlessly hard in so many ways, I don't even know where to start.  I guess we'll start with combat.  In order to bring down your enemies, you have to get really close for your punches/kicks/claws to connect.  That wouldn't be so bad, except that the majority of your adversaries are firing some kind of projectile, making it virtually impossible to get close enough to deal damage without eating a couple of bullets yourself.  Other enemies tend to fly around in the air, also raining down formless projectiles, and it's even harder trying to jump up and damage them without taking some significant hits yourself.
Then there's the system by which the game handles the actual damage.  Instead of a certain blow costing a certain amount of life and then leaving Wolvie temporarily invincible, these critters continue doing damage for the duration of contact.  You know how if Mario hits a goomba he'll lose his powerup, but he'll flicker there for a second as the goomba keeps moving?  Well, Wolverine is like the opposite of that.  Bullets and projectiles only do damage once, but if you get too close to a goon, they continue to inflict damage until contact is broken or Wolvie is dead.  Clearly this leads to an excessive amount of dying.
As if this wasn't enough,there are several facets of level design that'll keep death fresh in your mind.  The first couple of stages aren't so bad, but as you progress, the obstacles become almost insurmountable.  The fourth level takes place largely underwater, with all these "killer fans" lining the inside walls.  While trying to sink, float and maneuver underwater, it's nearly impossible not to come into contact with them.  Later in the fifth stage, sections of platform fall down into lava for an instant death.  There's no warning, no way to jump off the falling piece, and no way to tell what sections are going to fall.  You have to simply trigger it and avoid the gap next time.  It's a complete waste of Wolvie's lives, which the game is already stingy with.
Despite the crazy difficulty, there are only 2 bosses found within the 8 levels, Magneto at the end of the 7th and Sabertooth as the final boss.  Other notables include Wolverine's "Berzerker Mode" where he gains some degree of strength and is remarkably harder to control (your reward for killing bad guys) and no restart nor checkpoint system after death.  Much like a beat 'em up, Wolverine comes back right where we died.  This would be great if you had more than 3 lives to throw around, or at least a way to get more lives.  I saw a single 1up in the game, but to get it meant dying (it was atop one of those fall-into-lava platforms), and there was absolutely no way that I could figure out otherwise.
Graphically, Wolverine looks pretty good for an NES game.  There's not a ton of detail, but movement is handled well and there's no slow down even with "bullets" flying all over, bad guys phasing in and out of existence (no, I don't know why) and other forms of movement such as fire, water, and traps.  It doesn't approach the "almost comic-like" feel of 16-bit superhero games, though it looks much better than I expected.
While I applaud the quality of the graphics, this shouldn't be confused with the quality of the artwork.  I don't know what the hell the designers were thinking, but Wolverine has some of the most boring cannon fodder baddies ever.  Levels 1 and 2 are filled with these things that look like a cross between a ghost and Silver Surfer, which literally materialize and dematerialize over and over.  A couple of guys in jeans and a t-shirt pop up as well.  Level 3 is filled primarily with what look like nuts and bolts; level 6 with indistinct green plant things that bob up and down, and so on.  I don't know what Sabertooth and Magneto have populated this "deserted" island with, but they're lame as hell.
I've played better and I've played worse…Wolverine isn't a terrible game, but it isn't a particularly good one either.  Truthfully it has some potential and feels incomplete more than anything else.  I don't know if the developers ran out of time, or money, or memory, or give-a-damn, it just seems that with a little more attention we might've had at least a decent game on our hands.
Reviewed by The Cubist