Toy Story – Genesis
Platform: Sega Genesis (Mega Drive)
Developer: Traveller's Tales
Publisher: Disney Interactive Studios
Release Date (NA): 1995
Genre: Platformer, Game-based-on-movie
Nerd Rating: 6 out of 10
Toy Story was a smash success movie that garnered 3 Oscar Nominations plus multiple other nominations and wins.  Toy Story the movie was released in 1995, so the release of Toy Story for the Sega Genesis, SNES, and the Game Boy were all very late releases, especially considering the slated release of the Nintendo 64 and the Sega Saturn (which had already been released).  In my life, at one time or another, I owned Toy Story and every single platform for which it was released, even Windows 95.  For purposes of this review, I will be talking about the Sega Genesis version.
Toy Story the game is linearly identical to the movie.  Instead of slapping the entire story on you at the very beginning, you progress through the story with each level that you beat.  This is kinda nice, although I've seen the movie 100 times so I really don't care to read the movie in the game.  Each level represents a different part of the movie, such as putting all of the toys back in the toy chest,
racing on the RC car in a really cool 3D racer view, traveling in Pizza Planet inside a mega gulp cup and a take-out box,  traveling through the tunnels to put the Martians back in their proper place (is it just me or does this level have a Doom feel to it), and riding a skate board to get away from the neighbor's dog!  The variety in this game is tremendous and incredible.  The animation and color palette pales in comparison to the SNES version, but that doesn't detract from the playability of this Genesis version.
To say that this is a kid's game would be pretty obvious.  But to say that its difficulty plays at a kid's level would be a lie.  This game can be downright challenging as crap, and sometimes it can feel seemingly impossible to beat.  There are times when you are forced to do something and you have no choice but to take a hit and lose a star (with is your health).  The stage variety keeps the game fresh and interesting and can be seen as a HUGE positive in the game, especially in general when talking about platform-games.  But the variety can also be the problem.  You finally get used to the control scheme and how to operate, then all of a sudden you're driving RC in a top down isometric
view (similar to Rock n' Roll Racing, if anybody is familiar with that awesome game – no sarcasm, for real though) and the controls throw you off and you end up losing precious lives.
The levels progress in difficulty at an alarming rate, causing much frustration and little desire to ever want to play again.  I remember HAVING to use cheat codes as a kid (even though I never wanted to use them) just to get through this game.  The cheat codes definitely take the fun and satisfaction out of the game, but you'll struggle mightily to get through even some of the earliest stages (and I think there's 17 or 18 levels for the Genesis version. Not sure on the Game Boy one yet, but hopefully I'll get to that version one day).
Overall, Toy Story rates as very well-made game with incredible 3D graphics for a platformer, nicely colored cartoonish animation which is appropriate for this game, easy-enough controls on the platforming levels (not the racing levels), staying true to the movie with an exceptional amount of detail, and very good sound effects and music.  Some of the flaws of Toy Story are the extreme difficulty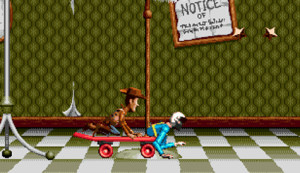 (c'mon guys, this game is aimed at kids), difficulty in earning additional lives and continues, little room for error in the non-platformer levels, a sort of dim color palette (compare it with the Super Nintendo version), and no save feature!  For goodness sake!  This game has 17/18 levels and you don't offer a save feature?!  C'mon people.
Is this game worth a play?  Absolutely.  If you fancy yourself a gamer and think you can tear up some platforming games better than anybody else you know, then this game is screaming your name!  If you're a casual gamer and struggle with overly difficult games, then you might find yourself stuck and unable to get past the first Buzz
Lightyear boss.  The reason I rate this game so high is because it functions exceptionally well and it was truly a popular game and isn't too outdated.  I had to put my personal bias aside to provide to you a fair and honest rating.  If I were going to rate it how I feel, I'd drop 2 points for the extreme difficulty (which just pisses me off).  Toy Story tried to take you to infinity and beyond, but instead you discovered you were just a toy in Traveller's Tales' evil unbeatable game.
Nerd Rating: 6 out of 10
Submitted by NerdBerry
LEVEL SELECT: At the title menu, quickly press: A, B, Right, A, C, A, Down, A, B, Right, A.  You'll hear Woody laugh.  Begin the game. To skip levels pause at any point and press A
*Why does Woody look SO evil??