Steel Series 3GC PC Gamepad
WHY DOES THIS CONTROLLER EVEN EXIST?
by Dovahkyle
I have personally purchased it twice, and both times I ask myself, "why…why self…why?" I have never been a big fan of the keyboard/mouse controls for most PC games, so I always end up using a controller. I used to use the original Xbox 360 white, corded controller, as it was USB and allowed me to easily program it using X-padder for the games that weren't automatically compatible (surprisingly enough games like Fallout: New Vegas and Elder Scrolls V: Skyrim will automatically detect the 360 controller plugged in and will adapt itself to the said device). I sold one of my Xbox 360's for some much-needed cash, letting the corded controller go with it since I liked my wireless ones for the 360, and I figured I would have no problem picking up a corded one for the PC later. I was wrong, as I have been informed in every game store I have visited, the corded 360 controller is no longer in production (and is the only 360 controller that is automatic plug and play with Microsoft games), so I can't find it new anymore. This is what led me to the Steel Series 3GC PC Gamepad.
If you go to Gamestop and ask for a PC controller, this piece of crap is what they will offer you. For only twenty bucks, I was like "even if it sucks, I wouldn't have lost too much." Again, I was wrong. Twenty dollars is twenty times what this controller is worth and yet I paid it twice. Why, you ask? Because I am extremely impatient and I don't want to wait for a good controller to be delivered by mail, and I hate the Craigslist "back and forth" negotiations to obtain an item. So I was forced, by my own hand no less, to purchase this piece, twice.
As you can see by the pics (and I am showing the classic Dual Shock 2 PS2 controller for comparison), the controller is clearly designed to look and feel like a PS2 controller. It may look like it from the picture, or at a distance as it temptingly hangs from the rack at the store with the tiny price tag, but it does not feel or respond like the dual shock. Just remember, you get what you pay for. First of all, it feels rubbery, which is an immediate turn off (this isn't a gun, so I don't need that kind of traction) and it feels gross if you're really getting into a title and the palms start sweating (this may be just a personal problem). Secondly, the "Plug and Play" feature is barely acceptable, as I have never been able to just plug it in and use it (yes, I realize that "Plug and Play" means I don't have to use an installation CD, but this is really a deceptive title for such hardware). I always have to go online and track down a controller programming application, like X-Padder, to assign the buttons to the mouse and keyboard functions.
Let me lay it out like this – first, open up the PC game to play, then open the key mapping page in-game and write down all the functions of the game and the associated keyboard keys. Once that is finished, I can open up X-padder (which isn't free anymore, it's $10, which is honestly a great price for such a useful program) and then go through the steps to associate each gamepad button with the game features that I need. As typical with PC ports of games, there are a lot more functions then there are buttons on a gamepad. This is where I had to decide which functions are more important and which ones will be acceptable to leave on the keyboard (like screenshot, journals, pause menus, etc…)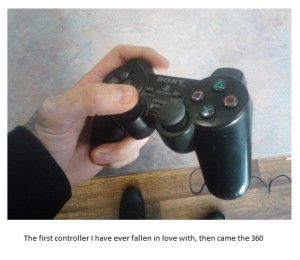 So, now that I have spent twenty minutes programming my so-called "Plug and Play" controller, I can start playing my games. If you've ever used a Logitech wireless mouse (which is what I swear by) the sensitivity is extremely high by default (meaning I don't have to move the mouse very much to make the arrow go all the way across the screen). This gamepad is like the mouse, whereas if I use a 360 controller on the PC, the sensitivity is almost perfect with no need for adjustment. The Steel Series makes it almost impossible to accurately aim a crossbow or bow and arrow (can you tell I mostly play RPGs?). Seriously, this affects any game that requires aiming precision. There were times (mostly on Fallout: New Vegas) where I would literally put the controller down and use the touchpad on my laptop to make a good shot. This is totally unacceptable! I mean, come on people, I paid actual American currency for this product and really? I have to use the laptop touchpad? Wow.
So let's lay it down by some pros and cons:
First, the Pros:
Inexpensive
Works great with most emulators
Convenient to locate new
16 mappable buttons and two joysticks
Smooth buttons and joystick movement
USB connection for plug and play (by this I mean drivers installed, not compatibility with games)
Now the Cons:
Cheaply built
Short life span (like I said, I have purchased two of these within two years)
No compatibility with any PC games (as far as I have found anyway. This doesn't mean there aren't any, it just means I haven't found them)
The requirement to purchase and download gamepad mapping software that isn't even associated with Steel Series
Slow response time for buttons and/or joysticks
Weird gun handle-type rubber on controller (kind of comes off on the hands, like a hot steering wheel on an old pick-up)
Maybe the pros will outweigh the cons for only twenty bucks, but for me, I am extremely disappointed in myself for buying this junk twice. If you want a mappable controller for cheap and you are as impatient as I am, then head to your nearest game store and pick it up, but I highly suggest you develop the skill of waiting and just get one that won't make you want to throw your laptop in the toilet. Again these are just my personal opinions. Some people out there may love this thing, but I am not one of them.
Bottom line is if you are a hardcore gamer who plays modern games on Steam, Origin or the likes (including MMO-RPGs), you will be extremely disappointed (yet, perhaps, temporarily satisfied), but if you are just a retro nerd playing on emulators such as RockNES, Zsnes, or Project 64, then this is a cheap solution to the lame keyboard controls.