Sonic's Ultimate Genesis Collection – PlayStation 3
Platform: Sony PlayStation 3
Developer: Backbone Entertainment
Publisher: Sega
Release Date (NA): February 10, 2009
Genre: Compilation
Nerd Rating: 9 out of 10
Reviewed by Nerdberry
Welcome back glory days. You may or may not have ever owned a Sega Genesis, but now you can own a whole butt-load of Genesis games in one convenient little disc. There used to be a time that owning this many Genesis games would require more real estate on your bookcase than your parents would allow. So the cartridges got pulled out and tossed into a bucket and the cases got… well… wait, we never could figure out what the hell happened to those pesky cases could we? Kind of like socks. I FRIGGIN' SWEAR I COME HOME WITH BOTH DAMN SOCKS ON MY FEET EVERYDAY! Yet one goes missing on the regular. *Sigh. But now with the ownership of a PlayStation 3 and Sonic's Ultimate Genesis Collection, you can conveniently play the titles you love, used to love, want to love, have never loved, or have never played simply by inserting this disc into your PS3. No more 4 foot controller cords or crappy infrared controllers. No more having to blow on the cartridge to get it to work. No more turning the system off to change games… People say life was simpler back then… But this is about as simple as it gets.
Sonic's Ultimate Genesis Collection was developed by Backbone Entertainment and published by Sega. It features 48 of Sega's best and most popular Genesis titles. It does not feature some of the fan favorite cult classics like Rocket Knight Adventures, Toejam & Earl, or Shinobi II: The Silent Fury, but let's dwell on the positives! This really is a great compilation that features ALL FOUR of the classic Sonic games, the ever popular Vectorman games, all three Streets of Rage games, and some other fantastic titles from my (and many other people's) childhood.
Before touching up on each game individually, let's take a gander at this compilation disc as if it were a single game. How well are the games translated? How user-friendly is it to go through the menus and find the games? Are there any unlockables or bonus content? Did the developers go above-and-beyond to deliver a one-of-a-kind experience? Or is this strictly just Genesis games on your PlayStation 3 or Xbox 360?
Sonic's Ultimate Genesis Collection Features
The game kicks off with a gnarly little intro and some wildly appropriate Sega-esque music! There are gameplay samples from a variety of games with simple whiteout transitions. My favorite thing about the introduction is when it fades into the title screen! Instead of showing random images of game screenshots, or nothing at all, all of the classic black Genesis cartridges come flying onto the screen and they fade in and out of focus as they move around. It's a nifty little addition and pairs excellently with the music!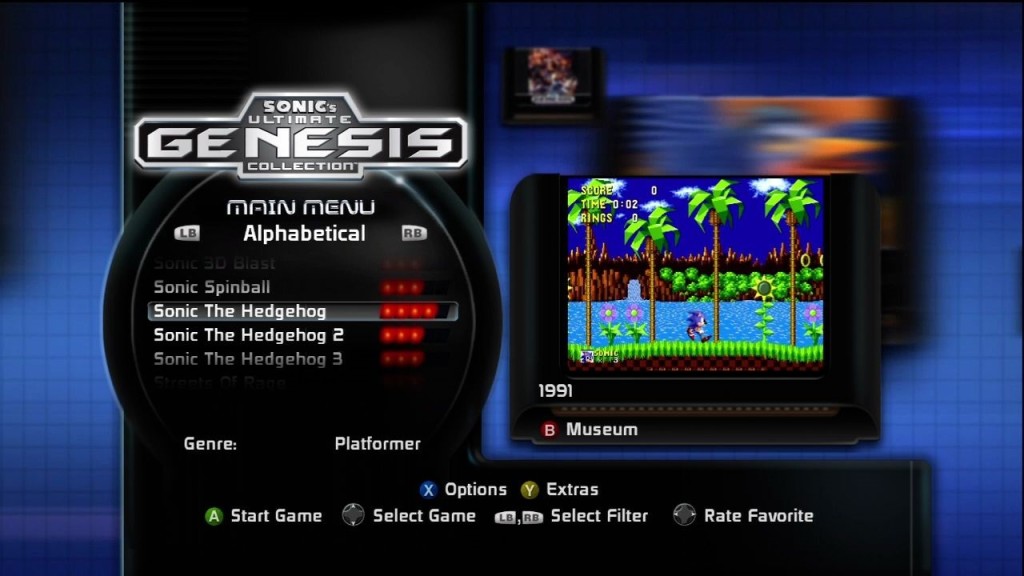 The main menu only consists of the game list, but that list can be sorted by genre, release date, alphabetically, or by favorites (based on my rating of each game). This feature makes it waaaaay easy to find exactly which game you want to play! I love the fact that I can choose by genre which helps me pick a game based on what I'm in the mood to play! Each genre is listed and easily visible so you can see the genre even if you are browsing via release date or alphabetically.
Sonic's Ultimate Genesis Collection has the best feature of any compilation disc I have seen thus far… the inclusion of a save feature! Simply press the select button and then select the save option. When you come back to the game at a later date, you can load the saved data and start at the EXACT SPOT you saved at! This is a truly excellent feature considering most Genesis games did not have save features. Other additional features of Sonic's Ultimate Genesis Collection include game manuals, trivia, game art, and a number of interviews with game developers. There are also NINE bonus unlockable games, all of which are ported from arcades and the Sega Master System, not from the Sega Genesis.
How Well Do the Games Translate?
Every game plays exceptionally well on the PlayStation 3, even better than on the Xbox 360 for one reason… the PS3 d-pad. All of the non-arcade ported games were designed specifically to be used with the d-pad which is conveniently easier to access on a Dualshock 3 controller than it is on an Xbox 360 controller. While there are few negatives, one in particular is difficult to get past: the button layout by your right thumb. If you are a heavy Genesis player such as myself, there are times when you will miss having 3 buttons lined up diagonally across your right thumb. Furthermore, the d-pad on the Dualshock 3 is crazy loose and smooth compared to the occasional stiffness of a Genesis d-pad, so in games when precision is necessary, you can oftentimes find yourself overrunning an area and sliding right into a pitfall. Lives were tough to come by in the 16-bit glory days, but if you're smart and perform a "save" before each major boss battle and immediately following defeating that boss, you can always "cheat" by loading up your saved spot! It's like a free checkpoint whenever you want it!
This might sound a little nitpicky, but there are two other minor gripes I have about Sonic's Ultimate Genesis Collection.
It really would have been nice to see Sonic 3 and Knuckles or Knuckles in Sonic 2. The developers addressed this issue saying they would have had to remove some of the original 48 games plus some of the bonus games. So I get where they're coming from. But it strikes me as odd considering the inclusion of 5 of the original Sonic games!
Scrolling through the games can be a pain in the ass because you have to press up or down repeatedly. It would have been nice if they included a repeat feature if someone were to hold the up or down button making it easier and faster to scroll. That's crazy nitpicky of me and the Nerd Rating is NOT losing any points on that. But regardless, it would have made things a bit easier.
Now, let's get down to the games themselves for a quick look at what's in store!
---
Sonic's Ultimate Genesis Collection Games
Alex Kidd in the Enchanted Castle
Alien Storm
Altered Beast
Beyond Oasis
Bonanza Bros.
Columns
Comix Zone
Decap Attack
Dr. Robotnik's Mean Bean Machine
Dynamite Headdy
Ecco the Dolphin
Ecco: The Tides of Time
E-SWAT: City Under Siege
Fatal Labyrinth
Flicky
Gain Ground
Golden Axe
Golden Axe II
Golden Axe III
Kid Chameleon
Phantasy Star II
Phantasy Star III: Generations of Doom
Phantasy Star IV: The End of the Millenium
Ristar
Shining Force
Shining Force II
Shining in the Darkness
Shinobi III
Sonic & Knuckles
Sonic the Hedgehog
Sonic the Hedgehog 2
Sonic the Hedgehog 3
Streets of Rage
Streets of Rage 2
Streets of Rage 3
Super Thunder Blade
UNLOCKABLE GAMES
Golden Axe Warrior
Phantasy Star
Alien Syndrome
Altered Beast
Congo Bongo
Fantasy Zone
Shinobi
Space Harrier
Zaxxon
---
Great selection of games! Including all of the Sonic, Vectorman, Shining Force, Golden Axe, Phantasy Star, and Streets of Rage games was a great decision by Sega and Backbone Entertainment. I know Backbone is the developer, but I'm sure they were being examined closely under Sega's microscope. The Sega Genesis was loaded with many many excellent titles! This was back in the day before nearly every game was a crossover among multiple platforms. It might not be the real thing, but this gives non-Genesis owners (or even Genesis owners, such as myself) a simpler, easier, and more care-free way of playing their favorite titles! I can't recommend this compilation enough for retrogamers or people new to retrogaming!
Nerd Rating: 9 out of 10
Reviewed by Nerdberry