Midnight Cinderella – iOS
Platform: iOS
Developer: CYBIRD
Publisher: CYBIRD
Release Date: January 18, 2015
Genre: Role-Playing, Romance
Nerd Rating: 5 out of 10
Everybody deserves a little romance in their lives. The act of falling in love is often compared to the high of drug use and rightfully so. Oxford has multiple definitions for romance, mostly pertaining to the fictitious aspect of romance. It's all in our heads and sometimes doesn't last very long. Luckily, Midnight Cinderella allows you to indulge in the mysteries of love.
I found out about this romance simulation game via a Facebook ad that called out to me and said, "Hey! We see that you just recently became single! Want to add a pathetic way to spend your sudden free time?" So of course, I immediately downloaded it. I knew that allowing myself to play this was terrible for my emotional intelligence, but I've also allowed myself to eat an entire box of thin mint cookies despite a dairy allergy, if that gives any indication of how fruitful my decision-making skills are.
However, I found out very quickly that Midnight Cinderella was a harmless way to kill time while scoping out places to bury my ex's body- I mean, make cookies for my Church's bake sale. You play as a sweet, bland, peasant girl in Wysteria, out and about looking for a flower for your pupil. This particular flower, however, can only be found in the royal palace. Even though it's a dangerous task, your character decides to climb the palace wall to steal that flower (there must be cocaine hidden in it) and is caught by a knight named Alyn. Instead of being beheaded, Alyn asks for your name and for your participation in Wysteria's mission to select a new princess. Apparently, Wysteria's process for selecting the next generation of rulers is not by incest, but by gathering a handful of young, eligible and educated women in a room and be observed by Giles, whose job title is never fully explained, but he's important enough to pick a princess. Your character, despite avoiding anything princess-y and trying to run away, is selected by Giles because, well, that's the entire reason you even downloaded this game. The setup has a very Princess Diaries feel to it but without Julie Andrews and annoying early 2000s catchphrases.
Wysteria is currently in a cold war with the neighboring country of Stein, and it's up to your princess to dowse herself in political intelligence, organize meetings between important officials, and ensure the townspeople that they are in good hands. Oh, and you have to fall in love at some point too. Early in the game you are asked to choose a suitor to fall in love with. There are several options, but I picked this guy:
I picked King Byron, leader of the Kingdom of Stein because I thought it would make for an intriguing story. I was wrong. There wasn't anything spectacular about the romance of Princess Sarus and King Byron, but instead an ongoing, mildly entertaining story. My princess spent the first half of the narrative barely speaking to Byron except for a few "ohs" "ums" and "ahs" (perhaps channeling Princess Jeff Goldblum?), but yet somehow managed to get a marriage proposal from Byron towards the end. The writing is very reminiscent of the Twilight series, but I wasn't expecting anything Shakespearian to begin with, so I'm okay with this. All of the stories have a "sugar" and "honey" ending. There's not much difference between the endings except one is better… meaning you have to pay for it.
Midnight Cinderella is still mostly free to play, but to access certain parts of the main story, acquiring coins is required. There are sessions called "Royal Challenges" where you either must update your wardrobe for the next segment of the story or hit a button. I'm not joking. You hit a button that says "take royal challenge" and it takes you to a screen that says "royal challenge completed!" Same with the Princess Lessons. You hit a button and  given a score. Another feature is the Garden Gacha, where you unlock goodies for a virtual garden by pressing a button: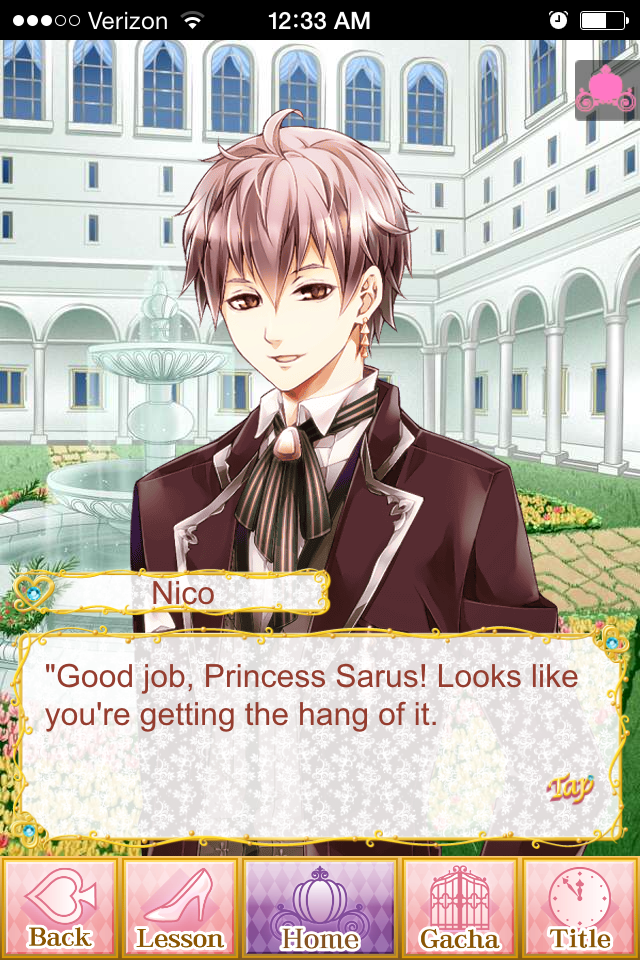 I seem to be lost… WHAT WAS THE CHALLENGE?! WAS THE CHALLENGE MY BRITTLE THUMB GINGERLY PUSHING ON THE SCREEN?
However, the music is done very nicely for Midnight Cinderella, peaceful at times and dramatic as needed, it's just a
neat little touch. And the character design of the suitors is very well done, and even their personalities are pretty charming. I'll admit, I got attached to Byron after awhile. I enjoyed his stoic and mysterious behavior and not knowing whether he could be someone to love or remain an enemy of Wysteria. And to ensure that their princesses come back, the staff of Midnight Cinderella consistently adds themed wardrobe updates and side story experiences so that there's always fresh material to read.
It becomes evident very quickly that Midnight Cinderella is purely a narrative experience, with pretty buttons and requires absolutely no thought to play. The "challenges" presented in the game are just a clever way of making you feel like you're playing a game without actually doing anything so you don't get bored with what is just basically reading an animated book. After awhile, my wounds healed and I caught myself a nice fellow, causing me to lose interest in Midnight Cinderella. I grew fond of its campiness and thick, syrupy sweet storyline. Everything about this game is just cute, from its handsome princes o the glittery pastel menus, Midnight Cinderella gave me the sensation of a childhood playing online dress-up games. It was an enjoyable waste of time.