Hellblade: Senua's Sacrifice – PC
Platform: PC
Developer: Ninja Theory
Publisher: Ninja Theory
Release Date: August 8th, 2017
Reviewed by Nips
When I first heard about Hellblade: Senua's Sacrifice, I was instantly hooked by the idea. A Viking-era game that seeks to explore concepts of psychosis through the gameplay, where permanent failure is possible? Sounds pretty hardcore, sign me up!
Hellblade was developed by Ninja Theory, a small indie team with the mission statement of working on titles outside of the AAA environment, all the while packing their games with plenty of horsepower. With Hellblade, the team explores a gripping narrative that deals with mental health, love, and Viking mythology within a linear single-player experience. I've been waiting to get my hands on this game for a few months, so let's jump right in!
---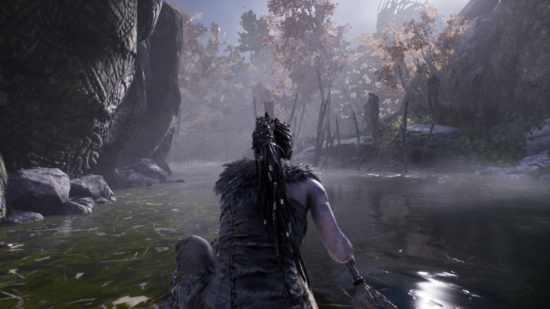 From the first few moments of Hellblade, it was clear to me that this was going to be a game all about immersion and story. Paddling her small canoe down a grisly, corpse-infested river, Senua, the titular character, is introduced to the player. The graphics look fleshed-out and realistic, the sound design is near impeccable, and…wait, what are all of those voices?
Immediately, Hellblade smacks the player with one of its core storytelling mechanics, and it takes the form of Senua's psychosis. Wearing headphones (yes, headphones are preferred), disembodied voices seem to circle all around your head, whispering small nothings in your ear. They fade in and out, sometimes unintelligible, and sometimes downright teasing you or criticizing you for your actions. This particular manifestation of psychosis is known as "voice hearing," and damn if it isn't an off-putting feeling. To hear them tell it, Ninja Theory worked really hard to create the closest representation possible of voice hearing, using several actors that would run around a 3D microphone in the foley room, and their effort seriously pays off here.
As Senua disembarks from her boat, the story of Hellblade begins proper. The core gameplay components of Hellblade circle around exploring, puzzle-solving, and combat. From a claustrophobic, over-the-shoulder perspective reminiscent of Resident Evil 4, the player guides Senua through the abandoned lands of the "Northmen," a pillaging band of Vikings that are purported to have taken Senua's lover away. All the while, those creepy, disembodied voices punctuate the grim landscape with their morose musings.
Delving deeper into this strange and mysterious place, the player progresses by exploring and puzzle-solving. A pretty large chunk of this game plays a bit like a "walking simulator," but I wouldn't call that too much of a bad thing in Hellblade's case, since the environment is so nice to look at and a good chunk of the story is conveyed in real-time by the voices. The puzzles typically take the form of navigation, or map-based puzzles that require the player to examine the lay of the land, altering it through the use of magical gates and doorways that open up paths that were not there before. I really enjoy these sorts of otherworldly puzzles, reminding me of some of my favorite moments from Rime, which also relied heavily on imaginative map-based puzzle-solving. On top of that, I think this format fits in rather nicely with Hellblade's overall themes surrounding psychosis, causing the player to question not only their ears, but their eyes, as well.
The entrance to each new area in Hellblade is typically guarded by a giant door with magical runes painted on it. In order to progress further, Senua must find these runes out in the real world, lining up structures, shadows, and the like so that they form the rune. Pretty simple and cool, right? Well, yeah, some of the time. It can be fun exploring the environment and looking for these symbols, but it's really not that engaging of a task for a game to ask the player to do it so often. For one, there's no context to the runes, other than the fact that they originate from Norse cultures. You literally just walk around and find them and then a door opens somewhere else. Where's the creativity in that? Rime had the player doing things just like this, only when you lined up your perspective, you made a key! or a door! It was exhilarating! In Hellblade, these moments kind of fall flat, no matter how cool the concept is or how hard the team probably had to work to make these shapes line up. According to the developers, this mechanic was included to simulate another facet of psychosis, where those affected tend to see patterns and connections in the real world that aren't actually there. So that's cool, but I still think this part of the game could have been integrated more meaningfully.
Inevitably, the exploration and puzzle-solving sections in Hellblade give way to the combat scenarios, as grim and grisly warriors appear from nowhere to kill Senua and scare the shit out yours truly. These guys are totally freaky, man! They make the most grotesque noises and breathe over your shoulder when they're nearby, and they're just…freaky! The tightened camera work and the way these guys tend to surround you really remind me of those oh shit moments from Resident Evil 4. The combat, itself, is fine. It may not be very complex, but it is really satisfying to lay into your enemies with your sword. That said, the combat begins to show its seams before too long, as it becomes a constant game of mashing that dodge button to keep yourself facing towards all of your opponents. Hellblade has a serious habit of spawning enemies behind you, to the point that it's downright predictable. All in all, the combat was interesting at first, but I got tired of it pretty quickly. That's not to say that these moments aren't heart-pounding, because I have come close to many a heart attack while playing this game. This probably has a lot to do with the fact that your campaign straight up erases itself if you die too many times.
While the overall fights in Hellblade may be a bit disappointing, there are a couple of boss battles, which are really fun compared to the rest of the fights. Each of these fights pits Senua against a single enemy that represents one of her many inner conflicts and traumatic life events, taking a form that suits their nature while also harking back to ancient Norse culture and mythology. These fights are pretty well-choreographed and serve as intermittent climaxes within the overall narrative of Hellblade. I wish more of the fights were like these; fine-tuned and flashy, intended more for the experience and emotional weight than for their sheer difficulty. As it stands, a lot of the other fights just feel like placeholders in comparison.
One of my biggest issues with the combat in Hellblade is the way it's presented. When you're in combat, you know it; there's no guesswork involved. Senua automatically pulls out her blade and the enemies venture forth from the shadows and corners as if on command. The reason why I don't like this is that it doesn't really fit in with Hellblade's overarching theme surrounding psychosis. There is an incredible amount of wasted potential here; if enemies could be found anywhere, Senua's disembodied voices could be tooled to psych the character out and warn them about danger that may or may not be lurking just behind them, heightening the tension and anxiety. With the combat sections cordoned off as is, however, these moments simply become routine and somewhat tedious, with no real nuance to them.
So that knocks out the core gameplay components of Hellblade. The final gameplay element I would like to talk about is the atmosphere. Developer Ninja Theory worked really fricken hard to craft a very immersive experience. The graphics are very good, the lighting is masterful, and the art direction really pulls you into Senua's world. The characters are animated using motion capture of live actors with fully-acted faces and superb voice acting, both in terms of Senua as well as the various voices and apparitions that she hears and sees throughout the game. The sounds are incredibly well-mixed and balanced, accentuating the tight graphics and visual effects.
I am super-impressed by the graphics featured in Hellblade. The developers went very far out of their way to create some realistic animations, using facial and stunt actors to create fairly precise and good-looking content–especially considering the fact that this isn't a AAA title. There are even moments–and this kills me–where you can see actual full-motion video during some of the cut scenes, but they're so well-incorporated that you wouldn't know it without having someone tell you. All in all, I have to give a big kudos to Ninja Theory for the handling of Hellblade's graphics, going a long way towards crafting a truly immersive experience.
And this immersion that Ninja Theory worked so hard to craft helps propel the story forward in believable and natural ways. We've established that Senua is on a journey to rescue her lover. In order to do that, she must venture through the gates of Hellheim, or Hell, faced with Nordic demons and gods that represent her inner struggles. In between these encounters, major plot points are conveyed through the liberal use of cut scenes, dumping a lot of expository dialogue. Normally, I am not a fan of this type of storytelling, at all, but in the case of Hellblade, it is at least utilized somewhat effectively, as the scenes are well-directed with good cinematography. I wouldn't really call this a lazy decision, since the graphics are just so impressive.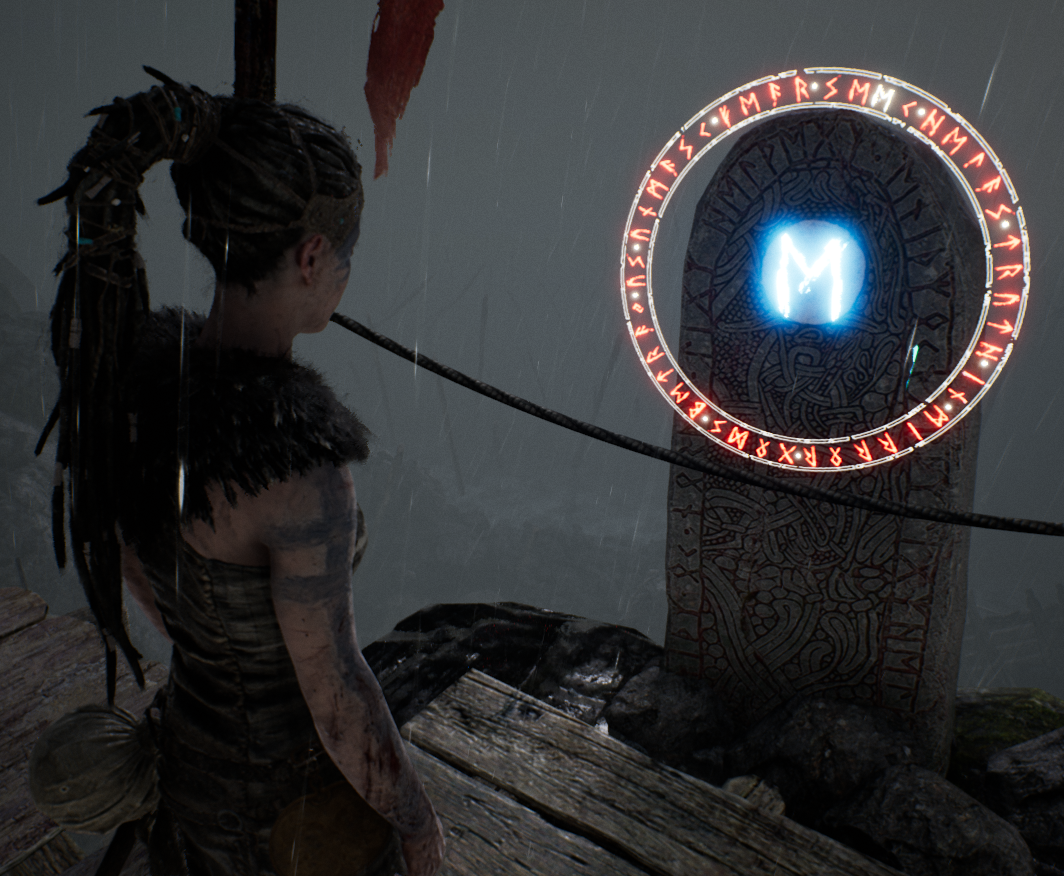 Aside from the central, linear story–which is pretty damn good—Hellblade also features plenty of opportunities to learn about Norse and Viking mythology through the use of runestones sprinkled throughout the map. One of your apparitions, named Druth, narrates these bits. This is some good extra content, and the actor they chose for Druth is really good, but my one problem with these little Easter eggs–and I don't even know why they did this–is that if you walk away from the runestones, Druth's voice fades away! Look, I'm as interested in Norse culture as the next guy, but absolutely no gamer out there wants to put their game essentially on pause just so they can listen to some shit about Odin. Locking these audio sections to an in-game zone, especially when a huge section of the game is literally just walking around, makes absolutely no sense.
---
Hellblade: Senua's Sacrifice is one hell of a ride. Intensely immersive and challenging, this game sucks the player into its grim world, offering no respite from the horrors. Hellblade looks amazing and plays pretty well, telling a gripping story throughout that doesn't rely too heavily on cliché or tired storytelling methods, as the developers worked really hard to offer an accurate and immersive depiction of mental illness. Aside from that, Hellblade really succeeds is in the moment-by-moment, heart-pounding terror that it induces. After making it through this game, I feel like I emerged from the other side of a personal war. I'm not even lying, I feel like I've aged several years after picking this game up.
Now, when it comes to the central theme of psychosis, I would say that Hellblade has achieved a rather convincing and thoughtful simulation, but it's still somewhat lacking in terms of its relevance on the actual gameplay, no matter how good of a storytelling mechanic it can be. But, as it stands, Hellblade is an exceptionally impressive achievement with quite a few novel successes. For just half the price of most AAA titles, it is definitely worth a play.
Nerd Rating: 8 out of 10