Guitar Hero Live – PS4
Platform:  PS4
Release Date (NA):  October 20th, 2015
Developer:  FreeStyle Games
Publisher:  Activision
Genre:  Music & Rhythm
Nerd Rating:  6 out of 10
A few years ago, I was going through a 2 or 3 year stint where video games weren't terribly appealing, and only an occasional form of recreation.  A lot of it had to do with the fact that the old junk that I really liked was all packed away, and I just wasn't interested in the growing complexity of games at the time.  I kept up with Mortal Kombat fairly well, played the hell out of Halo and Halo 2, and got down with Mario every now and then.  And then it happened…I saw someone playing Guitar Hero, gave myself a couple of minutes to figure out what was going on….and thought it was absolutely the stupidest, most ridiculous looking thing I had ever seen.
I was never any good at playing a real guitar, though I did own a guitar and a bass (and a drum machine, and a 4-track recorder, and a keyboard, and about 6 or 7 amps…) and as such I had some respect for how hard the guitar could be.  Somewhere inside of me there was still a 15 year old who wanted to be rock star who took this "fake plastic rock" as an affront to the whole of rock music.
Not long after that, Guitar Hero was everywhere, nigh inescapable.  At the time I was getting to know a new group of friends, and when I went over to their house for the first time, I walk in on none other than the drunken sounds of accomplishment that so often accompanied success in the game.  I was actually pretty turned off by the whole thing and immediately sensed the night going downhill.  After a lot of goading – almost enough to send me into a tantrum – I picked up that plastic guitar.  "Dude man, you definitely wanna play on easy, shit's soooo hard," was the general consensus.  This was back when Guitar Hero, Guitar Hero II, and Rocks the 80's were the only extant releases, both of which featured a rich competitive mode that would subsequently be watered down.  Also keep in mind that the setlists of those first two games leaned heavily in the classic rock direction (not exactly my thing), but despite not knowing or not liking most of the songs at first, a funny thing happened.  I was doing good – really good – and I couldn't understand what all this fuss over "play it on 'easy,' brah!" was all about.
Amid a room full of "oohs" and "ahhs" I bumped it up to "medium" without hesitation.  No one dared play on "medium" except our host, who clearly knew he was better than everyone.  I fumbled through about half of a song and then I took to it like a duck to water and never looked back.
Within a week I'd bought both games along with Rocks the 80s and 2 guitars.  Within another week I was the undisputed champion of this new circle of friends.  Within a couple of months I was routinely playing on "hard" and pretty much everyone found it utterly pointless to compete with me.
Such are my fond memories of Guitar Hero.  The funny thing is that it still seemed silly and ridiculous to me, the difference was that I didn't really care and all I wanted to do was play some plastic guitar!  It took a few months but I eventually made the jump to "expert."  I never could play the hardest stuff on "expert," and I probably wouldn't have amounted to much in the grand scheme of "Guitar Hero Gods," but in a world where most of the people I was surrounded by were terrified of that blue button on "medium," it was easy to feel like a big shot.
Long story short, I was a consumer of all things "fake plastic rock."  It started with Guitar Hero, moved on to Rock Band, and even bled over into the DJ Hero and Band Hero spin-offs.  I have a ridiculous collection of peripherals: a Rock Band drum kit (with a second kick pedal), a GH kit, 2 turntables, 3 GH guitars, an RB "bass," an RB pro-guitar controller (never did much get the hang of it…), an RB keyboard, the RB pro cymbals expansion for the drums, and 3 USB mics (even though I can't sing a note!)…I wouldn't say I mastered everything, but I did become fairly proficient on the drums on "hard."  The turntables were a mixed bag, though overall I enjoyed them, and while I probably could've made some real headway with the keyboard, my fingers are a little too used to playing "real" piano and it was difficult to unlearn it enough to master the controller.
Why am I telling you all this?  I could just tell you "I really like these games," but I don't really think that really conveys my level of involvement and the hold that this genre had on me for a few years.  The only way to play is to play it loud – I used to run the audio output of the 360 through a stereo – and the only reason I sort of "quit" was because I ended up in a position where it wasn't really all that feasible for me to crank it up, even for a couple of hours at a time.
The fact that the genre essentially died at the end of 2010 didn't help, though I'm not at all surprised; I have a single shelf that can attest to just how much physical material was generated by the 2 series, not to mention the thousands (millions…?) of dollars in DLC that steadily trickled out.  I remember how disappointed I was to see all those stacks of unsold RB3 keyboards lingering about, but honestly, people were running out of room to put this stuff!
So after 5 long years the series returns!  (As does Rock Band, which I sincerely hope to experience one of these days.)  There was a lot of buzz about the new guitar setup and the "live footage" and all that stuff.  Although I found something a little confusing; people were eager for more music and rhythm, yet they also derided the previous formula as old and played out…does rearranging a few buttons really make any difference…?
Previous guitar controllers were laid out with 5 buttons in a row.  Apparently only 4 fingers and 5 buttons was a real sticking point for some folks and the whining ensued.  Welcome to the redesigned guitar!  Now we have 2 rows of 3 buttons each – and hey that's nifty, because we've all got at least 3 fingers!  Many reviewers have commented on the "increased realism" with regards to playing chords, but it's yet another statement I find contradictory.  The 5 button setup was too difficult yet this 6 button setup is praised for its realism?  Now it's been a while since I played an actual guitar, but to the best of my knowledge, one does have to move their hand up and down the neck at times.  While the 6 button setup may more closely emulate the finger positions of a select few chords, it in no way replicates the experience of actually moving one's hand up and down the neck of the guitar.
That's more a qualm with reviewers than the actual game itself, but still, I enjoyed the challenge of nailing that 5th button.  It was an appropriate step forward in the game's progression of difficulty.  The new setup is a little harder to gauge in the same way.  In some ways, I actually think it's harder than the ol' 5 button setup because of all the possible chord configurations.  If you hated having to scoot your 4 fingers around 5 buttons, you're really not going to like all the stuff that you're basically forced to do with only 3 of them.
I also think they stumbled a little with the note charts this time around.  All the top buttons are "black."  In order to know which button to press, you have to look at the position on the chart, and with just 3 positions, admittedly it isn't that hard.  The bottom is notated the same, only with "white."  However, it's much harder to commit these associations to muscle memory compared to the previous colors.  Previous games could've just used a single color and relied on position, but they also added color to the mix which really helped forge that mental association with the button.
Sure, the change is refreshing, though I wasn't particularly "tired" of the old setup.  Pushing buttons vertically can be a little more fun/appropriate for certain songs.  However, when dealing with quick sequences of single notes, it's much more difficult.  I've been doing as much as I can on the "advanced" setting and this new setup is definitely more conducive to strumming than soloing which is going to disappoint fans of the older games.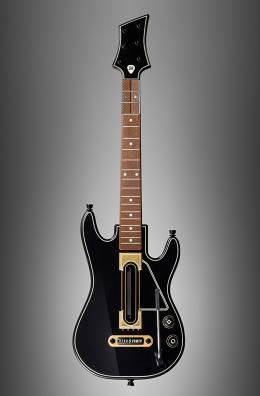 The guitar controller itself is nice enough, though not too much different in terms of quality and construction than the guitars issued with GH5 and World Tour.  The neck joint is perhaps a bit sturdier (rough players would sometimes stretch this joint thus causing connectivity issues) and I believe the strum bar may have been tightened just a bit, requiring a little more force but providing a little more feedback as well.
The fret buttons are inset instead of outset, meaning that when pressed, they fall below the surface of the rest of the neck, rather than resting above the surface and lining up flush when pressed.  This was a smart move since each button takes up exactly half  of the width of the neck, meaning that there are no surrounding "lips" that would interfere with pushing multiple buttons.  I'm on the fence about whether it's an improvement: on one hand, the buttons are all right next to each other, so when you switch positions it's very hard to "miss" a button.  On the other hand, the 5 individual buttons of the old guitars provided a great deal of tactile feedback from button to button, making it a little easier to know which button you were actually about to press.  The buttons on the new guitar are close together, though it can be difficult to get your bearings if you veer off track and get lost.
And for some damn reason, "black" just doesn't register as "top" to me.  Particularly when going through rapid sequences of single notes, I'm like "what the hell am I doing wrong" and I then realize that I'm trying to put white on top and black on bottom.  Oh well.
Some players complained that the note charts in early games didn't match up correctly with the notes in all cases.  I never really noticed it, but in this game, the issue is rampant on easier and intermediate difficulties.  Sometimes it seems like instead of simplifying songs by cutting out the quicker passing notes, the game just makes up its own notes that are theoretically easier to follow.  But if you're like me, looking at the note chart is only half the battle; "feeling" the music and the rhythm and predicting what comes next in terms of timing is just as important.  It doesn't happen all the time, and I tended to notice it most on the middle difficulty setting and below, but there were definitely multiple instances where I was "feeling" the music and unable to hit anything.  When I disregarded the music and went on visuals alone I had a much greater hit percentage but it didn't really feel like I was playing the song.  Instead I was pushing buttons on a plastic guitar while music happened to be playing.
Although the full-band setup may have been abandoned, GH Live does support vocals…to an extent.  One can use any microphone that's compatible with the console; even my old USB mics from the GH / RB glory days functions with it.  This is a great way for a friend to jump in on the action, no matter what mode you're playing.  But the "usefulness" stops there.  Although a vocal score is tracked and recorded, it doesn't really mean anything nor does it boost the guitarist's score as the two totals are maintained separately.
Alright alright, I know I've gotten a bit detailed and impassionate here…maybe you were never into Guitar Hero like I was, and maybe shit like the spacing of buttons and the tension of the strum bar means nothing to you; I can respect that.  What you want to know is if the game itself is any good or not, right?
Quite honestly, Guitar Hero Live had (has?) the potential to be a "9" or even "9.5" game (I gave it a "6") if not for some questionable, though not quite idiotic decisions.  What could be an enduring little slice of pop-culture-meets-novel-controls is deliberately gutted and morphed into something inherently disposable, apparently at the behest and desire of FreeStyle Games.  (You'll see exactly what I mean by this shortly.)  Oh and another thing: if you don't have a reasonable internet connection for your system, you probably shouldn't even bother with GH Live.
You've got 2 ways to rock in Guitar Hero Live, the most familiar of which is the "Live" mode.  Within "Live" is all the stuff you're used to, which is basically "Quickplay" and this game's version of a "Career" mode.  There really isn't much of a difference.  In Quickplay you can just pop in and play whatever you like  that you've already unlocked in Career.  Career consists of little more than playing 3 – 5 songs at a time with a certain "band" at a particular "venue."  Remember all that stuff about promising to put you in the action?   This is where that happens.
The quality of the on-stage footage is pretty cool actually and the game at least tries to make the player (as each band's guitarist) the center of attention, though the acting comes off as more than a little forced.  Lots of hokey smiles and "thumbs up" will come your way; not only is it a bit patronizing, it'll also leave you wondering why you're in a band that spends more time looking at each other than the crowd that's gathered to see them.  I can only imagine what these little huddles look like from the crowd.  It wants to make you feel like you're a part of the show, but all I ever felt like was that I was the show…and mildly uncomfortable.
The venues are different but not different enough to matter, and the live-action sequences only vary between playing the songs "well" and playing "bad."  The quality is admirable and the concept has some merit, though there isn't nearly enough variety for it to be anything special, certainly not compared to all the character combinations that kept things at least moderately exciting in Guitar Hero 5.  Every time you play a song, either in Quickplay or Career, you'll be playing that song with the same band in the same venue.  It never changes.  Bleh.
One thing we should at least be able to look forward to is the music quality, right?  Not quite.  In their attempt to milk as much as possible out of the "Live" in "Guitar Hero Live," FreeStyle Games took it upon themselves to provide us with "live mixes" of the studio tracks that we're familiar with.  Whether you're in Quickplay or Career, the songs have been modified.  They're a bit muted and volume-corrected, with some parts softened even further so that the crowd's chanting of the lyrics can be heard.
Again, I appreciate what the developers were going for here, but ultimately I think it takes away from the songs.  You can crank up the volume, but it still doesn't "sound right" and always lacks that fullness that's present in a  quality recording, even when played on standard equipment.  At first I'd hoped these "live mixes" were relegated to Career only, but no, no such luck.  They bleed over into Quickplay as well.
I think this was an extremely poor decision as it makes the familiar songs sound subpar and less fun to play, and the quieted production isn't exactly the best way to get into a song one doesn't already know.
Speaking of which, how does the setlist hold up?  Critics have alternately argued over successive Guitar Hero setlists – "this one has too many old songs, this one has too many pop songs" – so I'm not sure what they want or expect.  As for me, I think World Tour and 5 had the strongest music libraries, and while there may've been a slant towards more recent years, it was definitely a satisfying mix of poppy songs with simple guitar licks and heavier, more guitar-driven metal and alternative tracks.
Guitar Hero Live comes with 42 songs.  As a discrete compilation/body of work, I've got to be blunt…it sucks.  Most of the songs are of the recent indie-alternative persuasion, and what used to be quirky and colorful has become overly sentimental pastiche with a sound as generic, mediocre, and overworked as 80's pop.  It's not that the music is bad; it's technically proficient and appropriately produced and all that stuff, it just has no energy…it can't find its soul.  GH has always had a few duds, but they totally bombed this selection.  It doesn't even have any really great songs to help carry the poor ones, and it certainly doesn't have any guitar-driven tracks of such a nature.
And that's the biggest problem: spectacular, well-known tracks or not, there just isn't enough guitar in Guitar Hero Live.  The developers are ultimately responsible for this folly, but honestly, I blame the critics.  After World Tour, 5, and to a lesser extent Band Hero, critics and fans were all pissed off that there wasn't enough rock and metal and punk and prog rock and classic rock on the soundtracks anymore.  So they respond with Warriors of Rock, a setlist that undoubtedly got back to the grit, grime, and less mainstream side of rock music, and what happened?  In the genre's admittedly over-saturated state, it was more or less the final nail in the coffin.  Critics thought this was what they wanted, but when it became obvious that GH wasn't going to include "Don't Fear the Reaper" or "Sweet Home Alabama" on every single release, it was virtually abandoned overnight.
Now 5 years later, FreeStyle was careful not to replicate the Warriors of Rock setlist and as a result we have what is pretty much the total antithesis to WOR on our hands.
Odd sound quality aside, there's not much I can really rock out to on here.  Sadly, the closest I can really get is Mumford and Sons' "I Will Wait," the Lumineers' "Ho Hey" (which would be better if it wasn't so overplayed…a year ago…), and…gasp….Katy Perry's "Waking Up in Vegas," which I generally wouldn't be caught dead listening to.  But such is the nature of this soundtrack…you've got to take your kicks where you can get 'em.  This is fucking Guitar Hero, regardless of whether I like the aforementioned songs or not, why is post-modern bluegrass, minimalist indie drivel that takes a cue from honest-to-god 10-year-old emo, and Katy Fucking Perry the absolute best that I can glean from these 42 songs!!??



45 – The Gaslight Anthem
The Anthem – Good Charlotte
Bangaran – Skrillex feat. Sirah
Been Away Too Long – Soundgarden
Berzerk – Eminem
Bones Exposed – Of Mice and Men
California King Bed – Rihanna
Club Foot – Kasabian
Counting Stars – OneRepublic
Demons – Imagine Dragons
Everybody Talks – Neon Trees
Girls – The 1975
Gold on the Ceiling – The Black Keys
Grounds for Divorce – Elbow
Here's to Never Growing Up – Avril Lavigne
Ho Hey – The Lumineers
I Will Wait – Mumford & Sons
Keep on Swinging – Rival Sons
The Kill – Thirty Seconds to Mars
King for a Day – Pierce the Veil feat. Kellin Quinn
Lazaretto – Jack White
Lies – Deap Valley
Little Monster – Royal Blood
Lived a Lie – You Me at Six
Love Bites (And So Do I) – Halestorm
Mind Your Manners – Pearl Jam
Mountain Sound – Of Monsters and Men
My Songs Know What You Did in the Dark (Light Em Up) – Fall Out Boy
Now – Paramore
Nuclear Family – Green Day
Paint It Black – The Rolling Stones
R U Mine? – Arctic Monkeys
The Rock Show – Blink-182
Shadow Moses – Bring Me the Horizon
Sundial – Wolfmother
Tie Your Mother Down – Queen
Tragedy + Time – Rise Against
Victory Over the Sun – Biffy Clyro
Waking Up in Vegas – Katy Perry
Wastelands – Linkin Park
When You Were Young – The Killers
Won't Get Fooled Again – The Who
See, even when they've chosen good bands (assuming you've glanced at the list), they don't even bother choosing amazing songs.  I mean, of all the great Queen songs, all we get is "Tie Your Mother Down"?  And what about The Killers?  "When You Were Young" was featured way back on Guitar Hero III, and The Killers have put out some great albums and songs long since then.  I'm not the biggest fan of Linkin Park, but there are definitely several more rocking numbers that could've been chosen above "Wastelands."  And seriously, we're teased with Soundgarden and Pearl Jam only to have songs of theirs from 2012 and 2013 respectively…?  Vedder and Cornell were both pushing 50 when they recorded this stuff!  Nothing against old rockers – more power to 'em if they're still out there doing their thing – but these aren't the same bands that they were 20 – 25 years ago.  If anything, including such new material from these once-iconic bands alongside the younger indie musicians actually highlights how irrelevant these bygone acts have become.
I mean I get it…flip to any modern alternative station and you're confronted with the likes of Of Monsters and Men, Florence and the Machine, The Lumineers, Arctic Monkeys, Fall Out Boy, Imagine Dragons, etc. but just because that's what all the kids are calling rock nowadays doesn't mean it has any damn thing to do with the guitar.
Alrighty then…moving on…
The other mode of play in Guitar Hero Live, "GHTV," is infinitely more interesting than the on-disc content of "Live," but also inherently flawed.  GHTV requires online connectivity.  Once you're in, you're confronted with more of the sort of interface that you expected when you first started playing GH Live.  It's a little complicated, there are lots of options, and a half dozen prompts are being thrown at you.
Currently, GHTV maintains 2 "channels" that the player can tune-in to.  These channels are then divided into half hour and hour long blocks much like a TV schedule.  It's all presented very smoothly and highly stylized and really makes you feel like you've tapped into some sort of awesome new underground form of entertainment…very slick, refined, and highly developed.  Anyway, each block has a theme, like "Famous Riffs" or "80's Icons" or "Rock Gods" or "Metal Anthems" and so on.  As you tap into one of the channel's streams, you're presented with a series of music videos that correspond to the block's theme.  That's right, real music videos!  From the actual artists!  And you guessed it, you can play right along with these videos.  After a couple of seconds your note chart will pop up and you can start playing away!
It's a really cool idea.  Just like we can flip on the TV and watch a show, here we can flip on "GHTV" and begin playing a song, and keep playing songs as long as we want.  Not feeling the Metal Hour on Channel 1?  Bounce over to Channel 2 for "Pop Classics" (or something comparable).  The simple concept has been turned into an elaborate setup, yet it all looks and runs extremely smooth.  Sure, you don't really have control over what you're playing aside from choosing between whatever "program" is airing on one channel or the other, but with most blocks lasting only 30 minutes (only a few fill a full hour), it doesn't take long to experience the true variety of this immense pool of music.
Another cool thing is that you can stop or start playing whenever you want.  The songs keep on running regardless – like a TV show – but if a song is too hard, just stop playing!  Really need something to drink?  Just go get it!  There's no particular pressure to play every single note to every single song.  If you need a break, take a break, and don't worry about it.  The idea of jumping in and out without a whole lot of hassle (or basically any hassle; you can choose to play the guitar or not) is brilliant.  Casual players can do whatever they want and serious players can hunker down for song after song.  And did I mention that we get to see the actual music videos for these songs!?
Ok, so what happens when you stumble across "Shut Up and Dance" or "Cochise" and absolutely can't wait to play it again?  This is where the cracks start to show.  The good news is that, within GHTV's interface, you have access to a complete list of all the songs available.  (FreeStyle has made comments suggesting that at some point songs will be rotated in and out of GHTV. )  You can select any song you want and play it, but it'll cost you 1 "Play."  "Plays" are a sort of currency you earn through playing songs in GHTV.  Well actually you earn coins by playing songs, and these coins can be spent on Plays (among other things).
Unless you're happy playing random songs all the time (which is fun enough in and of itself, yet fails to deliver if mastery is your goal) , you'll eventually see how GHTV is one big wallet-fuck orchestrated around micro-transactions.  If you play a song fairly well from beginning to end, you'll earn something like 130 – 170 coins.  10 Plays cost 6,000 coins; that's about 600 coins per songs, which means for every song you "voluntarily" choose to play, you've got to play about 4 random ones.  This isn't that bad…unless you really want to master a particular song, in which case it's basically imprudent to spend Play after Play on the same song.
But that's not all.  It might be easier if there was no choice but to sink all of your earnings into Plays, but there's other stuff to take into account like your Hero Power effect, your fretboard, your guitar, and other purchases that can help you to increase your score, thereby increasing your earnings per song.  It's a big of circular system, though earning coins is a slow process.  FreeStyle aims to fill in these gaps by offering up Hero Points.  Hero Points are substantially more valuable than coins…but Hero Points cost real money.
So yeah, as cool as of this is, it's weighed down by this ridiculous system of multiple currencies and ultimately spending money beyond the purchase price of the game to do what you want in the GHTV mode.  But there's still one thing that really chaps my ass: I'd thought that maybe for some exorbitant number of coins or maybe even a payment of $0.99 or something that I'd be able to unlock a song "permanently," as in no longer have to spend precious "Plays" on it…sort of like how the DLC for GH (and RB) functioned.  Guess what?  You can't unlock shit permanently.  And what's worse?  FreeStyle has absolutely no intention of making any of the GHTV content available for offline play.  If that isn't spitting in the face of the player, I don't know what is.
FreeStyle Games has justified this decision, saying that it fits in better with today's "throwaway culture" (I beg your pardon, asshole, I spent $100 on this fucking game) and that this format makes it easier to secure licensing rights to the songs.  (I don't give a fuck what's "easier"…either make it happen or don't make the game in the first place…)  It's not just the fact that I can't play "Harlem" or "Like a Stone" over and over that makes me mad, it's FreeStyle's entire stance on the matter.  It displays an utter lack of respect for the fans and pretty much shits all over the legacy of Guitar Hero without even batting an eye.  If FreeStyle Games is so damned concerned with our "throwaway culture," then why in the hell did they load up the disc – the songs that owners will be able to play forever, no matter what – with exceedingly recent music?  Hardly any of those 42 songs were recorded prior to 2010!  And what about this fucking brand new guitar controller I've invested in?  How fucking "throwaway" is it?  Is FreeStyle going to buy back that guitar from me for $50 after a year or 3?  I fucking doubt it.
Yeah, music can be somewhat dispensable over time.  Yes, a Guitar Hero game can feel outdated a few years down the road…but so can any other video game.  There will always be people who play games and then trade them in for what's newer and better, regardless of whether or not the content is tied to something as ephemeral or as transient as pop-music.  But there are also gamers who hang on to their stuff and relive those experiences.  Yeah ok, Guitar Hero 5 isn't going to blow me away like it did several years ago, but if I pop it in, right now, I can at least have complete access to all the same parts that made it such an awesome game back when I first played it!
It should be FreeStyle's responsibility to create a product that is the exact opposite of "throwaway," not simply buy into the disposable aspect of pop-culture and use it as a goddamn excuse to rape the wallets of fans and give them absolutely nothing to show for it!  Is it just me, or is this encroaching on cheap mobile game formulas of marketing?  In this age of DLC there are plenty of companies content to nickel and dime the hell out of the consumer, but at least the consumer has something that's theirs, that they own forever, to show for it.  With this bullshit GHTV setup, you end up potentially paying out the nose to basically "rent" a song for a few minutes.  Probably the best option on GHTV (and I use the term "best" loosely) is the option to temporarily unlock the entire GHTV setlist for a total of 24 hours for the ridiculous price of $5.99.  What!? Six bucks?  For 24 hours?  I don't even think it's possible to play all of those songs in 24 hours, and furthermore no one is going to be able to use every second of those 24 hours.  It's a decent option if you've got a party or something going on, but with a price like that, it's not something you'll want to do regularly, no matter how bad you want to maser "Down with the Sickness."  And that's a real fucking shame too, because a large part of playing the guitar, fake or not, is practice.
As you can tell, the entire thing disgusts me.  I think they should've chosen either one approach or the other, or explored the possibility of releasing 2 versions of GH Live – a "lite," online-intensive version aimed at the casual crowd, maybe something where you only pay for the guitar, download the necessary software for a small initial fee, and then subscribe to the GHTV service for a nominal fee every month, or the other option, for players wishing to master their craft, a version closer to what we have now, full retail price, and instead of having a fixed setlist, maybe structure it so that that the player has 40 credits, can pick and chose from the master list, and then has the option to buy other songs for a buck or two.  One thing's for certain though – having the worst of both worlds is only going to alienate older fans and confuse newer ones.
Despite all this bullshit (and yes, that's the exact word for it; indeed the term "bullshit" was coined for just such an occasion) I would be remiss if I didn't point out how fluid and immersive the GHTV setup actually is.  It is precisely because it is such a cool concept and executed so well that its flaws are all the more disheartening.  You can see just how amazing and innovative this idea could be if not for the extensive framework of greed that it's all built upon.  I think it's fantastic how modern and refined the interface and GHTV schedules are, not to mention the short interstitials between blocks which are highly reminiscent of early to mid 90's MTV.  There's even a short sound byte played alongside most of the interstitials that, if it wasn't directly taken from MTV's spot for "After Hours," was certainly designed to emulate it as closely as possible without stepping on anyone's toes.  The combination of nostalgia and innovation is perfectly suited to what GH Live should be and to some extent, the attitude behind rock music in general.
We can only wonder why more of this aesthetic wasn't applied to the offline/Live version of the game. Like I speculated earlier, I can only assume that they wanted to milk the most of the "Live" concept.  The problem is that once you've seen something live once, you've seen it.  You may want to see a different live performance someday, but there's little fun in watching the same performance over and over, and that's about all that GH Live can deliver on that front.  (And as a result, the entirety of the Live mode is unconvincing, feeling like little more than a watery version of a once-great game.)  Ironically, GHTV – the idea of constantly streaming music videos a la a TV station – is pretty much the ultimate juxtaposition to the "live" element that pervades the offline mode.  Guitar Hero Live is a bit confusing in that regard, and it looks like this could be the case of too many good ideas floating around in one place without a clear or firm commitment to one idea or another.
Before I start wrapping things up, I do want to take a minute to discuss the multitude of songs available in the GHTV mode (200 at launch, around 70 more added since), which in many ways represents the sort of setlist we should've had moving into this rebooted 7th installment.  Not only do we not have the stupid "live mix/filter" applied, we also get the music videos, which are infinitely more interesting to watch again and again compared to the "live" performances.  Even without any bells or whistles though, the GHTV selection represents a far more eclectic range of guitar-driven music and quite possibly a smaller overall percentage of utterly forgettable tracks.  Based on what FreeStyle Games has said, this selection may change in the future, but for the time being at least, the following is true.  The music is still mostly confined to the past 10 to 15 years (aside from a reasonable dose of 80's pop and nuwave) but fortunately a respectable swath of genres are represented.  There's an impressive chunk of "modern" metal, and though I wouldn't mind seeing more "classics" like Metallica and Slayer thrown into the mix, I can at least live with the likes of Atreyu, Avenged Sevenfold, and Lamb of God.
The biggest chunk consists of what most of us would simply call "rock," though a large percentage of it is "tainted" by the recent takeover of emo and pop-punk derived "indie rock" from the last several years.  However, they do give us a small number of tracks from some of my favorite artists out of the 90's and early 2000's (though not always my favorite songs from these artists), including Korn, Rage Against the Machine, Marilyn Manson, Blink-182, Temple of the Dog, Soul Asylum, White Zombie, and others.  Surprisingly, I've also noticed a sizable collection of "country rock" songs in the mix; you know, the stuff with the fundamental twang and drawl that makes country music identifiable, overlaid with a medium-thick layer of over-driven guitar and faster, harsher drum beats.
With new songs added weekly through a semi-complicated system of availability before entering into the GHTV rotation, the possibilities are wide open enough to suit anyone's tastes.  It's just such a shame that all of it is essentially fleeting.  I really can't think of anything else in the history of gaming that has been this much of a tease to players who bought the game.  If FreeStyle or Activision or whoever wanted a service then that's what they should've designed and marketed rather than pumping it through a mediocre game.  I wouldn't be nearly so pissed if I thought the game was good enough to stand on its own, but obviously I don't.  And I think anyone else who plays, whether they're already a fan of GH or a total newcomer, will quickly agree that GHTV is where the meat and bones of the game are, and that the game's "Live" mode feels like little more than a consolation prize for those without internet access.
I'm really on the fence about recommending Guitar Hero Live.  I wanted to like it, and I guess there are parts of it I do like, but it's a little more (less?) than that; there are parts I admire, but I find the entire package difficult to "like" because there are so many calculated decisions that've been made to either 1) get even more of my money, or 2) cut down production costs by paying as little as possible to the music companies for the use of said music.  Oh and I completely forgot to mention that unless there's some setting or option somewhere that I'm missing, GH Live won't even let the PS4 so much as take a screenshot anywhere within the game, not even when trophies are earned as per the norm.  Needless to say that uploading video or streaming gameplay is totally out of the question as well, either in the Live or GHTV modes.  If this is as good as it gets, maybe they should go back to using Steve Ouimette and WaveGroup Sound.  I'm not kidding.
Some players will be less demanding than I, and that's ok too.  However, I think anyone that spends even a modicum of time with GH Live will be disappointed before too long.  For instance, newcomers who are experiencing Guitar Hero for the first time who may wish to take their experience from casual to serious will be quickly deterred by the ridiculous credit/micro-transaction setup of GHTV.  And god forbid you don't have a taste for what's been labeled "rock" for the last 5 years, because you won't be familiar with the majority of the on-disc soundtrack.
If I'm being completely objective, I'd have to honestly recommend skipping GH Live.  If you're an old fan, you may as well play your old games, because the same experience hasn't really been replicated here.  If you've never tried your hand at fake plastic rock and the idea sounds interesting, I'd give you the same advice: go enjoy the older titles, particularly Guitar Hero: World Tour, Guitar Hero 5, Guitar Hero: Smash Hits, Rock Band 2, and Rock Band 3.  I'm also a bit partial to Band Hero, Guitar Hero: Van Halen, and LEGO Rock Band despite the criticisms leveled against them, and even though the DJ Hero spin-off was met with lukewarm reception, they're also pretty fun with the second entry improving quite a bit on the initial formula.  It really doesn't matter what aspect of the genre draws in you; whether you're a curious newcomer, or a seasoned vet, whether you're looking for a family friendly game or a new party game for drunken companions, whether you're looking for something light to pass the time with or a new challenge to master, the older games are superior in almost every other way, or at least those which matter the most.  New fans will get some use out of Guitar Hero Live, but veterans will find the game surprisingly unaccommodating with its lack of stats breaking down one's performance and no freaking practice mode.
Yes, the GHTV mode is worth seeing and experiencing, but again, such a novel service need not be wrapped up in this game.  I'm sure many of you will need/want to see it for yourself despite my harsh assessment and I totally understand, just prepare yourself for disappointment.  Guitar Hero Live is a really strange mixed bag of "shit that could be really cool" alongside "shit that don't work."  I can guarantee that if the next game is simply a continuation of GH Live with just a few tweaks and a new setlist I will not be along for the ride, which is actually a pretty sad thing to admit.  Whoever's in charge needs to seriously re-think the direction that this reboot is taking the franchise in.  But the thing is, aside from a crappy setlist, it's tough to say that these flaws are with the game itself; it seems to be the game that it was intended to be.  The real tragedy is FreeStyle Games' ridiculous stance on the game and the material within.  What else is there to say?  I love the updated aesthetic (though I'd be fine with the old one as well) and the concept behind GHTV, it's just a major shame that disposability and transience have been built in since the very beginning.
Reviewed by The Cubist