Felix the Cat – NES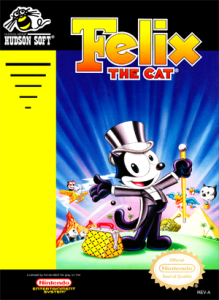 Platform: Nintendo Entertainment System
Developer: Shimada Kikaku
Publisher: Hudson Soft USA, Inc.
Release Date (NA): October 2nd, 1992
Genre: Platformer
Nerd Rating: 6 out of 10
"Felix the Cat…the wonderful wonderful cat."
Alright all you feline lovers, this one's for you.
Felix the Cat is part of a small category of games I rented in my youth.  It's probably been a good 20 or so years since I last laid eyes upon a screen displaying the 8-bit Felix, and so my memories of this experience are fleeting at best.  Was it a good game?  Did I rent it more than once?  How long did I possess it?  I cannot answer these questions, but I will tell you this: if I was basing the following review on my dubious recollection of past rentals, I wouldn't be much of a reviewer, would I?
I just so happened to wrangle Felix the Cat into my ever-growing collection…and believe me, as I popped the cart in, I was completely awash in anticipation – the opportunity to bathe in nostalgia from a game I only in theory remember.
The suspense of how Felix would measure up on Nintendo's finest was overwhelming, as I'm sure you can imagine.
When I played Felix the Cat again, it all came rushing back to me.  Once the splash of nostalgia dried off, I assessed it to be – surprisingly and disappointingly – an underwhelming action/platformer.  But as the minutes culminated into hours, I found myself won over by the inherent charm and creativity of the overall design.  I was thrust deep into an imaginative land of wonder. 
Yes, I enjoyed it very much.  It was fun.  Simple, but fun.
One of the things I found disappointing initially was the graphics.  But after studying the picture before me, I realized it actually looked quite nice.  Felix is one cool cat, packed with personality and charisma. This is no small feat on an 8-bit console.  He carries himself with a quick style, which makes him a cat in charge.  The kind of a hero you want to be in control of.
The backgrounds are lively and colorful, and all the characters are drawn pretty well.  I suppose this may not be the most shining example of the Nintendo Entertainment System's graphical capabilities, but it certainly does a swell job of it.
Overall, the look and feel is very whimsical.  Each world is unique with cute enemies, fun/upbeat music, and strange eccentricities.  The skies are filled with the likenesses of Felix's girl and his arch villain in cloud-like formations.  It's odd and unusual in a way that'll stimulate your imagination.
If you'll notice, Felix the Cat was published by Hudson Soft…and it shows.  The gameplay is very similar to Adventure Island in that you upgrade your abilities by collecting certain items while continually gathering power-ups to keep yourself going. The big difference here is death in Adventure Island when your meter runs out versus losing your magic in Felix the Cat.  Of course, there is a timer here in addition to the magic meter. 
You begin as normal Felix with his bag of tricks, which is packing a boxing glove eager to clobber enemies.  One hit in this form and you're dead.  Grab a certain number of Felix head icons and a heart will jump out.  Collecting this heart will give Felix a new magic power, improving your attack and allowing you to take a hit without the consequence of losing a life. Some of your upper-level attacks have an arc, which can sometimes feel like you received a downgrade.  Your power-up is demoted when you are hit, and as mentioned above, you must continually collect milk to maintain your current magical form.  There is plenty of milk to be found, so don't stress it too much.
The form of your magical upgrade varies depending on the terrain of the world you explore.
This is one aspect where Felix the Cat shines.  You have unique transformations happening to Felix throughout.  From a magician, to a wacky car, to a tank, and even variations including a submarine, a hot air balloon, and more! 
Though his transformations add to the overall appeal of Felix the Cat, I can't help but feel there is a missed opportunity here.  With Felix possessing a magical bag of tricks, I want his upgrades to give him additional unique powers.  Maybe an extended jump, a directional weapon, or a grappling hook. Something to change the pace a little more within levels.  Does this mean the game is monotonous? Not at all.  It's just an extra mile Felix could have gone if the developers had so pleased.
You are given a healthy helping of layout variety.  In addition to platforming, you have an interesting set of floating levels, underwater segments, rowing stages, and even a space stage!  
I must now take a moment to address what may be the greatest deterrent against me issuing a higher score for Felix the Cat.
This game is too easy.
Trust me.  I beat it after my second attempt.  And the first time I wasn't even trying.
Despite its low difficulty, Felix the Cat is a fairly long game, with nine worlds all broken up into "rounds."  It definitely has the potential to be harder, with one-hit deaths and a close-range attack to start.  But as you move up in magic, the game becomes significantly easier.
Though you begin with three lives and three continues, if you get off on the right foot, lives will stockpile quickly.  To put it into perspective, I beat Felix the Cat with 20 lives.  That's 11 more lives than any self-respecting cat should possess. 
This game holds your hand from beginning to end.  With a mere ten Felix heads yielding a heart, you'll find yourself upgrading your attacks at a rapid rate.  Milk is just as abundant, so you never really have to worry about running dry on magic juice.  If you are maxed out, hearts will result in 1UPs.  Even some of The Professor-shaped clouds will produce an extra life if you attack them.  Oh, and of course a certain number of points will also result in another life.  You'll basically be reeling in all these goodies without much risk of losing anything.      
Bosses are simple, yet reasonably challenging.  The final boss is perhaps a little difficult, but of course they give you the opportunity to max out your magic, nullifying any shred of hardship you might have otherwise faced.  It's a shame, really.
The relative ease of Felix the Cat could trip you up.  Playing carelessly may cause your lives to fall away like a clichéd calendar transition.  My advice to you is to stay alert, try a little bit, and you shouldn't have any problems.
Music, as mentioned before, brings so much to the life of this game.  How do I describe it?  I didn't like it at first, but it really grew on me.  It's all over the place and not always well-composed; it's shrill, spasmodic, peculiar, and wonderful.  And the underwater theme is absolutely fantastic!  It completely captures that old cartoon sound, perfect for a cartoon character who has been gracing cinema screens for almost 100 years now!
So that's Felix for ya.  Felix the Cat.  A very charming title for the NES.  If you are fortunate enough to find this in the wild for a bargain, I'd say there's no reason to pass it up.  Sadly, this game has grown a hefty price tag over the years.  At a $56 average (according to July 2015 price charting), be sure you know what you're getting.  If you're a collector and cost doesn't matter so much, then pick it up.  Bottom line: It's fun, but not $56 of fun.
Until next time, stay classy my feline fanatics!