Excave – Nintendo 3DS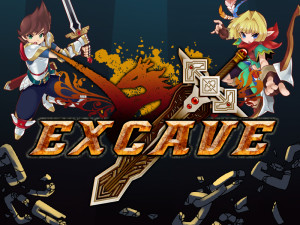 Platform: Nintendo 3DS
Developer: Mechanic Arms
Publisher: Teyon
Release Date (NA): February 19, 2015 (eShop only)
Genre: RPG
Rating: 7.5/10
Reviewed by ChronoSloth
Nintendo's 3DS eShop, aside from Nintendo developed or published games, has had few quality releases. There are great games hiding in there, like Attack of the Friday Monsters, but most of them are buried under the cell-phone esque titles looking to make a quick buck. It's lead me to be wary of purchasing games from the service, and I often research heavily before downloading one. Rest easy readers, Excave is one of these gems in Nintendo's download service.
Excave is a dungeon crawler that allows players to choose to play as an agile female archer and mage, or a powerful warrior. This choice isn't locked, and you can switch between the two when you're not mid-dungeon and approach areas with either class as you see fit. Characters do not level by gaining EXP from defeated enemies, rather the accessories and weapons that you loot or buy with your gold provide them with increased stats. The setup is that the King has asked you to explore the labyrinth beneath the castle to find out the source of the monsters within. Don't be bothered by the simplicity of it, the focus in Excave is gameplay. This dungeon is where the entirety of Excave takes place. You'll use swords, daggers, axes, spears, arrows, and magic missiles to kill off these creatures to get loot and get deeper into the labyrinth. Little is explained in Excave, but the little that is comes in the form of notes that you find in chests to give hints. This isn't a huge problem, as nothing is too difficult to figure out. Make sure your inventory is stocked, your weapons are in shape, and go kill those monsters.
The graphics in Excave are not technically impressive, but I was pleased by the art style. The game looks very much like a PSone title, though much smoother, and its sprites are quite charming. The soundtrack feels retro too, and is pretty satisfying. The enemies in the game, though cliche and uninspired (slimes, mimics, bats), fit the dungeon crawler aesthetic and blend in with the rest of the presentation. The look of the dungeon changes when you progress to the next "level" of it, as indicated by which door you enter after spawning into the hub of it, and the variety is nice. My only complaint is that it is very easy to get lost because of how similar all hallways and rooms look. Though the size of each stage in the dungeon isn't so huge that getting lost will lose you much time, the walk speed of the characters before you are allowed to improve it very much makes the process of finding your way back to the right path a bit annoying. You'll know you're headed in the right direction when you find a blue or red teleporter. These will take you to the next area of your current level, with the red teleporter being the final in that section, leading to a boss fight. These fights are much different from the combat you become accustomed to while exploring and are a nice change of pace. Defeating them allows you to progress to the next dungeon level via a key.
Making it to the core of the entire dungeon is your ultimate goal, but there are plenty of monsters standing in your way. There are various means of taking them down, as you'll pick up consumable spell books, and weapons are varied in their speed and hitboxes. All enemies attack differently, and you'll have to adapt your strategy accordingly. Sometimes it's better to hit and run, and in others you'll want a strong shield at the ready. If you're taking too much damage, or not doing enough, many food items in the game boost your defense or attack stats for various periods of time. Most of the cannon fodder enemies won't need serious combat tactics however; if you have a decent weapon for the stage you're in, they should die in a single combo. Though tapping the A button to swing your sword/axe/dagger at every enemy you see may sound quite repetitive, the sound effects and animations are used effectively to make your attacks feel weighty and satisfying. The combat may seem to slog on at times for some, but the excitement of seeing what lies further in the dungeon should keep players around. Though limited, there is a fun sense of discovery.
Slaying these creatures will drop items, equipment, and gold. When you've completed an area of the dungeon or if you feel death is approaching, you can hold the Y button to teleport to safety. When outside of the dungeon, you can use a menu to navigate to the item shop, the blacksmith, or your inventory screen. The blacksmith can identify unknown items you gathered or repair your favorite cleavers, the item shop sells necessary items like progression appropriate accessories and weapons, as well as healing potions. In your inventory screen you can sort your stock, equip what you'd like, and sell what you don't need. Again, your stats in the game are based around what items you have equipped, so be careful not to mistakenly sell any weapons or accessories you need, or you could take quite a hit in gold getting them back in the store, or spend quite some time hoping for them to drop in the labyrinth. This could sometimes happen in the heat of battle when a weapon breaks, and instead of returning it to your items to repair later, you slide it to the trash icon in your haste to not be defenseless. It's best to move your character to safety before using the bottom screen inventory to ensure your precision.
Excave is a charming dungeon crawler that offers deep gameplay for a shallow price. Defeating enemies to progress in the labyrinth and strengthen my heroes became addicting. As monsters became more difficult, I began to become more skilled at the game myself, using walls and pillars to divide enemies or protect myself from their attacks before rushing back in to slash at a few. The difficulty curve and overall variety keep the game interesting as you complete areas of the dungeon. With only a few shortcomings to speak of, I believe Excave to be one of the best eShop games I've played.