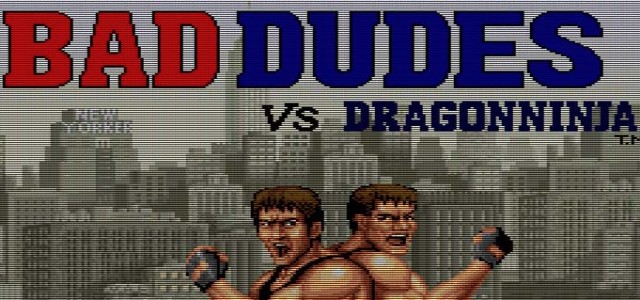 Bad Dudes Vs DragonNinja – Arcade
Platform: Arcade
Developer: Data East
Publisher: Data East USA
Release Date (NA): April 1988
Genre: Beat 'em up
Rating: 6/10
Reviewed by ChronoSloth
*reviewed using MAME
Rampant ninja related crimes these days… Nerd Bacon is not the exception…
I was worried at first when I decided to play Bad Dudes vs DragonNinja. Many questions troubled me before I sat down with the game. How could any dude, bad or not, take on a clan with a name as simple and awesome as DragonNinja? Was Data East actually going for over the top parody, or were they just accurately depicting action movies of the day and going after the specific target audience of people who enjoy ninjas and Bad Dudes? Just how Bad of a Dude am I? Bad enough? After a Rocky-esque training montage, some fresh Burger King, and the purchase of a new pack of black tank tops, I decided to take on the entirety of the DragonNinja ninjas with my bare hands.
Bad Dudes vs DragonNinja begins with an intro sequence which, along with its title, ending, and sound effects, are pretty much the only reason this game got publicity. It states, "Rampant ninja related crimes these days… White House is not the exception…" Then the lovechild of Arnold Schwarzenegger and Dolph Lundgren informs you that the president has been kidnapped, and asks you a very important question.
Toss a quarter in, press the 1 Dude button (or 2 Dudes button if you have a bad enough friend), and prepare to defeat an onslaught of cobalt blue ninjas using punches, kicks, low punches, low kicks, a charge attack that most people don't know about, and Ryu from Street Fighter's Hurricane Kick if you flail the joystick while hitting attack and jump (I never figured out exactly how to do it.) Ninjas will attack fast and hard, and I was surprised by just how many were on screen at once, with me being used to console beat 'em ups. They'll use martial arts, ninja stars, caltrops that you'll have to avoid, and more. Besides the normal ol' blue ninjas, there are red ninjas, grey ninjas, female ninjas, claw ninjas, dogs, ninjas who will actually light themselves on fire and run at you, and bosses.
If you thought having all these blood thirsty ninja criminals attacking you wasn't hard enough, they also throw some minor platforming at you. There are two planes that you can switch between in the game; you can hold up and jump to move to the higher plane, and the opposite to move down. Enemies will be on both, but it can also be used to get out of trouble if you're overwhelmed on one part of the screen. Sometimes there will only be one plane, and this is often when there will be pits you can fall into, or the bottom plane of the screen will damage you. For example, if the top plane of the screen is on top of a truck, then you don't want to voluntarily jump off to the bottom plane, the dangerous road.
Bad Dudes vs DragonNinja will take you across the US on the hunt to rescue President Ronnie from the ninjas. Well, not quite. The levels take place on New York City streets, on top of moving trucks, in the sewer, a forest, a train, a cave, and an underground lair. You'll know you've reached the end of one when you've low kicked the boss into submission and your character exclaims, almost as if to convince himself, "I'M BAD!"
The graphics in the game are passable, as are the animations. The music couldn't have been too bad, as I can't remember any of it. Of course that also means it didn't add anything to the experience. The highlights in presentation would definitely be the art that they used around the game's screen on the arcade cabinet, as well as the intro and ending of the game. The sound effects are pleasingly hilarious though. Both the level ending "I'M BAD!", and the confident "Got it" when picking up health restoring Coca-Colas or time restoring clocks are memorable and enjoyable.
When you make it to the final level, make it through the boss rush, and defeat the leader of the DragonNinja clan, you'll be treated to President Ronnie thanking you for your service and recommending that you eat some burgers together some time. It's not a very easy game (I found myself using quite a few virtual quarters), so there is quite a sense of accomplishment for beating this 30 minute title. I'm sure the co-op adds some value to the game as well, though I played as a lone Bad Dude. Overall, I enjoyed Bad Dudes vs DragonNinja, though there have been many beat 'em ups since who've done it way better. However, none of them allow you to be a Bad Dude who eats burgers with Ronald Reagan.