Assassin's Creed III – PlayStation 3
Platform: Sony PlayStation 3
Publisher: Ubisoft
Developer (Primary): Ubisoft Montreal
Release Date: October 30th, 2012
Genre: Action / Adventure, Stealth
Nerd Rating: 8.5/10
Assassin's Creed 3 was probably the biggest game release of 2012 (In my opinion anyway). This could be due to the fact that there was a lot of hype before it came out or I could be just a fan who got a little too excited. Either was this game had a lot of expectations resting on its metaphorical shoulders after the gross popularity of previous games in the series. In order for Assassin's Creed 3 to be a success it had to be phenomenal and live up to preset expectations and I thought Assassin's Creed 3 did just that and more.
This installment in the Assassin's Creed series was developed by the Ubisoft Montreal team and published by Ubisoft. It also happens that the Montreal team also developed Assassin's Creed 3's successor, Assassin's Creed 4: Black Flag. Assassin's Creed 3 was released on October 30, 2012 in North America and October 31, 2012 in Europe and Australia.
Assassin's Creed 3 is the fifth installment in the Assassin's Creed franchise. For those who don't know, the Assassin's Creed series revolves around the ancient and deadly conflict between two groups: the Assassin's and the Templar's. These two groups have been at war since (probably) the beginning of time itself. The conflict is based over a disagreement on how the world should be run. If the Templar's had their way they would rule the world with and iron fist. They would create order through fear and intimidation, keeping the common man oppressed and weak. The Assassin's want the world free from oppressive rulers; every man, woman and child should be liberated. As you can see these two groups are ripe for conflict.
If you haven't played the previous games, I highly suggest you do. The Assassin's Creed series is very plot heavy and can get really confusing if you jump into the middle of the series without knowing what the hell is going on. But here's a quick background if you can't be bothered:
The world is about to end and Desmond (the modern day character) and his Assassin buddies need to find a way to stop the oncoming storm. The Templar still exist and are more powerful than ever. They now take the form of an entertainment/pharmaceutical/research company named Abstergo. Desmond's an Assassin, so naturally, he's got a giant target with flashing neon lights plastered over his head and the Templar's are nothing if not resourceful in finding Desmond.
In the first game Desmond is kidnapped by Abstergo Industries and taken to their headquarters to be put in a machine called the Animus. The Animus is a machine that allows Abstergo to view the "genetic memories" of Desmond's ancestors. This means for you as the player, you get to go back in time and play as ancient Assassin's. Fun right? The Animus also allowed Abstergo to hunt down ancient treasures that were left behind by the "One's Who Came Before"; an ancient race that occupied Earth and created humans for their own use.
One of these artifacts that is so highly coveted (for the greater part of the series) is the Apple of Eden. The Apple of Eden can do just about anything (not unlike Google or The Doctor's sonic screwdriver). Mostly, the Apple of Eden is used to have  holder control others (It's a lot of fun when you do finally get to use it in the game).  Throughout the search for the Apple the precursor race's hologram type memories visited Desmond's ancestors in order to speak to Desmond (Desmond viewing the exchange through the Animus). By these messages Desmond is informed that the world will end in the very near future and he is the only one who can stop it.
This begins the start of the fifth game, Assassin's Creed 3. 
In Assassin's Creed 3, Desmond is on his quest to save the world from the oncoming apocalypse. To do this, he is sent to an ancient cave that is to be opened by using the Apple of Eden. Once opened, the cave is revealed to be built by the One's Who Came Before. But it won't be simple to save the world, Desmond needs a another key to continue on with saving the world from destruction. Juno, a woman of the precursor race,  sends him to 18th century London to find the key's location. The key is found but the modern location of it is still unknown. Desmond views the memories of his ancestor, Haytham Kenway, in attempts to find the location of the key. The key is not found.
Desmond is then directed to Haytham's son, Ratonhnhaké:ton (Known as Connor later in the game), who at some point in his life had the key. Desmond follows Connor's life through the American Revolution as Connor tries to make peace with his demons and save his Native American village from being destroyed by Templar's.

So first off I want to say that I absolutely loved Assassin's Creed 3.When I first played through it I found it hard to pull away from the game long enough to do normal human activities (you know cleaning, school, socializing and what not). I'll try not to say too much to avoid spoiling it for anyone but the plot is really spectacular. Assassin's Creed 3 will also give you feels if your the sort of person that gets connected with characters (I know I certainly do).
In Assassin's Creed 3, you primarily play through Ratonhnhaké:ton's (Connor's) life. Juno has visited him as a boy and directed him to seek out the Assassin's to train him. Juno led Connor under the illusion that by training to be an Assassin, he would be able to protect his village from the oncoming Colonial invaders. As he trains and becomes more skilled he is coincidentally swept up in the American revolution and even finds himself in the middle many legendary and now historic events. Along with protecting his people he must now take out the Colonial Templar Order, protect the colonists from injustice and protect his own people from invaders. While in modern day, Desmond is in the Animus and viewing Connor's memories in hopes of finding the key in time to save the world.
To avoid spoilers I won't go more in depth about the plot but I do want to mention that I thought Assassin's Creed 3's plot was the best of the entire series. The main plot of Assassin's Creed 3 brought a whole new light to the Templars that had never looked at before. This made me almost . . . understand the Templar's. The Assassin's Creed series always focused on the Assassin's point of view but doesn't really go in depth on the Templar's side of the story. Assassin's Creed 3 changes this and allows for a refreshing look on the Templar side of the conflict.
Before I go any further, I'd like to take a geek moment to fangirl about the music in Assassin's Creed 3. The score for Assassin's Creed 3 was composed  by Lorne Balfe, and really, I don't think I've ever heard anything more beautiful in a video game. Balfe made the score well balanced and not too overpowering but not nonexistent at the same time. There is a peaceful sort of music when Connor is at peace at the homestead but there is also various variations of the main theme that fit into many of the different situations that Connor and Haytham get themselves into. If you were to look at my Spotify account you'd find that Connor's Life is the most listened to song at the moment.  Overall Balfe really outdid himself with this score and mad props to the Bratislava Symphony Orchestra for their amazing performance for this game.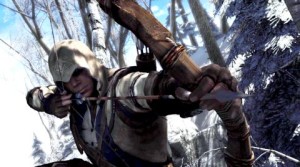 Many things changed from Assassin's Creed: Revelation to Assassin's Creed 3. Firstly, hunting abilities became available. Hunting! The hunting feature was a really great addition to the game. It kept me playing long after the main story had finished. It was also really satisfying to sell thousands of British pounds worth of skins and animal products, knowing that I (well, Connor really) had worked hard for that money. Previously, to earn money you had to steal from chests and people and complete missions to get money. The most honorable source of money you had was from the Sanctuary income. Now you can earn it yourself! You can hunt using practically any weapon that you own, but I prefer using Connor's bow. You can also hunt a large variety of animals from a hare to a bear. In New England, the bounty of the forest is endless.
Another feature that was added was the ability to climb trees and cliffs. One thing that annoyed me about previous games was the fact that the Assassin's couldn't climb trees. Really? You can climb gigantic towers but you can't grab onto a fucking branch? Where's the sense in that? Now that you can climb trees there are now new viewpoints in the forest and new ways to kill things. For the most part I used the tree tops to hunt animals and strangle guards with the rope dart.
The pattern in recent years is that with each new Assassin's Creed game came new weapons. Assassin's Creed 3 does not disappoint. Although you sadly loose the hook blade from the previous game you do get some pretty sweet new weapons. You, of course, have the standard Assassin hidden blades but now guns have improved to the point where they are a viable choice of weapon (even though they take forever to reload). Connor comes equipped with a sharp looking (no pun intended) tomahawk and a hunting bow at the beginning of the game. You can later go into general stores to get other weapons like a sword or a duckfoot pistol.
With new Assassin's Creed games there is also new kill animations. In Assassin's Creed 3 there are numerous new kill animations that are just plain exciting. Connor's fighting style overall is more brutal and warrioristic than previous Assassins and you definitely see that in the kill animations.
Another new feature that came with Assassin's Creed 3 is naval battles. At first I was less than enthused by having to be subjugated to perform in naval battles. It wasn't until I played Assassin's Creed: Black Flag (Assassin's Creed 3's successor) that I began to appreciate the naval capabilities that Assassin's Creed 3 had. I'm still not a huge fan of naval battles but I can respect them as a means for the series to evolve and develop further. If you think that naval battle's are just the bee's knees and main story naval missions just aren't enough for you, you can do separate side missions and a treasure hunt to get more sailing time.
On top of side naval missions and hunting, Assassin's Creed 3 has a lot of various types of side missions to keep you busy after the game has ended (or during the game if that is what you prefer).
You of course have the typical viewpoints that are iconic the the Assassin's Creed series. The viewpoints are the first thing that you are introduced to because it introduces the game as a whole. In Assassin's Creed 3 your first viewpoint is from the crows nest of a ship overlooking Boston. The viewpoints in the game clear away your map and allow you to see certain points on the map (like general stores, treasure chests, or harbour masters). Now that forest free-running is now available, tree viewpoints have been set up in the frontier to utilize the new ability. You can, of course, decide not to synchronize any of the viewpoints but it will be hard to find your way around without the map.
Another side activity that is available is the collection of feathers. The feather collecting is a nod to the Ezio games, who collected the in his dead brother's memory. There aren't as many feathers in Assassin's Creed 3 as there was in Assassin's Creed II; you only have to collect fifty whereas in Assassin's Creed II you had to collect one hundred. When you collect all of the feathers in Assassin's Creed 3 you get an exclusive Kanien'keha:ka outfit.
You also had the optional activity of collecting Almanac pages for Benjamin Franklin. These are a bit more troublesome to obtain because they fly away when you come close to them so you have to chase them down before they disappear. There are thirty-six of the pages in total to hunt down. If you collect some of them while you are still playing as Haytham you can have a conversation with Benjamin Franklin on his ideal type of woman. But if you wait until after you start playing as Connor you get invention recipes as a reward. If you manage to collect all of the Almanac pages you get an achievement called "Gone With the Wind".
Yet another set of side activities is the Peg Leg Treasure Hunt. In this activity you collect trinkets around New England and the old salt located at the Homestead dock will give you locations to the whereabouts of Captain Kidd's former crew members who all have parts of a map to Captain Kidd's hidden treasure. The finding of the crew members and the treasure is done by a naval mission. Again, naval mission's aren't my cup of tea but with  a lot of the finding of the map Conner is exploring the wrecked ships of the former and long since dead crew members.
Finally, there are Homestead missions that allow you to upgrade the Homestead. It's a lot like upgrading the villa of Monteriggioni but you're actually doing missions rather than just feeding money into it. By doing the Homestead missions you unlock items that you can craft in your homestead to trade. Homestead missions are its own little story about the building of a successful port town and all that entails. By doing the Homestead missions you can watch the Davenport Homestead develop into a bustling town. From saving a logger from a watery death to helping a miner steal from a British mine to create a gift for a love interest, the Homestead mission have a variety of different activities that makes it feel like its own little sub-game. Homestead mission also tend to show a softer side of Connor that is looked over during the main missions.
Of course this is just skimming the surface of the side missions that are available for Assassin's Creed 3.
Assassin's Creed 3 isn't all sunshine, rainbows and unicorns. It has some pretty major flaws that interfere with normal game play. The thing that bothered me the most was the horses. The horse more often than not would get stuck in between bushes, on rocks or even on top of trophs in the cities. I'd be in the middle of the frontier riding along and then the horse would get stuck on a random rock. It just a bit frustrating. In my opinion the horses were more of a burden than they were worth. Another thing that bothered me was that the lock picking activity was just a bit off. When I was pick locks to chests the lock picks themselves would be situated on the top part of the chest instead of the keyhole where they should be.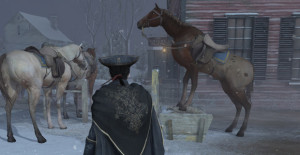 But despite the flaws I can't find it within myself to not like Assassin's Creed 3.
All in all I absolutely recommend Assassin's Creed 3 to anyone who will listen to me.  Assassin's Creed is definitely and MUST buy.