Adventure Island II – Nintendo Entertainment System (NES)
  Platform: Nintendo Entertainment System
  Developer: Now Productions
  Publisher: Hudson Soft
  Release Date: February, 1991
  Genre: Adventure, Platforming
  Nerd Bacon Rating: 7 out of 10
  Reviewed by: bbpower
Oh, Adventure Island II… The many hours I have played this game throughout my life. The Adventure Island series is one of my favorites for the NES. I rented the crap out of all three games when I was a kid. I guarantee I rented it enough times to actually buy a copy new. This is back when movie stores were still lucrative businesses. When I played this title years later, it was quite pleasurable and still challenging. There were times where it got the best of me and I had to walk away and refocus. However, it is a worthy play and quality collector piece gamers should check out. Besides, how many other games do you get to ride dinosaurs?
Our young and portly hero, Master Higgins, is back in action in Adventure Island II! This time the younger sister of Princess Leilani, Princess Tina, was kidnapped by the Evil Witch Doctor's miscreants! With no one to help Princess Tina from tyranny, Master Higgins must return to the deadly islands to rescue her. What happened to Princess Leilani who you saved in Adventure Island? Well, Master Higgins is too much man for one woman and cannot resist a younger (and probably sexier) damsel in distress… and neither should you.
Adventure Island II is a fast-paced, stone-axe throwing quest, which takes Master Higgins through eight taxing islands with several levels on each island. The level structure takes Higgins not only side-scrolling, but underwater and vertical. Each world is different and the game gives diverse range of levels with ice caverns, swamps, volcanoes, and trees to navigate through. Buttons are; "A" button jumps and "B" Button throws axes or fires dinosaur ability. 
AI-2 is played exactly the same as its predecessor, but with several changes for the good, and some more difficult. Health points are different in this series than any other game. Master Higgins' health constantly depletes as time progresses, so players are forced to work though the levels quickly. Fruit is scattered throughout each area to revitalize Master Higgins' health and keep him from dying. There is a bonus egg room after each level. Contents of eggs are random each time, so any one is a worthy guess.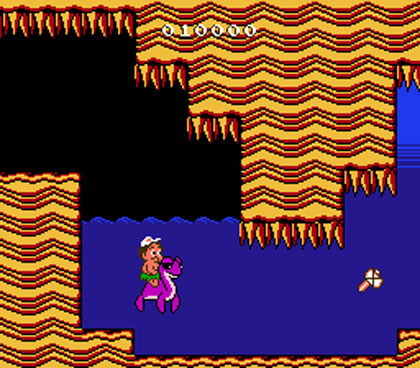 There are gut-shots to catch Master Higgins off guard throughout the game. A player has to be wary of where he is walking at all times. There are snails, bats, fireball-spitting snakes, sliding penguins, falling coconuts, and other creatures to keep you from saving the gorgeous Princess Tina. With one touch, you will die, but most of them fall with one hit with your axes.
There is an inventory system, which is crucial to success in Adventure Island II. The main way to get items for your arsenal is to crack eggs. Stones axes, skateboards, and dinosaurs all are found this way. Unfortunately, if you touch an enemy, or get shot, your dinosaur or skateboard vanish, but you do no die. To throw you off, some eggs contain vandals who will drain your health if you do not keep yourself fed. A bee can also pop out of and grant invincibility for fifteen seconds, so run through anything and everything until time is up!
Four types of dinosaur are available to assist Higgins, each with different capabilities. The type of dinosaur depends on the icon found. The blue one is better on ice, red is fire, purple flies, and the other purple pictured above is underwater.
Dinosaurs are the best weapons in this game. Their attacks are stronger, they run faster and can shoot rocks out of your way, and one can even fly. They go through certain areas Higgins cannot.
On top of visible eggs, hidden ones are on most levels. Fire the stone axes at will and listen for a weird sound. Some of the eggs will allow you to skip entire islands, or give you bonus eggs which can contain points, extra lives, dinosaurs, or nothing at all. Some eggs will lift you into bonus cloud zones where you can spring across the clouds for items. Eggs can fall out of creatures you kill too.
Players have the ability to go back to certain levels after beating them. This handy function gives Higgins a chance to stock up on inventory before progressing to the next island. Also, the helpful checkpoints in Adventure Island were removed from this game, so if you run out of continues, it's all the way back to the BEGINNING! This is a huge bummer, so stock up on points to get as many lives as possible! I have been sent back to the beginning far too many times and it's frustrating!
I dislike the removal of checkpoints, because this is a long game. However, I love the new inventory system. I guess it's a close-to-even trade off, but still favors the house. The improved graphics make the game more enjoyable and the quality of play is better than the first installment. The enjoyable island music sets the mood for fast-paced cruising through levels. The controls are pretty dead on, but sometimes you may have some sluggish response, which may lead you to your demise.
Unlike today's games where anyone can win, or everyone gets a trophy for trying, Adventure Island II is one of the games that has no feelings. It does not want everyone to win, as it should. Children will be left behind and gamers will be left to lick wounds, but the people who are victorious will feel good about taking down this challenging game.
Adventure Island II earned a Nerd Bacon Nerd Rating of 7 out of 10. The game is taxing on one's gaming abilities and patience, but Now Productions and Hudson Soft put together a fun, quality, bargain game that any NES collector should buy and vintage gamers should give a try. I own this game and it has been worth every penny since purchased back in the 90's. Even after taking down this monster, I still like to play this game over and over. It is always a challenging and a worthy opponent on a rainy day. Are you ready to face the islands? Once you do, check out Adventure Island III.