Five Good and Bad Trends of E3 2015
Big things happened at E3 2015 but now that the floors are closed it's time for some major analysis. Looking back at this year a few universal trends are starting to present themselves. I find that these trends are a mixed bag of some good things as well as some that are not so great.
The Good:
Dogs:
During E3 2015 it quickly became apparent that if you are an upcoming video game protagonist, you are more than likely getting a furry companion. It may not be a conventional dog, but goddammit everybody needs a hit of man's best friend!
Games ranging from Fallout 4 to ReCore are getting dog-like companions. The mother of all dog-like companions will be the bird-dog thing from The Last Guardian. In theory it should be the most frightening thing ever, but looking at it now, I can't help but to want to cuddle with it. I have absolutely no qualms with this trend, in fact I think it should be pushed even further. Every game gets a dog! You get a dog, and YOU get a dog, and YOU get a dog!
Dogs are a very good trend in gaming. Let's continue it, shall we?
Lady Badasses:
Another trend that sprung up during E3 2015 was the increased usage of playable female protagonists. Many AAA titles coming out within the next year have females as main characters rather than a scruffy looking white dude. Of course, there's the new Tomb Raider game coming out but Horizon Zero Dawn, ReCore, and Mirror's Edge Catalyst, will also feature women as the main character.
This isn't a full out win on the gender equality front, as some of the games shown at E3 2015 will have the option to play as the token scruffy looking white dude instead (see Assassin's Creed Syndicate and Dishonored 2). There is still quite a long way to go before the video game industry can consider itself as gender inclusive, but these next two years are certainly going to be a good start.
On a side not: Can we get rid of the boob armor already? That shit is ridiculous.
Virtual Reality Is A Go:
Virtual reality has always been a dream for the future. Remember that one scene in Back to the Future II were Marty McFly's kid was sitting at the dinner table with a VR headset on? Well soon that seemingly ridiculous notion will be a reality.
Most of the large publishers and developers at E3 2015 at least mentioned how they will be adapting to VR during their respective press conferences.  Oculus Rift had a booth on the main floor where they got attendees to play a variety of VR games. Both the Oculus Rift and Project Morpheus are set to release in 2016, so it's now time to face the fact that the first successful release of VR could be just around the corner.
Perhaps this time next year, the big topic at E3 2016 will be VR support by game developers.
Worlds Are Getting Bigger:
Another huge trend for this year is the "sandbox," or in other words, "open world". Either way, this is a great trend for gaming to be headed towards. Open world games are games that have an extensive map where the entire game will take place, with little loading screens. With the next gen consoles now very much mainstream, developers have the necessary power available to them to open up gameplay to a larger map . . . a much larger map.
No Man's Sky will go so far as to have the entire universe open to the player. Literally. In No Man's Sky you fly around the universe and visit planets without obvious loading screens in between. This is just one of the many games featured at E3 2015 that will utilize the power the consoles now possess to open up worlds to amazing proportions.
By opening up maps, developers have made gaming that much more of an immersive experience. I sincerely hope that this is a trend that sticks and continues into the future.
You Wield All the Control: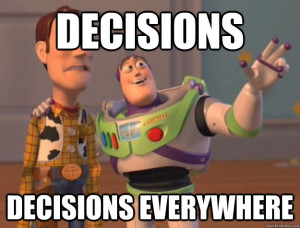 Treat this one as a double edged sword. Sure you have the control over how your game plays, but that also means that a few bad decisions will leave you screwed. You know, like in real life.
This advancement is still in the beginning stages, but we're already seeing games that have multiple sort-of branching endings (take most Bioware games and Witcher 3 for example).
When combined with the larger worlds we find ourselves in a toxic mix of god-like power and immersion (but beware of the consequences). Upcoming games from E3 2015 that will makes use of player decisions (and the consequences of said decisions) will be Fallout 4, Mass Effect: Andromeda (probably), and Dishonored 2.
Increased player control and decision making in regards to level path and/or moral choices are on the rise in games. This is going to make games more immersive and all the more enjoyable for the player.
The Bad:
Why Are Micro-Transactions Still A Thing?:
Over the past few years this has been a growing concern. It's starting to become a growing trend amongst developers. While we could go about pointing fingers *cough*EA*cough*, the fact of the matter is that most companies are pushing more and more freemium content on the consumer.
Sadly this trend didn't end at E3 2015. In fact it is being further perpetuated.
At E3 2015 Metal Gear Solid V, Halo 5: Guardians, and Guitar Hero Live all revealed that they would make use of micro transactions to suck us dry because fuck you, you let us get away with it before so now we think it's ok. They didn't say it like that obviously, but they may as well have.
Micro-transactions are a big "fuck you" to the consumer and they need to be treated as such. Consumers pay $60+ for most newly released AAA games. If I'm going to spend that much on one single product I want something that I don't have to spend more money on to enjoy the game.
Freemium games are the devil in my eyes. It is a trend that needs to end because there's no telling where corporations will stop if we let it continue.
Excited For a Game? Well You Best Pre-order Because You Ain't Getting Shit This Year!

Ok, this one isn't exactly fair. There are a handful great games coming out this year. but looking at all the great games announced at E3 2015 most have a disappointing 2016 release date. Cue sad face. 🙁
These games include Mass Effect Andromeda, Uncharted 4: A Thief's End, Street Fighter V, The Last Guardian, and Horizon Zero Dawn. 2015 will still no doubt be a big year for gaming but it seems that the core group of games that I'm personally most excited for don't have an officially release date, or had the ever-vague "2016" release date slapped on it.
On the bright side, next year's going to be huge if nothing is delayed.
Console Exclusivity Sucks. Unless You Own That Console . . .
Console exclusivity sucks, that is, unless you're on the side that gets the exclusive.
Console exclusivity has its place, I understand that. It's how Sony and Microsoft stay competitive and sell consoles. For some people, an exclusive series will dedicate them to that console for the entirety of that series' duration. Just look at Halo for proof. Halo created a generation of loyal Xbox users that Microsoft can rely on buying games and consoles. Console exclusivity is just good business…until it's not.
I understand the need for a core group of console exclusive games for the purpose of creating selling points for a product, but I think that console exclusivity might be stretching itself a little far. Both Sony and Microsoft announced many exclusives at E3 2015 but I think that perhaps there were too many.
Let's do a little case study, shall we?
As a dedicated PlayStation user, I am very disappointed at the fact that Rise of the Tomb Raider will only be available on Xbox One. The Tomb Raider series got its start with PlayStation. From 1996 until 2003 the Tomb Raider series was consistently released on PlayStation systems, but Xbox only came into the picture in 2006 with Tomb Raider: Legend. For the years beyond that Xbox and PlayStation peacefully shared the Tomb Raider series, until now. Now, Rise of Tomb Raider is an Xbox One exclusive, leaving long time Tomb Raider fans feeling screwed and angry. 
Console exclusivity is fine, but keep it within your own house developers. Don't fuck with the fans to try and sell your consoles.
Remakes and Remasters:
Put down your goddamn pitchforks and hear me out. Reboots and remasters do have their place, but it feels like remasters are more frequently released than fresh content. There's a time and a place.
E3 2015 admittedly was not a year wrought with remakes and remasters but the announcement of the Final Fantasy VII remake got me thinking about the subject again. Don't take this as me hating on the Final Fantasy VII remake, because I'm not. In fact, I'll probably buy it. What I'm saying is that the industry should not be so quick to remaster and remake games as they have been in the past few years.
Here's a simple rule for remasters and remakes: the game in question should be at least two console generations behind and have a demand by the community to be remade. Take Final Fantasy VII for example. Final Fantasy VII was first released on the original PlayStation which is three generations behind at this point and was a universal classic game that's had a demand in past years to be remade. Final Fantasy VII is a perfect example of a game that deserves to be remade.
Please dear god, no more remasters or remakes of games from the PlayStation 3 and Xbox 360! It's not necessary.
Dear Lord MORE DLC???:
DLC content is another big no-no for me. It's almost as bad as micro-transactions for me. The only saving grace that DLC content has is when it's actually done right (to that, I point to Mass Effect 3's Citadel DLC).
Let's do a little bit of Destiny math shall we? Let's say you bought Destiny day one without any special upgrades or editions, that's $60. Ok, that's not bad. That's the price of all AAA games on release. You get around to actually playing Destiny and you, like many other people, find the story lacking, but you still play multiplayer quite frequently. The first wave of DLC for Destiny comes around and you decide you that you have money burning a hole in your pocket that just needs to be spent. The Dark Below is $20 on launch. You're at $80 dollars now. Maybe you enjoyed The Dark Below more than you enjoyed the real story mode of Destiny, you decide that you want to get the House of Wolves DLC as well. This one is another $20 into Activision's deep pocket. You're now at a total of $100. At E3 2015, Activision announced yet another DLC, The Taken King. Bungie's upped the price for this DLC and it's going to cost you at least $40. You're now at a total cost of $140.
This hypothetical, but completely realistic situation puts you spending upwards to $140 on a $60 incomplete game. Activision made more on the DLC that you bought from them than the actual game itself. How is that right? Shouldn't the actual game be the main focus and not optional DLC? DLC should be treated as an afterthought that enhances the story that is already there and not to be used to increase your "longevity."
These kinds of DLC practices are shameful and disgusting. DLC has it's place, but it is not this.
Conclusion:
Despite my ranting above, there were definitely more good things coming out of E3 2015 than bad ones (even if they weren't mentioned on this list). The bad trends that did come out of E3 2015 are trends that have been reoccurring and building up for years, but they are still problems that need to be addressed nonetheless. This year was, and will be, a historic year for gaming. I'm sure that many of the titles announced at E3 2015 are titles that will be talked about for years to come.