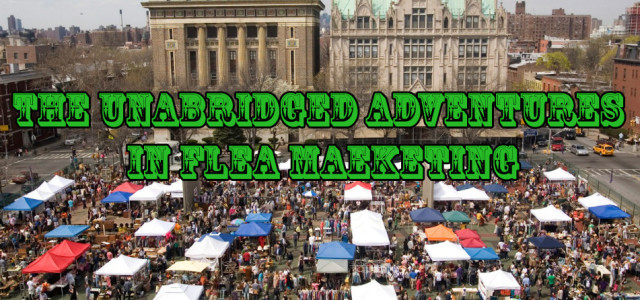 The Unabridged Adventures in Flea Marketing: Volume II
There I was, knee gently settled into the soft morning ground without any regard for the filth that was tingling on my flesh. It didn't matter. A bin full of dreams and possibilities was right in front of me and all I knew was I had to keep digging.
Welcome once again, boys and girls, to the indelible tales of mystery and wonder. Where every dollar matters and the only thing standing between you and the find of a century is the funk that festers around you. Yes, it is time for The Unabridged Adventures in Flea Marketing!
So, what has old ZB been up to the last couple months? Each and every weekday has been a slow trudge through the usual grind. A daily acknowledgment that the true prize awaits at the end of the week; a joyous 6 AM wake-up call, followed by an hour of dawdling, then a 10-minute dash to throw myself together as best as any man could who is embarking on an adventure through America's finest grounds.
I will admit, my last few visits to the ol' market have yielded less-than-favorable results. But this weekend was a bit of a romp through victory lane.
Not as exciting as oh, say, a Super Famicom. But that kind of luck can't happen every day, now can it?
No, it can't.
So let us begin.
Chapter 1: The Fog
I began the morning in a foggy haze, much like the driving conditions I was soon to encounter. Everything at home was slow-moving; a battle with my computer, a constant forgetting of essential items, and something else I can't remember (due to sleep deprivation as I draft this entry) put me in a foul mood. The light drizzle on my windshield spelled bad news. Although the very heavy fog was clearly the culprit, even the tiniest drop of rain will bring any treasure hunter deep into the darkest recesses of his or her mind:
"It's going to be rained out, I know it!"
"I drove all this way for nothing!"
"The mud will be worse than usual!"
Let me tell you something – rain is a flea market-goer's worst enemy. On both ends. Once the downpour comes, it's game over.
Despite all this, I knew deep down it was just the fog and everything was alright. I had a feeling. An intuitive notion, if you will, that it was going to be pretty good. I need to start listening to that gut feeling more often.
Chapter 2: Empty Hands
My friend, whom I so lovingly dubbed "The Fool" in my previous entry, arrived. This time he was earlier than I – can you imagine that?
I'm just going to call him Frank from here on out. For anonymity purposes, of course. And to be fair to him as he is actually a good friend of mine.
Anyhoo, we made our way through the routine course. The thick dewy air set the marketing scene back about a half hour or so; more people were still in the alpha stages of their setup than usual for this time of morning, so we covered our tracks quickly.
My mission: To find two power supplies. One for the model 1 Genesis (which doubles as a supply for Super Famicom) and one for an N64.
With this in mind, my primary objective was to rummage through every bundle of hopelessly-knotted wires and cables in order to find what I needed. This is where your fingers get dirty. And your hands. As a matter of fact, it's just a good idea to take a shower after you get home from some serious digging at the flea market.
And digging I did. Every time I saw a boring pile of cords my heart jumped as it would in an accountant at Staples. I mean, let's face it – what I'm looking for is in actuality very unexciting. But somehow this was enough to get the old pistons firing.
I dug through many bundles to no avail. And I saw little of interest during the majority of my trek. Until…wait for it…
Chapter 3: Buried Treasure!
It was a humble stand. One of those nice covered booths. And often times it's the most modest of vendors who have exactly the thing you're looking for.
I saw an abundance of assorted electronics. Mostly computer. But where there's smoke, there's gaming accessories! I checked a pile here, a pile there. Nothing. But a true explorer doesn't give up so easily. He or she goes deeper, beyond the simple surface and into the belly of the beast. Those who put themselves deep into the heart of danger are the ones who emerge with gold.
Normally I feel pessimistic whenever I see a box full of junk. I noticed a plastic bin under the table and reluctantly began rummaging. As I sifted through reject plugs, I noticed a black-tipped connector. It looked like it belonged to the Genesis 1 power supply (model 1602), but that particular end isn't enough to verify. What I needed was to see the plug itself. Regardless, this gave me premature hope. It encouraged me to search a little longer, even if this bin seemed to be a wash.
The vendor asked me what I was looking for. Then it happened. I noticed a plug that seemed oddly similar to that hard-to-come-by Genesis 1 plug. By god, it was that plug!
I was momentarily phased. Did I really just find the plug I need?
It can't be- it is!
-Oh, uh, what am I looking for?
Not wanting to appear anxious, I told him "N64 AC adapter." I didn't mention the other because I had already found it. The explorer must always wear a stone-cold poker face before going in for the offer. As I was playing it cool, my good friend Frank blurted out "Oh, that's the plug you've been looking for."
Dear god, I hope he didn't hear that.
"How much?" I asked in a calm, cool tone.
"A dollar."
Well then. That seems to be my lucky number. Thank god he didn't hear my good friend Dick- I mean Frank. Or maybe he didn't care. Either way, I was sold. That is exactly what I would hope to spend on such an essential part. And with all the game stores offering them at $10 (on top of being all sold out) that kind of a deal was pushing against the odds.
I happily handed over my crisp Washington and went on my merry way.
That, my friends, is the very definition of a find! Forging ahead when you feel there's no hope. Digging deeper and deeper until you discover the obscure item you're looking for at the price you want to pay. And with that, I was ready to go home a happy man.
But there was more.
Chapter 4: My Lucky Day
So I paid a visit to a dealer whom I've known for many years. He's a very good man and was quite fond of my father, who would bring him and a select group of vendors a drink every weekend. I continue this tradition today.
I had mentioned the N64 cord to him a couple weeks ago and he said he'd keep an eye out.
When I arrived at his booth I was greeted with a friendly smile. Last week he hadn't found it. This time around he said he did. But how familiar was he with these things? Would he have the right one? Either way, how remarkable is it that he remembered?
Well, he came out with a power supply alright. And it was, in fact, the right one.
Both adapters on my "to purchase" list? Damn, I'm good.
Before I could even ask how much he told me it was mine for free. I asked if I could give him anything and he insisted I take it. I was supremely grateful and handed him a drink. What a good man.
Chapter 5: The Deal – Part 1
With my friend once again empty-handed and myself feeling quite satisfied, we decided to cut out a little early. Besides, our second pass wasn't looking much better than the first (I mean, how do you beat those finds?). My friend did manage to spot something I had missed – a Commodore-64. A really interesting discovery, and at $20 not too bad. He was negotiable, but I said I'd be back next week. It was a crusty system that appeared to be on its deathbed. Something to think about, though.
With that said, we made our way to another flea market and picked up a third friend. My main goal was to return a bad Genesis power supply I had purchased there several weeks prior. We went down the only aisle with game booths and paid a visit to a friendly man whom I had dealt with before. Behind a protective case in the back he had a chatoyant gem waiting for me to take home: Lost Vikings 2, in the box, with the instructions. For Super Nintendo. This wasn't the first time I had marveled at that glorious game of which I so coveted. But at $120, it was out of my price range.
I had with me a couple bags of trade goods. Some duplicates, some I really didn't mind parting with. I showed him what I had and he gave me a $30 offer. I told him I'd consider, then he asked me if I had anything I was interested in. Well surely Lost Vikings 2 was out of the question, but a copy of Zelda II: The Adventure of Link was looking pretty in gold.
After a good amount of deliberation on his end, he asked if I'd take that game for Mortal Kombat (SNES), Mortal Kombat II (Genesis), and Street Fighter 2010 (NES). Of course I would!
I added it to my bag of treasures. Frank made his purchase. We left.
When we arrived at the booth that sold me the bad plug, I noticed it was closed down.
A devastation.
Welp, looks like I'm out $5. Oh well.
As we made our way back to the exit leading to our cars, I stopped back at the shop where I made my trade.
"Just out of curiosity…how much would these games knock off the price of that Lost Vikings 2?"
He sat on this question for a while. Some babies were born during this time, grew up, then left the house. A couple Presidential terms, the rise and fall of a few empires, and then finally he came to a decision.
"I'll knock off $50, bringing it to $70."
Well I'll be. That's actually not bad.
The real selling point in this stack was Super Bomberman. It's a little valuable (A recent happening – I had bought it a few years ago at a retail store for $10). The rest of the games were throwaway NES titles. Six of them. All commons. Worth about $10, maybe. So $50 was actually a very good deal. And mostly because I was after a valuable game that he had been unable to sell.
I showed him another game. He then took the price down to $65. The lowest he was willing to go was $60. Did I go for it? Well…
You'll have to find out in Part 2 of this chapter! Coming soon!..ish.
Until then, happy flea marketing!