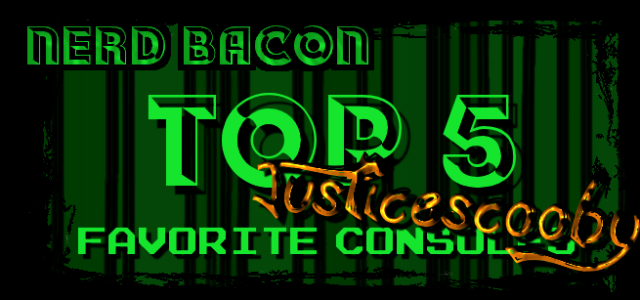 Top 5 Favorite Consoles! – Justicescooby
Ever since an extremely young age, gaming has been quite a big part of my life. While I unfortunately haven't had the chance to play every video game console in existence, I have played quite a lot. That being said, there were many that I liked and even a few I didn't quite like so much. I'm a very open-minded gamer, in the sense that while I have my preferences in video games and genres, I will play mostly anything to try. I would have to say my favorite genres are open-world, and survival games. However, my least favorite genres are massive multiplayer online role-playing games, or MMORPGs, and multiplayer online battle arenas, or MOBAs. My favorite video game development companies include Bethesda, Natsume, Nintendo, and BioWare.
Click the headings to see my countdown!
Number 5
5. Sony PlayStation 2
The PlayStation 2 is an important video game console to me, as it's one of the main consoles I have ever owned and still own to this day. The PlayStation 2 is the system that introduced me to so many video game series, and was the console I owned my biggest collection of video games on. While much of the graphics may be dated, the PlayStation 2 is still an amazing system today and is just as enjoyable as it was when I was younger.
Number 4
4. Nintendo DS
The Nintendo DS was my savior for quite a long time, as it saved me from countless hours that I would've been bored in a car or somewhere else without electricity. It allowed me to continue the stories of all my favorite video game series even when I wasn't home. The Nintendo DS also made it possible for my friends and I to compete in Mario Kart while riding the bus to and from school, or on the way to a field trip. The Nintendo DS also had an amazing feature known as cross-compatibility, and it allowed me to play my older Gameboy, Gameboy Color, and Gameboy Advanced games when I wanted to do so.
Number 3
3. Nintendo Wii / Nintendo Gamecube
Most likely one of the most hated and under-rated consoles of all time, I am glad to add the Wii in the 3rd spot of my top 5 video game console list. The Wii introduced a new thing to the gaming industry, which was a primary movement-controlled controller and a sensor bar, as well as the Wii fit board, which allowed the Wii to monitor your feet movement and weight placement. These new controls that the Wii introduced were widely hated by gamers, and seemed like a scheme to encourage more exercising in our daily lives. At first I was definitely skeptical of these new controls, and for a while I even hated them. However, the Wii controls do work well if the developers develop their game around them the right way, which is evident in the Metroid series. One of the strongest points of the Wii, and my favorite part, is the cross-compatibility with the Nintendo Gamecube. Not only were the games playable on the Nintendo Wii, but you could also use the Nintendo Gamecube controllers and memory cards. The Nintendo Gamecube had some amazing games, and followed the stories of the some of the greatest franchises of all time.
Number 2
2. My PC
Rather recently I made the full switch to primary PC gaming, which included building my own PC that was strong enough to play modern games. The thing about PCs are that they aren't limited to consoles, and you don't need to buy a new one every few years. You can easily upgrade your PC to make it able to keep up and even out-perform the newest console on the market. PC gaming is also home to video game mods, or modifications. Being able to mod video games is one of the most fun experiences I have ever had, and adds so much reply value to video games. Now that I am a PC gamer, I can't even picture myself ever going back to console as my primary source of gaming.
Number 1
1. Nintendo 64
Finally, my top video game console, is the Nintendo 64! The Nintendo 64 is one of the first video game consoles I have ever played, and it was the first one I owned. I still own my Nintendo 64 and I cannot picture ever parting with it. Even though I can emulate Nintendo 64 games on my PC, and even buy a Nintendo 64 controller formatted for a PC, it's simply not the same as actually plugging in my Nintendo 64 and playing some of my favorite video games series in existence. The Nintendo 64 introduced me to many video games franchises, and those franchises are still some of my most favorite franchises today.