Sprung – Nintendo DS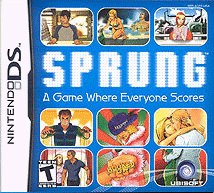 Platform:  Nintendo DS
Release Date (NA):  December 8, 2004
Developer:  Guillemot, Inc

Publisher:  Ubisoft
Genre: Adventure / Visual Novel
Nerd Rating:  3 out of 10
In my continued search for absolute crap I've come upon the game that I saw once in a Nintendo DS promotional booklet, thought was stupid, then never heard of again. However, while going through my old promotional booklets looking for games I'd never heard of to play and review, I saw this again. There it was…sitting there…mocking me on its nice clean page.
Doc you can't beat me, it mocks.
Like hell I can't!
So that's basically the dramatized version of how I wound up playing Sprung. For the good of Nerd Bacon's April's Foolish Games I say, for the good of The Bacon. And it was actually just as bad as I thought it would be, but not as bad as My Dangerous Pet Spider. The first issue you'll notice playing Sprung is that it suffers from a major identity crisis. Perhaps the developer was simply misguided or Ubisoft was too busy with the Splinter Cell franchise to care about correctly marketing some low-budget DS game for teens. But this game was promoted and even referred to in the subtitle of certain versions as a dating sim. This game is not a dating sim, not even close. You'd have to be obnoxiously misguided to think so, but for the sake of readers, let me explain.
Clearly you've heard of at least one dating sim before or at least games with dating sim elements like Persona. In dating sims you're usually trying to earn the attraction of a character sometimes ending in the player character getting married or laid or both. Doing so isn't exactly simple however as dating sims can sometimes be statistics hell, but usually the earning of affection or whatever is through conversation trees, gifting, what have you.
And now I hear someone saying; So how is Sprung not a dating sim?
Because Sprung is a linear game. Earning affection for characters has absolutely nothing to do with your actions; it's simply how the story goes. Basically, Sprung is a visual novel (which is a sub-genre of adventure games). If you've never heard of a visual novel, it's a type of interactive fiction. Think the dialog scenes in games like Fire Emblem: Awakening, except you have choices of what to say, certain events have CG images, and those scenes are the entirety of the game. That's what Sprung is, and now that you know what it is, it's time I explained the story for you.
The story of Sprung is basically that of a bad soap opera; you play as either the boy, Brett, or the girl, Becky, on a trip to a ski resort for an unknown amount of time with a group of friends to find love or get laid. Depending on which character you choose to play as, you'll be faced with an alternate storyline and ending. Because I didn't want to miss out on the fun in either character's story, I played as both Brett and Becky several times over. For some reason the storylines of both characters are vastly different with different characters together in different versions and such, attempting to understand the complex web of who's fucking who is mind numbing to say the least.
I'll start by explaining Brett and his story first. In the first scene you start out on a ski lift with Becky, the female protagonist, and that game flat-out tells you that you're in love with her even though you're best friends. In the next scene Brett asks his two friends Lucas and Danny for advice on what to do about Becky. You can choose to side with either one of them but this won't lead to any sort of changes in the plot.  Both friends will give you useless items that you'll never use at any point in the game and Brett will still proclaim his love for Becky even when he attempts to hook up with almost every other woman in the game. Yes, he sets the love of his life up with some model scout for an easy job then goes around playing matchmaker for himself and other characters. Early in the game the rich snotty kid Conor will mention a romantic cruise contest, but it won't be brought up until the last mission in which you chose between three girls; Becky, Erica, or Kiki, to take on the cruise with you.
Besides a ton of filler nonsense, Brett's storyline has an extra scene called Golden Bonus, in which you play as the character Danny telling women awful jokes. Brett, like Becky, also has a number of "Bonus Scenes" which the only purpose of is to give you extra useless items for your useless item gallery. Honestly, I'm not even sure why they're called bonus scenes anyway since the only one that requires you to do anything special to unlock is the Golden Bonus. The bonus scenes for Brett have you collecting women's underwear, remembering friends' names in the worst memory game ever, and play the lamest truth or dare game ever.
Becky's storyline is a little different because even though you can chose between being a model or being a waitress, Brett is the only person she can wind up with and you to make it even weirder, you can chose from BFF ending or Romantic ending. Basically in Becky's storyline she has recently broken up with her incredibly ugly boyfriend of two years, Sean, and has come to the ski resort with friends Brett, Kiki the skank, and Erica the shy girl. Of course Becky's obnoxious ex Sean decides to come along too, making Becky have to repeatedly tell him off throughout her storyline. In one of the earlier scenes Becky meets the modeling scout Elliot, who you can cry to about life to and become a model for or try to be friendly to and wind up as a waitress. Either career path you choose will net you a different work scene. The modeling one however, pays double the waitressing job.
Halfway through her storyline, Becky will meet another ugly guy, the rich kid Conor, and date him only to be cheated on again. For some reason this results in Becky either framing him for burglary or having his father angry at him. Then several scenes later, Becky thinks jail or family trouble is not enough and decides to ruin his broship with Elliot. Then of course, at the end of the storyline you go through this long series of scenes involving Brett disappearing and you have to find him and for some reason you have to tell off multiple people in order to do so. It's incredibly stupid. Becky has bonus missions as well which mostly involve either kissing all the guys, insulting other people, or saying better lines than them for useless items to add to your collection.
Finishing up my first playthroughs with both Brett and Becky I began to see a weird theme in the storylines; basically everyone is cheating on each other with everyone else. I thought it was the dumbest thing I ever saw but then it dawned on me; what if this game was supposed to be a parody of adventure games and dating sims? It could explain all of the weird items the characters collect but can never use on anything, the scenes that are incredibly pointless littered all over both storylines, and the fact that it's offered up as a dating sim but fails you if you attempt to deviate from the game's objectives. For example; if while on the blind date as Becky decide not to tell Danny off and tell him to kiss you, you fail. Sadly though, I haven't found any evidence to prove that it's actually a parody instead of crappy game.
There are some decent qualities to it however, and by some I mean very few. One of which is that some of the writing in this game, when it isn't being incredibly cliché, is really great absurdist writing. I'll admit, there were a few scenes where I had to just laugh because of how incredible absurd things got and I could tell it was purposeful. Like the scene as Brett where you go back and forth between Shana and Leanne. I also thought that the movie references in both storylines were pretty cool. In Becky's there's a dream scene that serves as a reference to Casablanca. Brett has a scene that appears to be a tribute to the 1940's film noir genre. There's also the underwear CG that references Reservoir Dogs. And I really appreciated a game that could pay tribute to the classics.
That's why I can't really say I absolutely hated this game. I mean, as much of a lousy visual novel it was, it's actually pretty funny if you don't take it seriously at all. That's not to say this is a good game, it's still a crappy game. But if you're looking for a game that's so bad it's good, than this is a good example.
And now I can finally say that I played and beat this game and will never have to touch it again.