Castlevania: Portrait of Ruin – DS
Platform:  Nintendo DS
Release Date:  December 5th, 2006
Developer:  Konami
Publisher:  Konami
Genre:  Action / Adventure
Nerd Rating:  8.5 out of 10
Aside from a couple of hours spent with Symphony of the Night, Portrait of Ruin is, so far, my first "modern" experience with the franchise.  I got interested in this particular installment shortly after finishing up Bloodlines for the Genesis.  Knowing that the storyline of Bloodlines was somewhat of a departure from the typical "Belmont family versus Dracula" and then reading thatPortrait of Ruin was intended as a direct sequel, prompted me to stick the game into my 3DS as my latest cure for boredom.  Generally reserved for waiting rooms, scout meetings, and heavy traffic, I quickly found myself glued to my handheld in pursuit of Dracula, or Brauner, or at least something supernatural.
By 2006, Konami had long since begun to expand storylines across the Castlevania series.  Whereas Bloodlines occurs around the outbreak of World World I, Portrait of Ruin begins sometime in the vicinity of the Second World War.  John Morris' son, Jonathan Morris, has inherited the Vampire Killer but has no idea how to use its power.  Angry at his father for dying before instructing him on how to use the famous whip (at least I think that's why he's mad), he notices that Dracula's home, Castlevania, has again materialized and sets off with his companion Charlotte (a young mage) to fight the evil.  Eventually, the plot thickens: we learn that the Vampire Killer actually contributed to Jonathan's father's death, that his father's companion Eric Lecarde is now a ghost within the castle, and that another vampiric being named Brauner has some degree of power over the castle and its inhabitants.  More fun stuff happens, and yes, Dracula does get involved, but I'll let you play the game if you want to further understand the rather long and twisted story.
I've had an Action Replay DSi sitting on my shelf of video games for about 3 months now, and until Portrait of Ruin, I really hadn't needed it.  But after about the 3 hour mark, I was in desperate need of assistance.  I still love to experience the exploration and combat, I just have to keep myself from getting the shit kicked out of me constantly.  Armed with infinite HP, infinite MP, and eventually infinite gold so that I wouldn't have to walk around and kill ghosts for 2 hours to get the diamond breastplate which I don't even really need, I had a hell of a time playing through what has turned out to be yet another amazing release for the Nintendo DS.
Most of the game involves exploring the castle and its paintings (a la Super Mario 64) and killing a ton of monsters drawn from classical horror, mythology, and even a bit of Judeo-Christian demonology, with a dash of high fantasy.  I was the kid that always tried to come up with "all the monsters."  I wanted a list, or a book, or something that told me every monster ever.  That strange compulsion is still very much alive in me, so it's an absolute joy to go from screen to screen and wonder what wondrous beast I will vicariously encounter next.  Combat is fairly simple.  Each character has a weapon and, yes, a goddamn sub-weapon.  Jonathan wields idealized medieval implements such as swords, maces, axes, and of course whips, while Charlotte relies on spells with a number of effects.  Some essentially act as a regular weapon would, and others produce projectiles or other indirect effects such as immobilizing enemies.
In addition to the endless fighting, several RPG elements have made their way into Portrait of Ruin as well.  There is a dazzling array of equipment to pick up; some can be used by both characters, some only by one or the other, and besides the two weapons, the player can also equip the head, torso, and feet of their player and add up to 2 accessories.  The equipment modifies a number of stats that ultimately determine how much damage is taken and received and the performance of the "magic meter" which dictates how much magic can be used and how often.  Unlike many of the earlier games, this meter refills over time and is not dependent on gathering a finite supply of items (such as hearts).  The RPG aspects are a lot to take in at first, but I often question the usefulness of so many stats and equipment plus the inclusion of two different characters.  Some of it ends up seeming more than a little unnecessary.
The one-player-two-character mechanic is easily Portrait of Ruin's most distinguishing and unique feature.  Admittedly, it's a pain in the ass to get used to, but one might as well take a deep breath and figure it out because understanding the dynamic between Jonathon and Charlotte and how to more or less use them simultaneously is crucial in progressing through some important areas.  The game is set up so that the player can use the characters in a few different ways.  First, one may choose to play as either player and switch between them at any time.  One may also have both players on the screen at the time but only control one or the other.  This can get pretty irritating early on but the advantages of having a computer-controlled fighter at one's side after the castle begins ramping up its baddies are undeniable, and I'd bet that you'll find most of your time spent as such.  Also, the computer-controlled character can be asked to "stay" at a given point for a few seconds, occasionally useful for activating switches and drawing away enemy attention.
A few of the game's toughest moments occur when the actions of both Jonathan and Charlotte must be closely coordinated.  In particular, there's a difficult "motorcycle" task that requires the player to quickly switch between controlling each of them and dodging obstacles on a moving motorcycle.  Weird and senseless?  Yes.  But absolutely necessary to break down a very much in-the-way wall.  There's also another instance at a very critical juncture in the game where the player must occupy 2 very aggressive bosses with a computer-controlled Jonathan while casting a lengthy spell with Charlotte.  Do it right and you unlock a whole "second portion" of the game.  Do it wrong and the castle crumbles and nobody wins and a pretty damn lame "Game Over" ensues.
As you may have surmised, Portrait of Ruin does indeed contain different endings.  Figuring out what to do at the "critical juncture" mentioned above isn't all that easy, and it may not even be obvious to some that there's any possible outcome other than beating the bosses.  With some careful attention to the plot though, the astute gamer can at least try to do what's necessary.  The beginning of the game takes place throughout the castle, with Jonathan and Charlotte busy gathering items and killing shit at every turn.  Pretty soon, the player will start stumbling across the castle's paintings.  After jumping in all 4 and defeating the boss, a climactic battle awaits, and it is here where the game is either "lost" or "continued."  If "done correctly," the player has a further 4 paintings to look forward to (which are really just more menacing versions of the first 4) and then all the drama, terror, and frustration that comes with facing off against the game's growing number of omnipotent antagonists.
It's a long, tough fight, but fortunately save areas are plentiful.  With enough gold, the characters can remain stocked with potions to keep them going in the fiercest of battles, and with even more gold, it's possible to equip our heroes with some stellar items to aid in both combat and defense.  The castle is also a fairly large area, and enemies do respawn once a screen is left and returned to.  A certain amount of backtracking and revisiting is involved, especially after gaining a new ability or two, but Portrait of Ruin includes a rather nice feature that allows the player to teleport from one area to another.  Dotted around the castle (and inside the paintings as well) are teleportation areas, usually close by save spots.  These areas take our duo to any other previously discovered teleporter of one's choosing, thus relieving some of the strain of killing the same creatures over and over again.
Besides kicking copious monster ass, Eric LeCard'e's ghost assigns optional quests to the characters.  Most of these are basic "go fetch" missions that have our young vampire slayers bring Eric various items, though there are a few oddities such as finding a statue and getting oneself cursed.  Rewards are simple items, mostly gold or equipment, and I found most of these quests more trouble than they were worth.  One notable "quest" allows access to the Nest of Evil, a veritable
torture chamber filled with nasties not to be found elsewhere in the game.  It's worth going down here to see sights such as Gergoth, Aguni, Iron Golem, and Abaddon, not to mention the insanely difficult romp against "fake" versions of our heroes from Dracula's Curse, Trevor, Grant, and Syfa.  If you're a glutton for punishment, or armed with the AR DSi like me, this can be an especially fun area.
In addition to an already lengthy and at times complicated game, Konami has gone so far as to offer up new modes of gameplay for those who've finished the game with the "correct ending."  Players can begin the game anew with much of their previous inventory intact, play through the game as Richter (who's "essence" must be fought in the regular game to unlike the Vampire Killer's full potential), and have a chance to play the game from the vampire sisters' perspective while making use of the handheld's touchscreen and stylus.
The graphics in Portrait of Ruin look great, even if they're not necessarily ground-breaking or mind-blowing.  Human and humanoid characters tend to have anime-inspired appearances, hardly my preference, but I can live with it.  In fact, it would appear that the same style from Symphony of the Night has carried over.  Creatures may be tiny in this installment, but a great deal of attention has gone into each and every one.   Many of the larger ones in particular are beautifully grotesque; keep your eyes peeled for the Catoblepas, Final Guard, Dragon Zombie, and my personal favorite, Malachi.  Bosses are massive, ominous, and dripping with despair.  The massive ball of bodies comprising the boss Legion, and the brain-thing underneath, is a true visual pinnacle of Portrait of Ruin.  
The individual levels are impressive as well.  The overall creepiness is brushed aside in favor of a larger variety of environments, and though the time spent on the massive stairways and endless towers in the castle is easily my favorite, Konami has managed to inject a lot of atmosphere into each of the paintings.  From the sideways and upside down rooms in the City of Haze, to the intricately detailed store shelves on 13th Street, each area has a distinct atmosphere and aesthetic.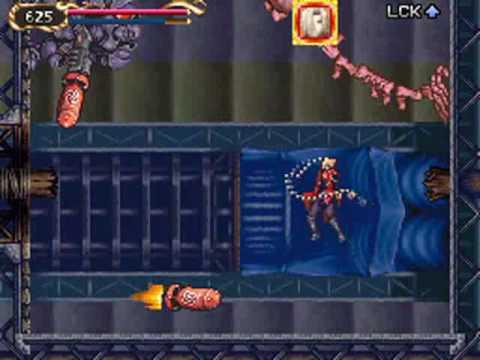 I'm afraid I don't have much to compare Castlevania: Portrait of Ruin to when it comes to more recent entries in the series except for my currently limited experience with Symphony of the Night, but on its own, it's a hell of a game.  One need not even be a fan of or even aware of the dusty Castlevanias of years past as it introduces its own unique gameplay.  Though the RPG aspects are somewhat under-utilized and over-represented, it doesn't interfere with gameplay too much.  Most of it comes down to strategic combat (and item usage) with a healthy dose of exploration.  A moderately lengthy game with a good deal of depth to begin with, Portrait of Ruin offers up even more for players who can't get enough in the way of additional modes, quests, and multiple endings.  Castlevania fans, action-RPG enthusiasts, and those looking for an enthralling experience on the Nintendo DS are all sure to find a great deal of enjoyment here, and it makes me even more eager to explore other installments of the series for the handheld.
Reviewed by The Cubist