Bushmaster – Gaming and Multimedia PC Part 1
Platform: PC
Category: DIY
Difficulty: Beginner to intermediate (depends on your comfort level)
By Malefico
Part One – Parts and Basic Installation
My brother is an avid FPS gamer and a family man. He can't devote as much time as in his youth when he wants to play games, but he values a quality experience and wants a system that will perform no matter what game he plays and no matter how high he wants to crank up the settings. He's also enamored of the idea of splitting the display onto multiple monitors, and since it's been ten years since he bought a computer (Alienware Aurora) we both thought it was high time to upgrade him with a system that will keep him happy for another decade.
Life being what it is, it took several months for the idea to progress to a working project but when time and money came together, we collaborated on picking the parts for a truly impressive gaming and multimedia PC. Then I took a trip to North Florida to visit him and his awesome family and dug in to the build. It's always a treat to visit, as he is a professional chef who always has something great going on for his guests, so I know that whatever happens, I won't be hungry (at least not for longer than it takes to cook up something awesome on the grill!).
First, let's take a look at what went into Bushmaster.
The parts below will result in a system that can handle gaming, movies, video capture and of course all the common tasks that may need completion. Brocephus wanted to be able to capture home videos as well as occasionally save clips of his FPS domination, so we added the appropriate hardware to handle the requirements. He also wanted to be able to read data from a variety of sources, thus the card reader. It's important to note that he told me he really doesn't have time for gaming any more…  With the hardware that's going into the system I expect I won't see much of him during the latter part of my visit – I think he'll end up making time for the game (editorial note: I was wrong, he stuck with the group for the entire weekend!). I'm going to make some commentary on each part as we go through the build, just general thoughts on the quality, etc. of each piece as well as touching on important features. We're waiting to see how much magnetic storage he thinks he might need, but for now the list is as follows:
Two ASUS VH238H 23" LED Backlit LCD monitors
Intel Core i7-3770 Quad-core Processor
ASUS P8Z77-V LGA 1155 Motherboard
16GB (4X4GB) G.Skill Ares Series DDR3 @1600MHz
Samsung EVO 120GB Solid State Drive
ASUS Black Blu-Ray Drive with DVD/CD-RW capabilities
PNY Nvidia GTX 760 Overclock Edition 2GB DDR5 Video Card
AVerMedia AverTV HD DVR C027 Video Capture Card
Rosewill RDCR-11004 Multi-card Reader with 2 USB 3.0/4 USB 2.0/ eSATA
Corsair HX750 750W Modular 80-plus Gold Active PFC Power Supply
Antec Nine Hundred ATX Mid Tower Gaming Case
Two 120mm fans for additional cooling (system will have six fans total)
Cooler Master Storm Devastator gaming keyboard/mouse combo
Windows 7 HP 64-bit
Total for the parts was around $1725, add $100 for Windows.
Going into any build, it's important to first unpack the case and familiarize yourself with the layout, and start getting an idea of the best way to route the cables near the end of the project. For Bushmaster he picked the Antec Nine Hundred based on its appearance and features, and I have to say, he chose wisely. The case has some great features, including bottom mounting for the PSU, three 120mm fans and a monstrous 200mm unit in the top plus a built-in fan control system, front-loading drive cages to make building/maintenance/upgrade a snap, USB 3.0 and audio ports in front, and nine total drive bays for more room than you'll probably ever need. The case itself is attractively designed and solidly built with steel grids for airflow. Overall, it lives up to the reputation for quality that Antec has earned. For $100, it's a bargain considering the four pre-installed fans and other great features.
As always, you'll want to remove the side covers and in this case, the front portion of the case to get it ready for the components. In this case because an SSD is going to serve as the primary drive, we used a special feature of the case, an SSD mounting scheme that allows you to screw the SSD directly into bottom of the case frame near the front, putting it close to the bottom of two 120mm fans. On the Antec case, side covers and front baffles, fans, and drive covers are all fastened with thumb screws. First, lock the I/O shield included with your mobo into the empty port opening on the back of the case and trial-fit your board. The Antec 900 uses individual spacers mounted to the case to support the motherboard. Line up the mounting holes on the board to get the spacers installed in the correct holes, then place the motherboard on the spacers and secure all the screws.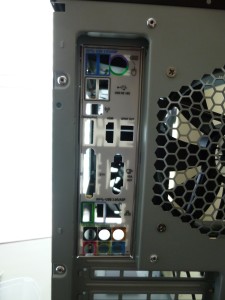 Next, you'll want to install the following components, not necessarily in this order (personal preference). Although many builders like to install and test the core components with the board sitting on another surface, for instance the motherboard box, it's my opinion that this usually wastes more time than it saves. Failure rates on computer parts from the factory are quite low, and I've found in the long run the time saved from pre-testing doesn't outweigh the time spent removing/unhooking the parts necessary in order to install the board in the case after you've confirmed functionality (video and other accessory cards, possibly the CPU heat sink and fan, storage drives, etc.). Also, there's always the slight chance of causing damage to the board or other components when you fire it up outside its native environment. Do whatever you think is prudent.
Because there was ample work space in this case, I secured the board then installed the CPU, heat sink, and fan. Next, I seated the RAM. Afterward, I place the video and other accessory cards and finally secure the storage and optical media and in the next installment I'll cover all the peripheral components. From there, it's a snap to route and connect the case header leads and any other accessories, in this case the card reader, and then move on to installing the power supply and routing the various cables. For that part, I work in reverse, routing and plugging storage media first, then the ATX 24-pin and CPU 8-pin cables and finally the video card.
From there all that's left to do is load the OS and whatever applications are desired.
First, let's talk about the CPU platform. After some discussion we decided to go with Intel's Ivy Bridge. Although Haswell performs slightly faster, the newest Intel CPUs also have cooling woes as Intel chose a less-costly but also less effective internal CPU cooling solution. Haswell is also more finicky concerning RAM and power supply compatibility. Since longevity/reliability were key for this build, Ivy Bridge fit our needs most completely. If the performance difference is important and you are prepared to (eventually, or immediately if you're going to be overclocking) remove the CPU heat spreader to address the stock deficiency, or invest in an aftermarket cooling solution, Haswell may work best for you.
Having chosen the platform, the rest of the build parts were chosen based on the system budget or feature set, or both. Because he never wants to be lacking for RAM, we looked for a good-quality memory kit and found the G.Skill item that met space expectations, performs well and looks good in the system. The AVerMedia card will capture screen shots or HD video, and stream live HD direct from the family video camera for calls to friends and family and, god forbid, footage from family gatherings. The GTX 760 will reliably deliver HD gaming at 60FPS and has ports to push the display signal to nearby HDTVs, or support an extended desktop for productivity sessions. The Samsung SSD allows for fast boots and application launches, and the ASUS BluRay optical drive enables the system to push 4K movies to a large screen and flexible use of discs to store data. The Rosewill drive/hub allows for the use of a number of other storage media, gives another set of available USB ports and allows for the easy connection of a portable drive for backups, etc.
Well, that's it for part one. The stage is set and in part two, I'll talk about fitting these parts into the case and go into further detail on each component. I'll also include some first impressions and comments on setting up Bushmaster, including the ASUS utilities for tuning the board and cooling system.
Thanks for reading and as always, questions and comments can be emailed to malefico@nerdbacon.com or posted on the site.